The American Road: Spring Storms and Mapping Mayhem

Opinions expressed by Bill Crittenden are not official policies or positions of The Crittenden Automotive Library. You can read more about the Library's goals, mission, policies, and operations on the About Us page.
The American Road: Spring Storms and Mapping Mayhem
Bill Crittenden
April 4, 2014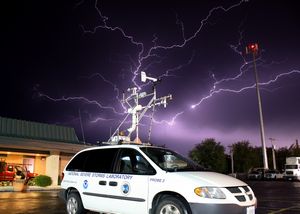 A cluster of lightning over a US National Severe Storms Lab Probe minivan which measures weather statistics as it travels through storms. (NOAA)
As spring struggles against the remnants of the Polar Vortex winter that brought bitterly cold temperatures to the Chicago area and is lingering far beyond its welcome, I was reminded a few days ago that this isn't a problem for all of the wide swath of land in the middle of the United States.
I have a brother that lives in Pittsburg, Kansas, and the recent text exchange went something like this:
Matt: Tried to call. Storms missed us so far but a town nearby had baseball size hail. Tomorrow they give us a 60-70% chance of a tornado. There are tornado chasers everywhere to provide tracking and early warning. Not to worry.
Bill: Holy crap. Just got home and saw that you called. 37 degrees here, I'd trade it for warmer even if it meant dodging tornadoes.
Matt: 85 and 70% humidity today and it's still 76 outside.
Bill: Damn you.
Springtime for "tornado alley," in a few spring months out of the year when tornadoes are most likely, means being aware of the weather forecasts before hitting the road and occasionally sharing that road with storm chasers both amateur and professional.
It means knowing not to take the classic Chevelle out for a spin when golf-ball size hail is in the forecast, and knowing what to do when you're caught out in the middle of nowhere on a flat stretch of road and a tornado approaches.
My brother's car has damage from flying tornado debris. As he states it, everybody unwillingly exchanges lawn furniture every few weeks in the Kansas spring. He actually lives just across the state line from Joplin, Missouri, which you may have heard of when it was hit by a strong tornado a few years ago.
Which reminds me of another oddity of American geography that has to be taken into account because of our navigation systems. My brother lives in Pittsburg, not the more commonly known Pittsburgh.
Remember a few weeks ago how I mentioned America is technically supposed to be fifty independent states bound just by a common currency and foreign policy, much like the European Union?
Well, with no central naming structure to keep track of place names across state lines, names can be duplicated. States, as far as I can tell, allow only one city to take a name, but that doesn't prevent a lot of states having one city apiece with a common name.
The Simpsons television show took advantage of this by naming its town Springfield, a place name that would be immediately familiar to all but could not be pinned down to any one specific place. Sources can't even agree on how many Springfields there are, some sources citing that there are 13 cities, 11 towns, and 14 townships in the United States that carry the name, a total of 38. Wiki Answers notes that the USGS count shows a total of 34 populated places in 25 states with the name.
Illinois has a Springfield, it's our state capital, the only Springfield to hold that distinction, yet it's second to last in the list of places that come up when I punch "Springfield" into Apple Maps. It seems to thing I'm more likely to want to go to the Springfield in Missouri or a Springfield Mall in Virginia.
This wasn't a problem back in the days of paper maps, when the human map reader picked the proper state map first and then went looking for the city.
So far I have predominantly used Google Maps and Apple Maps without voice controls, and both have still occasionally insisted that I must be planning an interstate trip when there's a perfectly good location by that same name within an hour's drive from home.
Connect with The Crittenden Automotive Library