About Us
About Us
The Crittenden Automotive Library @ CarsAndRacingStuff.com
has had a simple mission since 2006: to accumulate as much history about automobiles & related vehicles and republish as much as legally possible. Here a few main principles...
Preserving all of automotive history
There are already plenty of books and websites covering on the most popular muscle cars and supercars. That's because they're the most interesting cars to the most people, but they've been well covered and there are so many other people looking for something different. While a lot of automotive history preservation is based on marketing cars that are the most interesting to the widest group of people, that can paint a narrow and distorted view of that history. We're here for everybody, including engineers, racing fans, anthropologists, sociologists, designers, local historians, and casual auto enthusiasts of every type. Another aspect of this is presenting
Automotive History Beyond the Bumpers

SM
: an all-encompassing view of automotive history that includes roads & highways, the auto industry & labor, every aspect of repair & aftermarket work, legislation, litigation, regulation, cultural works inspired by all aspects of the automobile, various hobbies including scale models & video games, and the people involved in all of these areas at every level.
Preserving the present for future historical research
Did you know that in a very early history of auto racing that Henry Ford wasn't even worthy of mention? Of course any history of the automobile published today has to mention the 999 because of the company it helped launch, but before the Model T put the world on wheels it wasn't nearly as important. What happened yesterday, what happens today, and what will happen tomorrow are likely not historically interesting. They might be, someday, but the events are still too current to be "history" just yet. However, without people preserving records of current events and photographs of current automobiles, historians of the future will not have the proper resources with which to work. Every historic document that is available today is only available because someone before us preserved it, including all of the public domain information I've published from the very earliest days of automobiles going back into the 1890's. We would have so much more had people of the past been able to preserve more than they did, and we're trying to assist future historians by saving all that we can now.
Organizing automotive history
We're a bit old fashioned for an internet-based service. We've kept our design and programming simple and mostly unchanged since 2006 to focus our limited time on adding more content, and the Topic Pages & Subject Sections function a bit like an old library card catalog. They're all manually compiled and edited, and the entire library is browsable without digging through search results. A site-specific search tool is available, as it is a valuable tool to find minor mentions of terms and phrases even in articles that are about other topics, but I believe it shouldn't be the
only
way to access a resource. This attention to indexing slows down the pace of adding new information to the library, but I hope the result is an organized and useful library rather than picking through a giant "data dump" with a tool as imprecise as a search engine.
Doing it "the right way"
Much of the material on CarsAndRacingStuff.com that's been copied from other sources consists of government documents, a seemingly random selection of press releases & blog archives, and material found in The Internet Archive. The reason for this is that it's either in the public domain, available under a free license, or what we could get permission to copy. It's not as fun or popular as scans of the big name car magazines or streams of vintage race tapes, but uploading those without permission is not allowed under copyright law and we can't afford the licensing fees. It's only a matter of time before the sites that do blatantly violate copyright get taken down. Since The Crittenden Automotive Library was never intended to be a temporary project, we're not going to risk our long-term viability (and our family's financial well-being) on intentionally violating copyright law.*
Assisting others in our purpose
While one of the stated purposes of The Crittenden Automotive Library is to "preserve all of automotive history," it's just not physically possible for one person or even one group to do, even if a hundred people worked on it 24 hours a day, 7 days a week. Any project such as this is going to be limited by budget, time available to work, language, and the location of the office. Brick-and-mortar libraries form networks and assist each other because no one library has every book ever published, not even the enormous Library of Congress. We're willing to assist anyone who wants to start their own automotive history preservation projects with the experience we've accumulated over a decade of work.
* - Mistakes have been known to happen, either due to people misrepresenting their ability to grant permission or claiming to be the source of content, and if you come across an unintentional violation please email us for removal. We don't require any of the usual DMCA takedown hoops to jump through, because making the process of correcting mistakes easy is part of our Doing it "the right way" ethic.
---
Interact With The Crittenden Automotive Library!
E-mail Bill Crittenden:
admin@carsandracingstuff.com
Add us to your social media accounts!






The Crittenden Automotive Library Personnel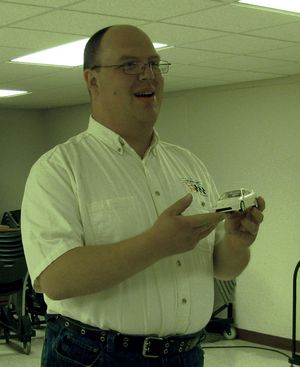 Holding an Acura Integra model at a C.A.R.S. in Miniature meeting.
My name is
Bill Crittenden
. I am the lone day-to-day operator of The Crittenden Automotive Library @ CarsAndRacingStuff.com. I've loved libraries and had a fascination with automobiles for as long as I can remember, and since high school I've been above average with computers (from a user's standpoint). I began working in the automotive field while attending Universal Technical Institute in 1999 and graduated at the end of the year with a Certificate of Automotive Technology. I was meticulous, but shop managers had a different word for it: "slow." What I didn't know at the time was that I had Obsessive Compulsive Disorder which wouldn't be medically diagnosed until a decade later, but that would come in handy when I started building The Crittenden Automotive Library. After a short stint in the repair field, I went on to work in security and progressed on the strength of my computer work, picking up new skills and experience that would benefit The Crittenden Automotive Library. More recently turned that combined experience toward doing fraud investigations for a major bank.
After getting married in 2002, my new father-in-law was a big influence in turning my interest in cars into an interest in automotive history. I followed him to the IPMS/C.A.R.S. in Miniature model car club where I served as Newsletter Editor for a couple of years.
The very short version of how this website got started is that in December 2005 we were going to use CarsAndRacingStuff.com as an online store for a model car business of his, and while waiting for his inventory I began putting articles, photos, and information about scale model cars on the site. When no inventory was forthcoming, I turned the "Encyclopedia" section of CarsAndRacingStuff.com into The Crittenden Automotive Library on September 5, 2006.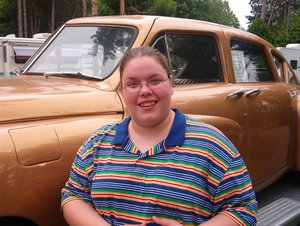 Heidi Walczak in 2003 with a Tucker!
In 2002 I married
Heidi Walczak
. I call her our "Personnel Manager" as her primary jobs for the library are keeping me focused & motivated when life gets a little too distracting.
Heidi is the daughter of a "car guy" and so quite a few of our dating activities involved cruise nights and NASCAR. Just a month younger than myself, she works in credit bureau reporting for the same major bank I work at. Her first car was a Chevrolet Chevette woody, and since then she's owned an early production first-year Chrysler PT Cruiser, a Mazda CX-7, and a Ford C-Max Hybrid. One of her dream cars is a 1972 Chevrolet Chevelle, one of which was supposed to be her first car until it was damaged in a flood. In her spare time she does paper crafts under the design name Luckybug Creations, and although the site is most definitely designed to my taste she has been a highly effective one-person focus group for getting feedback on new layout ideas.
She became the first photographic contributor to the Library by when I posted pictures of our trips to the Chicago Auto Show to CarsAndRacingStuff.com before "The Crittenden Automotive Library" name was created. Since then I've added her pictures from NASCAR races at Chicagoland Speedway and a few car museums years before the website or Library were even created. Before we went digital, when my trial and error method would have cost us a small fortune in film and developing fees, Heidi was the one carrying the camera.
Most of all I appreciate her tolerance and support as my "hobby" has turned much of our basement into an office packed to the rafters with computer equipment, Hot Wheels cars, a model car building desk, the storage racks for hundreds of old car magazines, several file cabinets of car brochures and newspaper clippings, bookshelves filled with old grease-smudged manuals for cars I never even drove, and all that decades-old paper that gives the basement that certain musty smell that new construction homes usually take much longer to develop.
In Mitch Garfield's car at Rockford Speedway.
As of the beginning of 2015 The Crittenden Automotive Library has an "intern!" Our son,
Eli Walczak
, has been accompanying me to various car & model car events since I had to push him around in a stroller. His automotive & motorcycle influences growing up were Speed Racer, Disney's Cars films, and Wild Hogs. His favorite race car driver is Kyle Busch and his favorite car is the Ford Mustang. Now he'll be following me around and helping me in "the office." His current interests are more in gaming than cars, so I'll be teaching him the basics of digital photography, photo editing, scanning, online research, HTML, email, and the basics of running a website.
---
Connect with The Crittenden Automotive Library