About Us
About Us
What Is The Crittenden Automotive Library?
The Crittenden Automotive Library is a project to preserve, organize, and distribute as much automotive knowledge as possible. Inspired by great libraries of the real world and science fiction, this is a focused, single-subject contribution to advancing the overall body of human knowledge.
Founded in 2006, The Crittenden Automotive Library consists of a collection of publicly accessible information at CarsAndRacingStuff.com, The Internet Archive, a YouTube channel for embedding videos on CarsAndRacingStuff.com, as well as reference information from Bill Crittenden's extensive personal collection of books, magazines, and brochures.
The Crittenden Automotive Library's "office" is in Woodstock, Illinois.
---
How It Began

The inspiration for The Crittenden Automotive Library dates back to the 1990's, reading an old copy of the World Book Encyclopedia to pass the time and wishing that Star Trek's Memory Alpha & Library Computer Access/Retrieval System could be made a reality.

A collection of reference books & manuals on all sorts of topics, a fascination with history and all things mechanical, an engineer for a father, Obsessive Compulsive Disorder, and an education in Automotive Technology from Universal Technical Institute were all contributing factors and indicators of the type of personality that would combine a love of automobiles and a desire to collect & share information into creating and sustaining this project.

But it needed a spark. In the 2000's, after two previous information websites on other topics, this personality would combine with a new mentor in automotive history, and CarsAndRacingStuff.com began in December 2005. It was originally intended to be an online store with extra information for model car collectors, but when the store never made it online the growing collection of information became The Crittenden Automotive Library in September 2006.

In the early 2010's the "Great Recession" would turn a casual hobby into a serious attempt at creating a second income, and most of the groundwork was laid for creating one of the world's largest online collections of information on automotive history from the very beginning to current news.

---
Principles

Over the years we've developed a few main principles that set us apart from most other automotive internet sites, including other historical libraries.

Preserving all of automotive history There are already plenty of books and websites covering on the most popular muscle cars and supercars. That's because they're the most interesting cars to the most people, but they've been well covered and there are so many other people looking for something different. While a lot of automotive history preservation is based on marketing cars that are the most interesting to the widest group of people, that can paint a narrow and distorted view of that history. We're here for everybody, including engineers, racing fans, anthropologists, sociologists, designers, local historians, and casual auto enthusiasts of every type. Another aspect of this is presenting an all-encompassing view of automotive history that includes roads & highways, the auto industry & labor, every aspect of repair & aftermarket work, legislation, litigation, regulation, cultural works inspired by all aspects of the automobile, various hobbies including scale models & video games, and the people involved in all of these areas at every level.

Preserving the present for future historical research Did you know that in some very early histories of auto racing that Henry Ford wasn't even worthy of mention? Of course any decent history of the automobile published today has to mention the 999 because it helped launch one of the world's most notable automakers, but before the Model T put the world on wheels it wasn't nearly as important. Now we see the early 1900's with the hindsight of the last 115 years. Seeing history without the benefit of additional hindsight is important, but that's only possible if someone saves the original sources.

What happened yesterday, what happens today, and what will happen tomorrow are likely not historically interesting. They might be, someday, but the events are still too current to be "history" just yet. However, without people preserving records of current events and photographs of current automobiles, historians of the future will not have the proper resources with which to work. Every historic document that is available today is only available because someone before us preserved it, including all of the public domain information I've published from the very earliest days of automobiles going back into the 1890's. We would have so much more had people of the past been able to preserve more than they did, and we're trying to assist future historians by saving all that we can now.

Organizing automotive history We're a bit old fashioned for an internet-based service. We've kept our design and programming simple and mostly unchanged since 2006 to focus our limited time on adding more content, and the Topic Pages & Subject Sections function a bit like an old library card catalog. They're all manually compiled and edited, and the entire library is browsable without digging through search results. A site-specific search tool is available, as it is a valuable tool to find minor mentions of terms and phrases even in articles that are about other topics, but I believe it shouldn't be the only way to access a resource. This attention to indexing slows down the pace of adding new information to the library, but I hope the result is an organized and useful library rather than picking through a giant "data dump" with a tool as imprecise as a search engine. This makes it easy, for example, to find something on the Mercedes-Benz 911 without it being buried by information on the much more popular Porsche 911.

Doing it "the right way" Much of the material on CarsAndRacingStuff.com that's been copied from other sources consists of government documents, a seemingly random selection of press releases & blog archives, and material found in The Internet Archive. The reason for this is that it's either in the public domain, available under a free license, or what we could get permission to copy. It's not as fun or popular as scans of the big name car magazines or streams of vintage race tapes, but uploading those without permission is not allowed under copyright law and we can't afford the licensing fees. It's only a matter of time before the sites that do blatantly violate copyright get taken down, and since The Crittenden Automotive Library was never intended to be one of those here-today-gone-tomorrow temporary projects, we're not going to risk our long-term viability (and our family's financial well-being) on intentionally violating copyright law.*

Assisting others in our purpose While one of the stated purposes of The Crittenden Automotive Library is to "preserve all of automotive history," it's just not physically possible for one person or even one group to do, even if a hundred people worked on it 24 hours a day, 7 days a week. Any project such as this is going to be limited by budget, time available to work, language, and the location of the office. Brick-and-mortar libraries form networks and assist each other because no one library has every book ever published, not even the enormous Library of Congress. We're willing to assist anyone who wants to start their own automotive history preservation projects with the experience we've accumulated over a decade of work.

Creating original content Aside from the value of collecting what's already available into one more organized spot, we add our own photographs & videos, write our own commentaries, contributing what we can to the body of "source material" for automotive historians.

* - Mistakes have been known to happen, either due to people misrepresenting their ability to grant permission or claiming to be the source of content, and if you come across an unintentional violation please email us for removal. We don't require any of the usual DMCA takedown hoops to jump through, because making the process of correcting mistakes easy is part of our "Doing it the right way" ethic.

---
Online Digital Collection

Articles: 50,000+
Images: 35,800+
Publications: 849K+ pages in 12K+ documents
Video: over 2 weeks, 4 days
Audio: over 3 weeks, 3 days
Event Photography: 202 sets

Selected types of information available on CarsAndRacingStuff.com as of April 1st. Some of the information "overlaps" in these rough counts due to images that are screen shots of videos, individual articles sourced from magazines, and repetitive advertisements in magazines.
Offline Physical Collection

Books: 648
Event Programs: 26
Magazines: 1,040
Booklets: 132
Catalogs: 665
Videos: 77

Selected types of information available as reference material as of April 21st. Some of this information has been scanned and is available on CarsAndRacingStuff.com, but most of it can not due to copyright and can be accessed as part of the Reference Desk.
Offline Digital Collection

Articles: 52
Document Pages: 3,872
Images: 190
Video (Films): 1:31:02
Video (Episodes): 1:23:08
Video (Racing): 326:19:50
Music Video: 20:40
Video (Misc.): 23:55
Music (Audio): 2:21:46
Podcasts: 41:54:00

Selected types of information available as reference material as of April 21st. This is a newer and less developed collection of digital information that can't be added to CarsAndRacingStuff.com due to copyright. There's a lot of information saved, but not much has been categorized and organized.
---
Personnel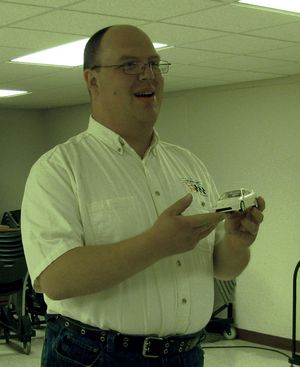 Holding an Acura Integra model at a C.A.R.S. in Miniature meeting.
Bill Crittenden, Owner
A 1999 Graduate of Universal Technical Institute with experience working for various automotive businesses at the time, Bill is the primary day-to-day builder of The Crittenden Automotive Library @ CarsAndRacingStuff.com. Interests outside of automobiles include 20th century military history, food, and hockey. Bill's favorite hockey team is the Detroit Red Wings, and the automotive reference there is entirely coincidental.
There are a few folks who aren't involved in the everyday drudgery of downloading press releases and indexing files, but whose contributions have been essential in building The Crittenden Automotive Library...
Heidi Walczak, Personnel Manager
Bill's wife, daughter of a "car guy," and former Personnel Manager for a Walmart store, Heidi keeps the family motivated, focused, and organized. Her photographs of the Chicago Auto Show and the first two NASCAR Cup races at Chicagoland Speedway were among the first pieces of original content uploaded to CarsAndRacingStuff.com. Heidi is a paper crafter that creates planners, cards, and stamped art under the name
LuckyBug Loves
.
Eli Walczak, Intern
Heidi & Bill's daughter, Eli is beginning to provide some of the manual labor that keeps the operation running more efficiently each year. In her younger days her favorite movies were Wild Hogs and Speed Racer, but she doesn't remember them much anymore. Her favorite car is the modern Ford Mustang.
John Walczak, Advisor
Heidi's father, former local stock car racer, model car builder, and the automotive history mentor that helped in the creation of The Crittenden Automotive Library. A die-hard Dale Earnhardt fan and enthusiast of orphan marques, his never-before-published photo albums from 80's NASCAR races have been among the most popular photographs on CarsAndRacingStuff.com as well as correcting errors in racing history.
---
Site Statistics
Here's a look at our recent visitor statistics, so you have an idea of the audience you'll be able to reach on a monthly basis working with The Crittenden Automotive Library.
There are several metrics that can be used to determine how many impressions your logos or links might get on The Crittenden Automotive Library @ CarsAndRacingStuff.com, but Google's Analytics seems to be a reliable indicator of views of the site's pages that include the navigation bar where your ad would appear.
Month
Page Views
Page Views/
Day Average
Total Users
Users/
Day Average
March 2021
11,618
374.7
6,154
198.5
February 2021
10,979
392.1
5,813
207.6
January 2021
12,858
414.7
6,124
197.5
December 2020
10,267
331.1
5,936
197.8
November 2020
12,681
422.7
7,827
260.9
October 2020
11,430
368.7
6,856
221.1
September 2020
11,807
393.5
7,259
241.9
August 2020
13,983
451.06
9,241
298.1
July 2020
14,605
471.1
9,094
293.3
June 2020
8,512
283.7
4,792
159.7
May 2020
13,196
425.6
8,942
288.4
April 2020
14,682
489.4
9,354
311.8
Page views and user information provided by Google Analytics.
Stats Archive
Note that past performance is no guarantee of future performance, as there are many factors outside of our control that determine how often our pages are viewed (our placement in Google Search results, for example), but we've included several months to show you our steady performance over time.
Social Media Reach
(as of 1 July 2020)
Facebook
: 549 Likes
Instagram
: 609 Followers
Pinterest
: 327 Followers
Tumblr
: 727 Followers
Twitter
: 1,947 Followers
YouTube
: 1.15K Subscribers
Alexa Traffic Ranks
(as of 1 July 2020)
1,064,091 worldwide
83,270 in the United States
---
Supporters & Contributors
Of course we'd like to thank the thousands of people who have contributed content to The Crittenden Automotive Library, either through giving us permission to use their materials, licensing it for use, or dedicating it to the public domain. There are too many to list all of them, and we know this because we tried in the first years of The Crittenden Automotive Library. We can't list everybody but we'd like to thank in particular John Walczak for our first exclusive NASCAR photography, our first contributor Jeremy T. Sellers, and Chris Knight for being our first professional contributor and the inspiration he gave during the early years.
Contributors




The following organizations have made financial contributions to The Crittenden Automotive Library.


John & Shelly Walczak
Spork Marketing
Dr. Laurie Walczak & Aaron Schleicher
Leslie & John Paul Spencer
Dylan Barth

Advertisers




The following organizations, companies, or agencies have contributed to The Crittenden Automotive Library via direct sponsorships or advertising.


United Ads
Turn 5, Inc./AmericanMuscle.com
Cráneo Previlegiado/Mitula Cars
SunTec Auto Glass/Arizona Auto Specialists
Tech Market Media
Volstead Media, LLC
Bowman Marketing
Webcreator
iAcquire, LLC
Tmart.com
SISCOM
Web Marketing Ltd.
We Love Media Ltd.
F1 Auto Car Workshop
digitalpros, LLC
Actualize Industries
SeoOneClick
Matt O'Rourke
V2 Logistics
Blue Buffalo Slater Skins Racing Team
Zhejiang Subray Wheel Co.

Contributions of Materials




The following people have made significant material contributions to our office or our offline collection of books, magazines, games, office furniture, and other materials.


Kemper Insurance Companies
John & Shelly Walczak
Dave Crittenden
Dr. Laurie Walczak & Aaron Schleicher
Leslie & John Paul Spencer
Mark Grimmenga, Cruisin' Tigers GTO Club
Abel Mendoza
Kevin Yeaton
Rebekka Maier
---
Graphics
Most of the small icons used in the site design are from Mark James'
Silk Icon Set 1.3
and corresponding Flag Icons set, used under a
Creative Commons Attribution 2.5 License
.
---
Connect with The Crittenden Automotive Library