About Us
About Us
The Crittenden Automotive Library
is
Automotive History Beyond the Fenders

SM
: a large collection of information relating to not only cars, trucks, and motorcycles, but also the roads they drive on, the races they compete in, cultural works based on them, government regulation of them, and the people who design, build, and drive them. We are dedicated to the preservation and free distribution of information relating to all types of cars and road-going vehicles for those seeking the greater understanding of these very important elements of modern society, how automobiles have affected how people live around the world, or for the general study of automotive history and anthropology. In addition to the historical knowledge, we preserve current events for future generations.
Contribute to the preservation of automotive history! We welcome all types of automotive information and materials for both the online and offline libraries. For more information regarding digital submissions, click on "Contribute" in the upper left corner. For offline (paper material) submissions, e-mail admin@carsandracingstuff.com for a mailing address.
---
As written by CarsAndRacingStuff.com/The Crittenden Automotive Library owner Bill Crittenden...
Interact With The Crittenden Automotive Library!
E-mail Bill Crittenden:
admin@carsandracingstuff.com
Add us to your social media accounts!






The Crittenden Automotive Library Personnel
About Us? There's not much of an "us" to speak of. However, most operations with this sort of page seem to refer to it as an "About Us" page. And if I said the page was "About Me" you'd expect it to be about, well, myself (and not about this Library).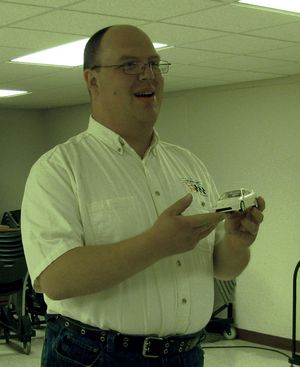 Holding an Acura Integra model at a C.A.R.S. in Miniature meeting.
My name is
Bill Crittenden
. I am the sole day-to-day operator of The Crittenden Automotive Library @ CarsAndRacingStuff.com.
My background since high school has been mostly in computers, but I've always had an interest in cars, I just never explored it until after high school. I graduated from Universal Technical Institute in 1999 with a Certificate of Automotive Technology. After a short stint in the repair field, I went on to other work.
After getting married, my new father-in-law was a big influence in turning my interest in cars into an interest in automotive history. I followed him to the IPMS/C.A.R.S. in Miniature model car club where I served as Newsletter Editor for a couple of years.
The very short version of the next chapter of this story is that in 2005-2006 we were going to use CarsAndRacingStuff.com as an online store for a model car business of his, and when that didn't get going this is where the website ended up. I still have a "day job," even though I actually work at night now.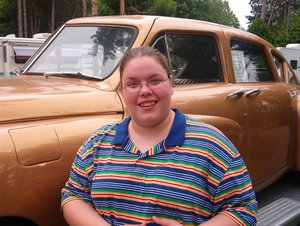 Heidi Walczak in 2003 with a Tucker in the background!
Leaving home in my early twenties I married
Heidi Walczak
. She was the daughter of a "car guy" and so quite a few of our activities involved cruise nights and NASCAR. Just a month younger than myself, she works in fraud protection for a major bank. Her first car was a Chevrolet Chevette woody, and since then she's owned an early production first-year Chrysler PT Cruiser. One of her dream cars is a 1972 Chevrolet Chevelle, one of which was supposed to be her first car until it was damaged in a flood. In her spare time she does paper crafts under the design name Luckybug Creations, and although the site is most definitely designed to my taste she has been a highly effective one-person focus group for getting feedback on new layout ideas.
She unknowingly (at the time) became the first photographic contributor to the Library by taking pictures of our trips to the Chicago Auto Show, NASCAR races at Chicagoland Speedway, and a few car museums years before the website or Library were even created. Before we went digital, when my trial and error method would have cost us film and developing fees, so Heidi was the one carrying the camera. Tolerant and supportive of my "hobby" she has allowed me to turn much of our basement into an office packed with computer equipment, Hot Wheels cars, a model car building desk, the storage racks for hundreds of old car magazines, several file cabinets of car brochures and newspaper clippings, bookshelves filled with old grease-smudged manuals for cars I never even drove, and all that decades-old paper that gives the basement that certain musty smell that newer construction homes such as our 2005 duplex usually take much longer to develop. I thank her for her patience and tolerance of my obsessive love of cars.
Her position is listed as Personnel Manager & Office Supplies Manager as her primary jobs for the library are keeping me focused & motivated, and occasionally picking up from the store the binders & pages I use for news clippings.
In Mitch Garfield's car at Rockford Speedway.
As of the beginning of 2015 The Crittenden Automotive Library has an "intern!" My son,
Eli Walczak
, has been accompanying me to various car & model car events since I had to push him around in a stroller. His automotive & motorcycle influences growing up were Speed Racer, Disney's Cars films, and Wild Hogs. His favorite race car driver is Kyle Busch and his favorite car is the Ford Mustang.
Now he'll be following me around and helping me in "the office." His current interests are more in computers than cars, so I'll be teaching him the basics of digital photography, photo editing, scanning, online research, HTML, email, and the basics of running a website.
---
The Purpose of The Crittenden Automotive Library
The purpose of The Crittenden Automotive Library is to be a useful resource of free automotive information. That's the simplest way I can state it. But there's more to it...
Preserving the present for future historical research
What happened yesterday, what happens today and what will happen tomorrow are likely not historically interesting. They might be, someday, but the events are still too current to be "history" just yet. However, without people preserving records of current events and photographs of current automobiles, historians of the future will not have the proper resources with which to work. Every historic document that is available today is only available because someone before us preserved it, including all the public domain information I've published from the very earliest days of automobiles going back into the 1890's. We would have so much more had people of the past been able to preserve more than they did. I plan to assist future historians by saving all that I can now.
Preserving all of automotive history
Really, there are plenty of books already on the Ford Mustang and the Chevrolet Corvette. They are great cars, but they are but a small slice of the automotive history pie. While a small percentage of the driving public actually uses such cars on a regular basis, the rest of the world is getting around on Hyundai Accents, Vauxhall Astras, Toyota Camrys and working out of white Ford Econoline vans. While a lot of preservation centers around what is interesting (because the reality is that a 1970 Chevelle SS is much more interesting than a 1982 Citation) it paints a narrow and distorted view of automotive history based on what is important to the enthusiast. We're here for everybody, including engineers, anthropologists, local historians, and people just looking up their family name out of curiosity.
Assisting others in our purpose
While one of the stated purposes of The Crittenden Automotive Library is to "preserve all of automotive history," it's just not physically possible for one man to do, even if I worked on it 24 hours a day 7 days a week. Just as brick-and-mortar libraries form networks and assist each other because no one library has every book ever published (not even the enormous Library of Congress), anyone who seeks to create a unique automotive information resource library and contribute new information (rather than just copying what I have done) will find assistance and advice available from an experienced colleague.
---
Organization Makes the Difference
The Crittenden Automotive Library is a bit old fashioned for an internet-based service. The Topic Pages and Subject Sections function a bit like card catalogs for the content. They're all manually compiled and edited, and the entire library is browsable without using a search.
Search engines, like Google and Bing, can only do so much, especially when the target audience for a resource are "car guys" who are certainly smart enough to remember every Big 3 engine code and displacement from 1960-1990 (and dismantle, rebuild, and reinstall said engines) but just haven't spent the time memorizing all of Google's search modifiers and familiarizing themselves with the layout of all of the pertinent U.S. Government websites.
We all have our own personal areas of expertise.
I don't know a whole lot of displacements and maybe a handful of engine codes because I spent my time learning search modifiers and digging through NHTSA archives, and I love to use my knowledge of the inner workings of government websites and the Internet Archive to bring hard-to-find data and put it where it's easier to reach.
A site-specific search tool is available, as it is a valuable tool to find every little mention of a term even in articles that are about other topics, but I believe it shouldn't be the
only
way to access a resource.
This attention to indexing slows down the pace of adding new information to the library, but I hope the result is an organized and useful library rather than picking through a giant "data dump" with a tool as imprecise as a search engine.
---
Notes on Library Operations
Finances
The Library has always been and will always be free of charge and available for the open exchange of information relating to the topics covered. The Crittenden Automotive Library is NOT a non-profit organization because so far it is just one guy doing this from a basement office.
We recover our expenses mostly through advertising and occasionally from our PayPal "Tip Jar" (like the tip jar at the coffee shop it's not a tax deductible donation - hence the name - but it's always appreciated!). Additional income beyond recovering expenses gets reinvested into the Library, either in the form of books, technology, or time. What I mean by "time," is that if I make enough sponsorship money I can take days off and maybe even leave my "day job" and make the C.A. Library my full-time occupation. I wouldn't do this to sit on a beach sipping from an umbrella drink (although I reserve the right to take occasional vacations) but so that I can spend the time I am out of the house for my current job putting new material online instead. I'll be doing this the rest of my life whether I make money on it or not, the money merely allows me to do
more
. That's why the advertising is on the site.
Geography
The Library has information and photographs from 6 continents, but most of the exclusive, original content will be from the northwest suburbs of Chicago. The current main geographic area for my photography is McHenry County, Illinois. Based in Woodstock, at the center of the county, most of the events I attend are in the city of McHenry, Woodstock, Richmond, Crystal Lake, Lake in the Hills, or the surrounding area. The closest race tracks to my home are Rockford Speedway, Wilmot Raceway, The Milwaukee Mile, Chicagoland Speedway, and the former Meadowdale Raceway.
Language
The main parts of the Library are in American English, using mostly the American version of terminology because I'm an American and it's what I'm familiar with. Content is available in ten languages, and you can use the built-in translation features of Google Chrome to browse the Topic and Subject pages in other languages.
Market Competition
Nobody is "competition" as far as I'm concerned. I'm building a library here, not a business that's keeping score on a balance sheet. I view others doing similar work as one library would view another, as collaborators in the mission of bringing information to the masses. I'm happy to talk to and work with anyone building an automotive information resource!
Advertising as Content
All types of content help tell the story of automotive history. Advertisements have themselves become such a part of "car culture" (Corinthian leather, anyone?), and press releases are an extension of that. A company's view of its own products and services, along with the historical context of which ones thrived and which ones failed, are a huge part of the story of the automobile. Commentary, even if it's wrong on some obvious level, is a snapshot of public opinion at whatever point in time it was written. That has value.
Outdated & Incorrect Information
Repair and technical data are shown here for historical reference and may not be useful as a repair guide. There's a great book in the Library that's about 80 years old and depicts a technician straightening a crankshaft on a press, among other less than ideal techniques. We don't filter this out because it's there to show that at some point in time someone actually thought that these were good ideas. It's geared more for the automotive anthropologist than the current mechanic looking for instruction. As I like to say, any decent community library will have copies of the Bible, the Torah, the Quran, and Darwin's Origin of Species, all made available to the public without commentary or attempt at influence. The same applies here, this Library is here as a repository of all things automotive, not to tell you my personal ideas of right from wrong (except in my commentaries, which stand alone as my own contributions to library content and are NOT statements of library policy!).
Tail Lights
For more about The Crittenden Automotive Library's operations, about why it includes what it does or how it gets the information that it does, check out the Tail Lights Newsletter. There's a list of topics on the Tail Lights page so you can skip directly to our notes and ideas on particular aspects of our operations.
---
Connect with The Crittenden Automotive Library









By accessing the The Crittenden Automotive Library/CarsAndRacingStuff.com, you signify your agreement with the terms and conditions on our Legal Information: Disclaimers & Privacy Policy page.

To notify The Crittenden Automotive Library of errors, suggest topics, contribute information, make a comment on a page or to ask a question e-mail us.