Carpenter Could Throw Big Wrench in Title Contenders' Battle at Pocono as the Favorite
Carpenter Could Throw Big Wrench in Title Contenders' Battle at Pocono as the Favorite
Tom Blattler
Ed Carpenter Racing
July 1, 2014

Microsoft Word version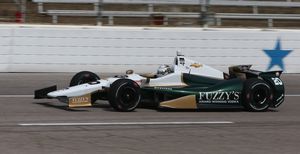 Carpenter is a favorite in this Sunday's Pocono 500.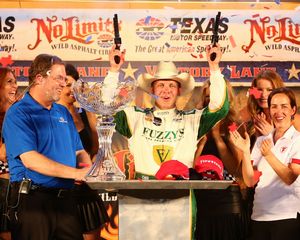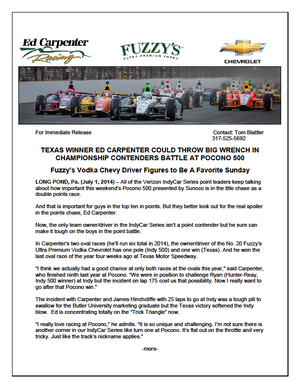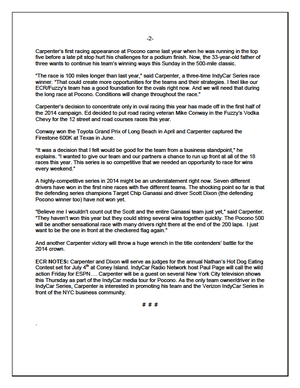 July 1st 2014 - LONG POND, Pa. – All of the Verizon IndyCar Series point leaders keep talking about how important this weekend's Pocono 500 presented by Sunoco is in the title chase as a double points race.
And that is important for guys in the top ten in points.
But they better look out for the real spoiler in the points chase, Ed Carpenter. Now, the only team owner/driver in the IndyCar Series isn't a point contender but he sure can make it tough on the boys in the point battle.
In Carpenter's two oval races (he'll run six total in 2014), the owner/driver of the No. 20 Fuzzy's Ultra Premium Vodka Chevrolet has one pole (Indy 500) and one win (Texas). And he won the last oval race of the year four weeks ago at Texas Motor Speedway.
"I think we actually had a good chance at both races at the ovals this year," said Carpenter, who finished ninth last year at Pocono. "We were in position to challenge Ryan (Hunter-Reay, Indy 500 winner) at Indy but the incident on lap 175 cost us that possibility. Now I really want to go after that Pocono win."
The incident with Carpenter and James Hinchcliffe with 25 laps to go at Indy was a tough pill to swallow for the Butler University marketing graduate but the Texas victory softened the Indy blow. Ed is concentrating totally on the "Tricky Triangle" now.
"I really love racing at Pocono," he admits. "It is so unique and challenging. I'm not sure there is another corner in our IndyCar Series like turn one at Pocono. It's flat out on the throttle and very tricky. Just like the track's nickname applies."
Carpenter's first racing appearance at Pocono came last year when he was running in the top five before a late pit stop hurt his challenges for a podium finish. Now, the 33-year-old father of three wants to continue his team's winning ways this Sunday in the 500-mile classic.
"The race is 100 miles longer than last year," said Carpenter, a three-time IndyCar Series race winner. "That could create more opportunities for the teams and their strategies. I feel like our ECR/Fuzzy's team has a good foundation for the ovals right now. And we will need that during the long race at Pocono. Conditions will change throughout the race."
Carpenter's decision to concentrate only in oval racing this year has paid off in the first half of the 2014 campaign. Ed decided to put road racing veteran Mike Conway in the Fuzzy's Vodka Chevy for the 12 street and road courses races this year. Conway won the Toyota Grand Prix of Long Beach in April and Carpenter captured the Firestone 600K at Texas in June.
"It was a decision that I felt would be good for the team from a business standpoint," he explains. "I wanted to give our team and our partners a chance to run up front at all of the 18 races this year. This series is so competitive that we needed an opportunity to race for wins every weekend."
A highly-competitive series in 2014 might be an understatement right now. Seven different drivers have won in the first nine races with five different teams. The shocking point so far is that the defending series champions Target Chip Ganassi and driver Scott Dixon (the defending Pocono winner too) have not won yet.
"Believe me I wouldn't count out Scott and the entire Ganassi team just yet," said Carpenter. "They haven't won this year but they could string several wins together quickly. The Pocono 500 will be another sensational race with many drivers right there at the end of the 200 laps. I just want to be the one in front at the checkered flag again."
And another Carpenter victory will throw a huge wrench in the title contenders' battle for the 2014 crown.
ECR NOTES: Carpenter and Dixon will serve as judges for the annual Nathan's Hot Dog Eating Contest set for July 4th at Coney Island. IndyCar Radio Network host Paul Page will call the wild action Friday for ESPN…. Carpenter will be a guest on several New York City television shows this Thursday as part of the IndyCar media tour for Pocono. As the only team owner/driver in the IndyCar Series, Carpenter is interested in promoting his team and the Verizon IndyCar Series in front of the NYC business community.
Connect with The Crittenden Automotive Library