Rain Storm Washes Out Most of Tuesday's IMS Runs, as JR and Ed Work on Setups
Rain Storm Washes Out Most of Tuesday's IMS Runs, as JR and Ed Work on Setups
Tom Blattler
Ed Carpenter Racing
May 13, 2014

Microsoft Word version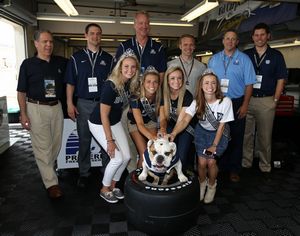 Butler University Sports Leaders visited the ECR Garage today.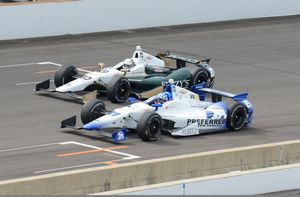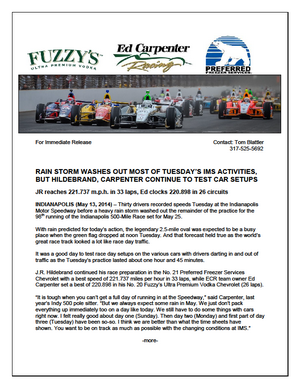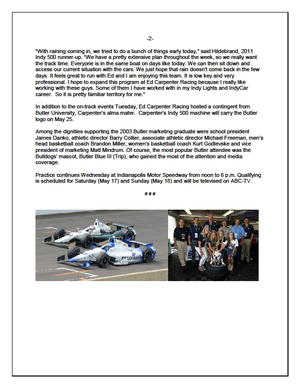 May 13th 2014 - INDIANAPOLIS – Thirty drivers recorded speeds Tuesday at the Indianapolis Motor Speedway before a heavy rain storm washed out the remainder of the practice for the 98th running of the Indianapolis 500-Mile Race set for May 25.
With rain predicted for today's action, the legendary 2.5-mile oval was expected to be a busy place when the green flag dropped at noon Tuesday. And that forecast held true as the world's great race track looked a lot like race day traffic. It was a good day to test race day setups on the various cars with drivers darting in and out of traffic as the Tuesday's practice lasted about one hour and 45 minutes.
J.R. Hildebrand continued his race preparation in the No. 21 Preferred Freezer Services Chevrolet with a best speed of 221.737 miles per hour in 33 laps, while ECR team owner Ed Carpenter set a best of 220.898 in his No. 20 Fuzzy's Ultra Premium Vodka Chevrolet (26 laps).
"It is tough when you can't get a full day of running in at the Speedway," said Carpenter, last year's Indy 500 pole sitter. "But we always expect some rain in May. We just don't pack everything up immediately too on a day like today. We still have to do some things with cars right now. I felt really good about day one (Sunday). Then day two (Monday) and first part of day three (Tuesday) have been so-so. I think we are better than what the time sheets have shown. You want to be on track as much as possible with the changing conditions at IMS."
"With raining coming in, we tried to do a bunch of things early today," said Hildebrand, 2011 Indy 500 runner-up. "We have a pretty extensive plan throughout the week, so we really want the track time. Everyone is in the same boat on days like today. We can then sit down and access our current situation with the cars. We just hope that rain doesn't come back in the few days. It feels great to run with Ed and I am enjoying this team. It is low key and very professional. I hope to expand this program at Ed Carpenter Racing because I really like working with these guys. Some of them I have worked with in my Indy Lights and IndyCar career. So it is pretty familiar territory for me."
In addition to the on-track events Tuesday, Ed Carpenter Racing hosted a contingent from Butler University, Carpenter's alma mater. Carpenter's Indy 500 machine will carry the Butler logo on May 25. Among the dignities supporting the 2003 Butler marketing graduate were school president James Danko, athletic director Barry Collier, associate athletic director Michael Freeman, men's head basketball coach Brandon Miller, women's basketball coach Kurt Godlevske and vice president of marketing Matt Mindrum. Of course, the most popular Butler attendee was the Bulldogs' mascot, Butler Blue III (Trip), who gained the most of the attention and media coverage.
Practice continues Wednesday at Indianapolis Motor Speedway from noon to 6 p.m. Qualifying is scheduled for Saturday (May 17) and Sunday (May 18) and will be televised on ABC-TV.
Connect with The Crittenden Automotive Library