BYD's Green Tech runs into Rio+20
BYD's Green Tech runs into Rio+20
BYD
August 15, 2014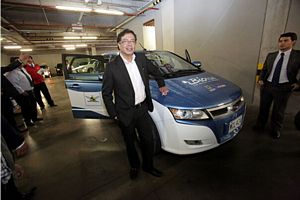 Pictured Above: Mayor Gustavo Petro Urrego with one of Bogota's BYD e6 taxis.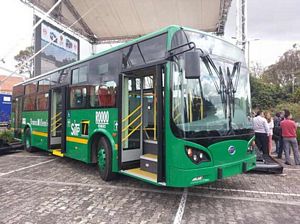 Pictured Above: The BYD ebus Andino-12, the world's only long-range Battery Electric Transit Bus
【Bogota Colombia】 -- BYD Company Ltd.'s presence was strong at this year's United Nations Rio+20 Summit on Sustainable Development. Attended by more than 1,500 heads of state, sustainability staffers, NGO Leaders and representatives of the media, BYD's revolutionary Battery Electric Taxis and Long Range Battery Electric buses were almost equally as much a part of the show at this year's event.
Since late 2012, BYD has worked hand in hand with the city of Bogota, helping them build the largest pure electric fleet in Latin and South America. The taxi fleet now operating nearly 50 BYD e6 sport-utility crossovers has accumulated nearly one million kilometers. "The new transport model will powered with electricity allowing sustainable development of mobility motor city. Bogota Electricity and water is what we use today are fossil fuels, which we deteriorate the planet ". Gustavo Petro Urrego, the Mayor of Bogotá. "If I had the mobility to the power we are taking successful steps to improve the environment and placing Bogotá at the forefront in the fight against climate change, respect for the land and nature, beginning with the water."
While standing with a BYD e6, discussing the future of electrified transportation, Susana Muhamad, of the District Department of the Environment, stated, "With the pilot electric taxis, Bogotá seeks to understand local conditions in potential behavior, range and cost of such vehicles, and gain experience in installing charging stations infrastructure; without these barriers the door for mass electric mobility and decreasing dependence on fossil fuels for transport is opened, a key element for the city to step in developing actions to improve air quality and mitigate the change climate."
Many industry experts and leaders presented their latest findings and insights throughout the event. "The city of Bogota has been committed to promoting clean and low carbon energy transportation technology, additionally, the government has also given preferential tax relief policy on developing electrified and intelligent public transportation, all these favorable policies will greatly stimulate the bus operator's determination on the research and adoption of this new technology. BYD is far ahead in battery industry, BYD pure electric vehicles and pure electric buses are very mature in both technologies and products, fully able to meet the needs of operators in Bogota and have sufficient production capacity to deliver. BYD will assist municipalities to promote the electrification of transportation and urban sustainable development of transport." said Fred Ni, VP of BYD Motors, who addressed the Rio+20 attendees in a presentation discussing the future of battery electric transportation.
About BYD
BYD Company Ltd. is one of China's largest companies and has successfully expanded globally. Specializing in battery technologies, their green mission to "solve the whole problem" has made them industry pioneers and leaders in several High-tech sectors including High-efficiency Automobiles, Electrified Public Transportation, Environmentally-Friendly Energy Storage, Affordable Solar Power and Information Technology and Original Design Manufacturing (ODM) services.
As the world's largest manufacturer of rechargeable batteries, their mission to create safer and more environmentally friendly battery technologies has led to the development of the BYD Iron Phosphate (or "Fe") Battery. This fire-safe, completely recyclable and incredibly long-cycle technology has become the core of their clean energy platform that has expanded into automobiles, buses, trucks, utility vehicles and energy storage facilities. BYD and all of their shareholders, including the great American Investor Warren Buffett, see these environmentally and economically forward products as the way of the future.
BYD has made a strong entrance to the North, Central and South American markets with their battery electric buses, and lineup of automobiles. Their mission lies not just in sales growth, but also in sociological integration and local job creation as they have poured incredible investments into developing offices, dealerships and manufacturing facilities in the local communities they now call home, truly a first for Chinese companies. For more information, please visit www.byd.com
Connect with The Crittenden Automotive Library