Reference Desk: 1947 DeSoto, 2010 Honda Insight, and Herbie Funny Car
Topics: Herbie, DeSoto, Honda Insight
Opinions expressed by Bill Crittenden are not official policies or positions of The Crittenden Automotive Library. You can read more about the Library's goals, mission, policies, and operations on the About Us page.
Reference Desk: 1947 DeSoto, 2010 Honda Insight, and Herbie Funny Car
Bill Crittenden
August 22, 2013

I'm posting questions and answers from The Crittenden Automotive Library's Reference Desk so that it adds to the volume of searchable information available on automobiles in the Library as well as opening up unanswered questions to people who may have different resources than this Library.

Renato from Switzerland asks, I would like to know if you can help me to find test report forFMVSS208 and FMVSS214 Honda Insight 2010. I will appreciate all information that you be able to provide me. Best Regards.

Hello Renato!

I get my testing information from the Compliance Testing Database at http://www.nhtsa.gov/cars/problems/comply/
I searched and found the 2008 FMVSS 208/212/301/305 test, it can be downloaded (too big to e-mail) at http://www-odi.nhtsa.dot.gov/acms/cs/documentList.xhtml?docType=CTR&docId=642023
The 201 test is at http://www-odi.nhtsa.dot.gov/acms/cs/documentList.xhtml?docType=CTR&docId=641543
Another FMVSS 305 test is at http://www-odi.nhtsa.dot.gov/acms/cs/documentList.xhtml?docType=CTR&docId=641584
I couldn't find anything marked as being for FMVSS 214. It may not have been specifically tested, or the test might not have been released. You can contact NHTSA directly, they have a bunch of options (including a live chat, which I haven't tried yet but I think is awesome) in the upper left corner at http://www.nhtsa.gov/

Hope this helps, have a good day!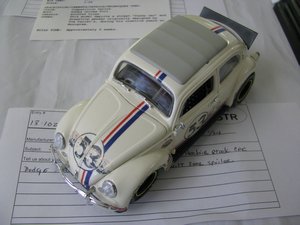 Matthew asks,
How or where can I buy a toy bug like this one that was on your web page Resin body on stock funny car, Herbie paint scheme?
Hello Matt!
I can't find anything on it. I found a few other resin kits of Beetle funny cars, but none of the stretched type in the picture. Resin casters come and go, whoever made it might not even be around any more. Even then, it's a resin body that needs a donor kit for the rest of the parts and assembly. As for the car on the right, from what I've read it's a combination of a stock Beetle body with a heavily modified NASCAR roll cage. Sorry I can't find any more about them. If I bump into the person who built them, they're probably local to me as it was a local show, I'll pass along your e-mail to them.
Jim from Ohio asks,
How many "1947 Desoto 3 window business coupes" were produced by Chrysler Motors in the specific years of 1947?
I have a nice 1947 Desoto 3 window business coupe....I know there were "VERY FEW" of this model made.....the 1947 and 1948 3 window business coupes are vertually identical.....I recently found some information on the interenet that stated that there were ONLY 1600 Chrysler Windsor//Desoto//and Dodge 3 window business coupes produced, with the Dodge 3 window coupe selling the most (it was the cheapest)...the Chrysler Windsor 3 window coupe selling 2nd highest ( it was priced in the middle )...and the Desoto ( being the most deluxe model and higher priced)..selling the least. If the number 1600 total of all produced in 2 years is acurate, this means to me that only 800 were produced each year..divided by the 3 models =266 models of this rare coupe for the two years, and the Desoto Division of Chrysler may only have sold less than 200 each of the two years. I would love to know if this information is acurate, AND exactly how many 1947 Desoto coupes were produced and sold, so I would know exactly how many of mine there was when new. Please let me know ----Thank you in advance! :).
In the previous email to you on the number or 1947 desoto 3 window business coupes produced in 1947, at the end OF THE EMAIL I said I'd like to know how many Desoto Coupes were produced in 1947.....that total number would include the "5" window coupes, which is not as rare, and there was a bunch of them made and sold.......I meant to ask of you if could find documentation on how many "3" window Desoto business coupes were made and sold in 1947......Thanks!
Hello Jim!
None of the catalogs I have cover Chrysler in the 40's. Sorry. If production was started or cut mid-year, there may be a lopsided (say, 1200-400) ratio from one year to another.
I find a lot of information on this sort of thing in the "Standard Catalog of..." series by Krause Publications. I don't know how great their record for accuracy is, but I don't have a full collection yet and they've got to have some book that covers a '47 DeSoto. It's probably in Standard Catalog of Chrysler 1914-2000, http://www.krausebooks.com/standard-catalog-of-chrysler-1914-2000 and the AllPar site has some production numbers at http://www.allpar.com/cars/desoto/desoto-cars.html and I bet someone connected with that site has the catalog (they reference an older version of it in their history of DeSoto).
Sorry I can't help you more.
Connect with The Crittenden Automotive Library