BYD e6 Achieves Fleet Distance Milestone – Over 600,000 Kilometers Logged
BYD e6 Achieves Fleet Distance Milestone – Over 600,000 Kilometers Logged
BYD
September 27, 2010

SHENZHEN, PRC – September 27, 2010,

BYD Co., Ltd held a ceremony to celebrate the cumulative kilometers achievement of the Shenzhen's Taxi fleet of all-electric BYD e6s. The fleet of 50 EVs has been in service in Shenzhen since May 2010, and has surpassed 600,000 kilometers of successful operation so far. Together with celebrities, BYD executives and world-famous shareholders –Mr. Warren Buffett, and Charlie Munger attended the ceremony. Mr. Buffett praised BYD for the reliability, quality and successful operation of the e6 taxis, and expressed his optimism about the new energy industry.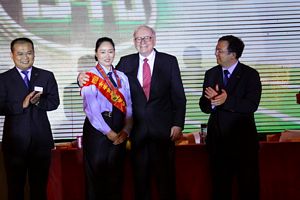 (Warren Buffett took photos with e6 taxi drivers)
During the last few decades, concern over global environmental problems and the worldwide energy crisis has increased dramatically. BYD, as a pioneer in the new energy industry, has taken a series of actions to research and develop new energy solutions with great results. In May 2010, BYD kicked off the e6 taxi project with Shenzhen Pengcheng Bus Corporation. The longest taxi in service has successfully achieved over 50,000 kilometers with excellent performance. "As a growing sector of the new energy industry, the new energy vehicles, especially the pure electric vehicles, still have a ways to go to catch up with the internal combustion vehicle volumes. However, the outstanding performance of these cars and the positive feedback from the passengers signal that the research and development of the e6 pure electric car has been a success" stated Mr. Buffett. "BYD Mass production and mass market adoption of a pure electric vehicle is within reach."
BYD e6 is a 5-seat crossover vehicle designed for multi-purpose use. With a wheelbase of 2.83 meters, the e6 excels in handling. Adopting BYD's revolutionary battery technology --the iron-phosphate (or Fe) battery, the e6 can run dependably on electric power with an expected range of over 300 km (190 miles ) per charge cycle in cruising mode. The estimated acceleration time from 0-100km/h (0-60mph ) is less than 10 seconds and the projected top speed is 140km/h(87mph). The Fe battery used in the e6 has been tested under extreme conditions such as high temperature, high pressure, and heavy crushing and has been proven to have excellent safety performance. All this makes the e6 ideal for daily urban traffic, in-town driving and even long distance travel. While a full charge at home takes 6 hours to complete, the e6 can be rapid charged up to 80% within 15 minutes, which is a World-leading performance.
Since the start of e6 taxi operation, more and more customers prefer to take the e6 taxis, because compared to the traditional gasoline taxis, the pure electric taxis save 2.00 CNY in fuel tax, while offering passengers a quiet and speedy experience. Moreover, as a zero-emission electric vehicle, the e6 taxi emits no harmful toxic emissions or greenhouse gases, and can save much more energy than the gasoline vehicle does.
Contacts: BYD Overseas PR
Email: bydpr@byd.com
Tel: +86 0755-89888888 ext. 62527
Connect with The Crittenden Automotive Library