Danny Bagwell Crowned 2010 Champion
Danny Bagwell Crowned 2010 Champion
ISCARS PR
October 5, 2010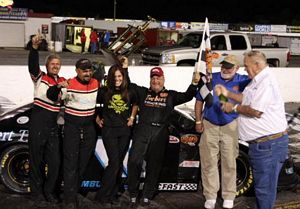 Bagwell celebrates with team members and retiring ISCARS Pace Car Driver, Jay Laing (Photo courtesy Dale Roberts)
Hickory, NC - Danny Bagwell (Cordova, AL) added two more wins and a third ISCARS Championship in four years to his stat sheet.
Bagwell's Five Brothers Produce Ford Focus started from the pole in the first Voodoo Ride Mojo Feature at Hickory Motor Speedway.
After winning the first event, Bagwell drew a four for the inversion. Race two saw Robert Tighe III (RT3) stretch out a solid lead in his Honda Stock Car Tuner.
Bagwell challenged for the lead with Todd Hawkes in tow. Bagwell went on to grab both feature wins.
RT3 earned his first podium appearance and Todd Hawkes collected the 2010 Rookie of the Year trophy.
Connect with The Crittenden Automotive Library