In the Meantime...
In the Meantime...
ISCARS Public Relations
November 13, 2007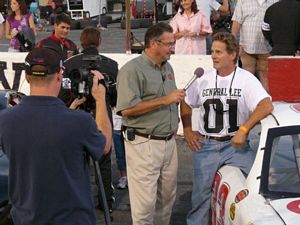 Byron Cherry alias Coy Duke interviewed for ISCARS Wide Open by Randy Claypoole
I can assure you that ISCARS is full steam ahead. Our schedule had originally planned to conclude with Hickory in October. We decided to add the race at Tri-County. The change in management at Tri-County resulted in lease negotiations that could not be ironed out quickly enough to go through with the event. The risk involved versus the unfamiliarity with the potential attendance raised the concern with taking an enormous loss. The owner and I agreed it was best to take a step back and revisit the opportunity for 2008. Our company has made a large investment in building a nationally syndicated television show as well as supporting other series to come and race at our events. We have a championship that will be decided at the track. Trying to reschedule a race on short notice is extremely difficult when our event staff and teams already have other commitments such as vacations, family gatherings for the holiday, time off from their primary job, etc. We may have a race in early December, or we may decide to have a race in a warmer climate during the winter months. In which case, that would be deemed as the final event of 2007. We are talking with various sponsors and will make an announcement when everything is finalized. This break has given us a greater opportunity to retain marketing agents throughout the country to spearhead an effort toward acquiring major sponsorship. In additional, we are finalizing details for current body styles and an optional crate motor program that will significantly decrease the cost for our teams to operate. So, stay tuned.
Connect with The Crittenden Automotive Library