Dillon DASH 150
Dillon DASH 150
Tony Stevens, ISCARS
July 23, 2007

Jake Hobgood Runs Away With Home State ISCARS Race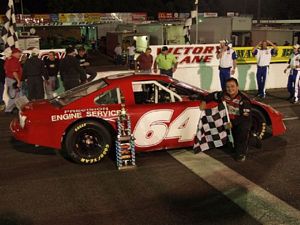 A happy Hobgood
Dillon, SC - Jake Hobgood gave a new meaning to home track advantage on Saturday night, winning the pole, leading every lap, and winning the Dillon Dash 150 at the new Dillon Motor Speedway in Dillon, SC. It was the South Carolinian's first ISCARS win in over a year.
Hobgood captured the pole for the 150 lap event with a track record lap of 16.409 seconds at an average speed of 87.757mph. Upon the waving of the green flag, outside pole sitter Danny Bagwell got the jump into turn one but bobbled mid corner and allowed Hobgood to retake the lead as the field worked into turn three.
The first caution of the night came on lap four when Matt Johnson spun in turn number four. The No. 66 B&D Quick Stop Pontiac avoided contact with the wall and continued. It was the first of many challenges that Johnson had to overcome during the event.
Bagwell once again challenged leader Hobgood on the lap 8 restart but Hobgood powered away as the field began to spread out on the backstretch. Chris Chapman began to battle his way towards the front after the restart while Ned Combs came to pit road on lap 13 with terminal motor problems. Attrition continued on lap 15 when the 26 car of Gary Young, who had changed carburetors after qualifying, slowed on the backstretch and came to the attention of his crew five laps later. Matt Johnson's problems continued on lap 28 with a flat right front tire in turn two, but the field remained under green. He reported to the pits where his crew changed the tire and sent him back into the fray.
The battle for fifth heated up before the halfway break. Working the multiple grooves available at Dillon Motor Speedway, Randy Humphrey tried to hold off both Chris Chapman and Scott Krehling before Humphrey's rear end began smoking. ISCARS officials were later forced to black flag Humphrey for leaking fluid onto the racing surface.
Johnny Chapman began to rumble on lap 55. Using the flatter apron portion of the racetrack to help turn his No. 24 AlarmSouth/US Restoration Pontiac, Chapman worked by the Joey Miller to take over the third spot. Scott Krehling, the fifth place driver, gave the fans in attendance a spectacular smoke show during his spin in turn four on lap 67. Matting the throttle to keep the car spinning, Krehling avoided any contact with the wall or fellow competitors and remained on the lead lap where he continued after the halfway break. A few teams, most notably Johnny Chapman, made wholesale changes to their machines during the halfway break in hopes of catching a checked-out Jake Hobgood.
Hobgood led the field down for the lap 74 restart and once again, Danny Bagwell was unsuccessful at stealing the top spot from the Cedar Creek Collision Pontiac driver. On lap 86, Bagwell received his first challenge of the night for second from Johnny Chapman. Once again using the bottom of the track, Chapman tried lap after lap to bypass the Torbert Trucking/Five Brothers Produce Mercury of Bagwell. Finally, on lap 93, Chapman cleared the car of Bagwell and began his pursuit of Jake Hobgood.
On lap 100, Brandon Burris and Johnny Chapman tangled in turn four with both cars appeared to escape relatively unscathed. Two laps later, however, Burris spun down the frontstretch, nearly sliding up in front of the field but everyone avoided the No. 98 Pontiac.
The final restart of the night came on lap 109 and Johnny Chapman gave his best effort to bypass Jake Hobgood but it was to no avail. Hobgood quickly pulled out to a sizeable lead over Chapman. The other Chapman, Chris, broke two laps later and fell from contention in the No. 33 Conover Construction/AlarmSouth Pontiac. Point leader Danny Bagwell also began to experience problems, losing third spot to Joey Miller with less than twenty laps to go.
Hobgood went unchallenged the rest of the event and took the victory over Chapman and Miller. Bagwell and Scott Krehling rounded out the top five. Bagwell maintained his point lead over Joey Miller and will head to Florence, SC, for the ISCARS Twin 75s on August 18 attempting to extend his advantage over the field.
"Man, this thing was awesome. We knew when we unloaded that we had a good piece," said Jake Hobgood in victory lane with a huge smile on his face. "We ran the first practice, but when we went go to out for the second practice, we saw we had some problems. We had to take the transmission out and the exhaust system off between the last practice and qualifying. But we got it back together and went out and sat on the pole and led this thing flag to flag. It was a great night for the Cedar Creek Collision Pontiac." Hobgood continued, "We've struggled some. We've ran good the past year and a half and it's probably been a year and a half since we won a race. We just want to get back to winning and running good. We haven't been chasing points as much as we've been chasing running good and getting this thing back in victory lane where it should be." Second place Johnny Chapman was trying for his second win of the season. He came up one spot short in his pursuit of Hobgood.
"We sorta rode the first half and came in and made some changes and the car was pretty good in the second half," said Chapman. "The rear end got a little hot and I'm not sure if the heat hurt it or not, but I didn't have anything for Jake. Congratulations to them, they did a good job."
"I didn't have anything for those two -- Jake especially, but Johnny was really good too," said third place finisher and current second place points campaigner Joey Miller after the event. "We're just happy to have the car in one piece with a third place finish. We'll take it and go from there."
Danny Bagwell came into Dillon with a twenty five point lead over Joey Miller and only lost five markers to the Wilmington, NC, driver. With double points up for grabs in Florence on August 18, Bagwell needed a good finish on Saturday. "We sorta shot ourselves in the foot. We've been trying some new stuff that didn't quite work as good, plus we were having some problems with the brakes. It was just a long day, a good job by my guys, but I think we over set it up," said Bagwell with a nervous laugh. "I think we were one spot behind Joey, so we only lost about five points or so. We've got a great team, great sponsors in Torbert Trucking and Five Brothers Produce, but we just need to get back to the top of our game."
The next ISCARS DASH Touring event will be a doubleheader at Florence Motor Speedway in South Carolina on August 18th. Should Hobgood win both races at Florence, he will be eligible for a $1000 bonus for winning three of the four South Carolina events on the ISCARS schedule. Tickets for the second annual Peggy Torbert Memorial event are still available and can be obtained from Florence Motor Speedway by calling 843-761-1428. More information about ISCARS is available by logging onto www.iscarsonline.com. ISCARS Wide Open, the series' national television show hosted by MRN Radio's Joe Moore and Tiffany Ricardo, is available in over 200 markets weekly and covers the Dash Series teams, drivers, and officials in depth on every show. Check local listings for times and channels.
Top Ten: 1.Jake Hobgood, 2 Johnny Chapman, 3. Joey Miller, 4. Danny Bagwell, 5. Scott Krehling, 6. Davis Myers, 7. Brandon Burris, 8. Joey Jones, 9. Randy Humphrey, 10. Matt Johnson.
NOTES OF INTEREST:
Brandon Burris takes the top spot for the Tommy Tortilinni's Rookie "Weather You Win or Not" Award of the race and also his best career finish.
Former DASH Touring driver and race winner, Ricky Bryant, was also active at Dillon Motor Speedway on Saturday night. Clint King, driver of the No. 07 car in the Aaron's Pro Challenge Series, had Bryant spotting for him as he collected his first series win in his very first series start. King is currently second in the Young Guns Bandelero Division at Lowe's Motor Speedway.
"I really liked this speedway and appreciate everyone's clean driving. It was a great race and the car was running good. The ISCARS rubber made the track a bit looser, but the car was still hooked up. I'm looking forward to coming back out here in September," said King after the event.
"Ricky Bryant's basically my on-track GPS device. He set the car up really well and has a ton of late model and Dash Series experience and really knows how to setup a racecar. He's helped me with my line and being consistent. With his help, we went from running slow to really fast."
Connect with The Crittenden Automotive Library