Eric Wilson Racing for Series Championship in ISCARS Dash Touring This Weekend
Eric Wilson Racing for Series Championship in ISCARS Dash Touring This Weekend
Tony Stevens/ISCARS PR
October 22, 2006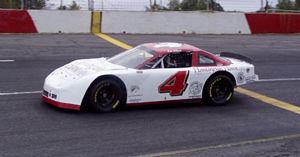 Eric Wilson wheels his No. 4 Huntington House/John Boy & Billy Pontiac around Hickory Motor Speedway. Wilson will attempt to win his first ISCARS championship this Saturday in Florence, SC.
ORMOND BEACH, FL - The NASCAR Nextel Cup Series PPI Racing No. 32 Tide team, and driver Travis Kvapil, may soon be sharing some of the limelight with one of their pit crew members. ISCARS driver Eric Wilson, who is also PPI's raceday jackman, is on the verge of clinching the 2006 ISCARS Dash Touring Championship this Saturday, October 28.
Wilson picked up his first career win in April at Hickory Motor Speedway and motored to a point lead he has yet to relinquish all season long. The driver of the No. 4 Huntington House/John Boy & Billy Pontiac Sunfire has won four races this season and is returning to the track where he picked up his most recent win in September.
Danny Bagwell is Wilson's closest challenger, fifty points back. Bagwell has momentum on his side after beating Wilson to the checkers two weeks ago at Hickory Motor Speedway in the Firecracker 150 and at Shenandoah Speedway in July.
"Cal (Wells) and the team have been really good about my racing and very supportive," said Wilson in reference to his coworkers on the Nextel Cup team. "I've got some pretty important responsibilities on the team. I manage and jack on the pit crew, have done the car chief stuff for a while and at the same time I setup all of the cars here at the shop. They're pretty pumped up and like watching us race. Cal's helped me and flown me from the Dash race to the Cup race to make sure I made all of my races and also got back to his show."
Bagwell knows what he has to do at Florence – sit on the pole, lead the most laps, and win the race for maximum points. If he indeed accomplishes those feats, Wilson must finish seventh or better at Florence to win the title. Bagwell's only holdup? Wilson's worst finish all season has been sixth at Shenandoah.
The maximum point swing possible at Florence is 104 points, meaning that third place Jake Hobgood also has a mathematical shot at his second series championship if both Bagwell and Wilson have problems in South Carolina. Realistically, Hobgood is a long shot, but he currently sits 82 points out of the lead, well within reach of second spot by 32 markers.
For those not in the championship hunt, ISCARS is offering a $500 bonus to any driver who can win his first 2006 race in the series. Top contenders for the award include Hobgood, Mike Watts, a former Daytona winner who plans to semi-retire after 2006, Scott Krehling who nearly won the last time the series visited Florence, Johnny Chapman and Mark Howard.
"I look forward to going to Florence," said Howard, driver of the No. 7 John Boy & Billy Mountain Spring Water Pontiac. "We had a good car a couple of weeks ago at Hickory and we have finally got a setup back under it. Last time at Florence we had a great car and had an oil line bust on it. We were fastest in practice at Hickory with the same setup. I believe if we tweak that setup just a little bit more that we're going to have a pretty bad ride."
The highly anticipated ISCARS Championship 150 will highlight the weekend's activities which include the ISCARS Dash Touring Series, the Seneca Super Trucks, late model stock cars and more at Florence Motor Speedway. The evening's festivities will conclude with a spectacular fireworks display.
"ISCARS Championship Weekend" tickets are still available for Saturday, October 28, by contacting Florence Motor Speedway via the internet at www.florencemotorspeedway.com or by phone at (843) 346-7711.
For more information on ISCARS, visit www.iscarsonline.com and be sure to catch ISCARS Full Throttle, the series' television magazine, on your local affiliate or online at www.theautochannel.com.
- 30 -
Connect with The Crittenden Automotive Library