Contribute to The Crittenden Automotive Library!
Tip Jar!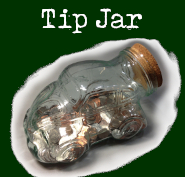 Like what we're doing? Help us do more! Tips can be left

(NOT a 501c donation)

via PayPal (just send to admin@carsandracingstuff.com).
Contribute to The Crittenden Automotive Library!
The Crittenden Automotive Library is a small, mostly one-person operation run part-time from the corner of a basement in Woodstock, Illinois. You can read more about our mission, goals, and operations on our
About Us
page and in issues of our newsletter,
Tail Lights
. The shortest version of it is that we are attempting to build the world's largest online library of automotive information by collecting and republishing anything about automobiles, racing, trucks, and motorcycles that we legally can. We're also building a large offline "Reference Desk" collection of shop manuals, magazines, news clippings, and reference books that are still in copyright but can be used as information sources.
We know that there are so many more sources, reference materials, and resources that we can upload to CarsAndRacingStuff.com and hope to some day make this operation much bigger than it is today. Contributing to The Crittenden Automotive Library can help us shift time and energy from our day jobs to adding more content to the library, with the hopes that someday we can go from one person working an average of a few hours per evening to having more than one person working full-time on adding new content daily.
There are so many ways to help support The Crittenden Automotive Library, and here's how you can help us discover, distribute, and preserve more automotive history.
---
Site Statistics

Before we get started, here's a look at our recent visitor statistics, so you have an idea of the audience you'll be able to reach on a monthly basis working with The Crittenden Automotive Library.

There are several metrics that can be used to determine how many impressions your logos or links might get on The Crittenden Automotive Library @ CarsAndRacingStuff.com, but Google's Analytics seems to be a reliable indicator of views of the site's pages that include the navigation bar where your ad would appear.

| Month | Total Page Views | Page Views/Day Average | Total Users | Users/Day Average |
| --- | --- | --- | --- | --- |
| July 2018 | 9,242 | 298.1 | 5,363 | 173 |
| June 2018 | 9,248 | 308.2 | 5,379 | 179.3 |
| May 2018 | 10,244 | 330.4 | 5,894 | 190.1 |
| April 2018 | 9,366 | 312.2 | 5,610 | 187.0 |
| March 2018 | 10,816 | 348.9 | 5,794 | 186.9 |
| February 2018 | 9,715 | 346.9 | 5,005 | 178.7 |
| January 2018 | 8,856 | 285.6 | 4,599 | 148.3 |
| December 2017 | 8,442 | 272.3 | 4,239 | 136.7 |
| November 2017 | 7,727 | 257.5 | 4,211 | 140.3 |
| October 2017 | 8,615 | 277.9 | 5,011 | 161.6 |
| September 2017 | 8,752 | 291.7 | 4,594 | 153.1 |
| August 2017 | 9,582 | 309.0 | 5,238 | 168.9 |
Note that past performance is no guarantee of future performance, as there are many factors outside of our control that determine how often our pages are viewed (our placement in Google Search results, for example), but we've included several months to show you our steady performance over time.
Our numbers of social media followers can be found in each issue of
Tail Lights
.
---
Sponsorships & Contributions

See the section on Rules & Limitations below.

If you're a business, we're looking for sponsors. Unlike traditional motorsport sponsorship, we put our viewers within a click of your website. An Associate Sponsorship works much the same way as it does in racing: you get a small logo in the navigation bar on the left side of most of the CarsAndRacingStuff.com website as well as a mention in the Tail Lights newsletter. A Title Sponsorship would mean replacing the "@ CarsAndRacingStuff.com" in our logo with "presented by Your Company Here" along with a link to your site prominently displayed across the CarsAndRacingStuff.com site.

Email admin@CarsAndRacingStuff.com for more information.

Even if you don't represent a business, you can help us "buy the time" to add more content to CarsAndRacingStuff.com. Thus far, we can only add to the site as our spare time allows. Being able to afford days off of the regular job would go a long way towards scanning magazines, adding & indexing patents, adding photo sets, and all the other time-consuming operations that go into building the Library. You can contribute via PayPal by sending to admin@CarsAndRacingStuff.com of on GoFundMe. Note that for tax purposes that we are not a 501(c) organization.

Our content contributors are far too numerous to mention in one list, but you can see their names by browsing around the Library. This is a list of the sponsors, people, and organizations whose valuable offline contributions cannot be seen on the rest of CarsAndRacingStuff.com:


Contributors




The following organizations have made financial contributions to The Crittenden Automotive Library.


John & Shelly Walczak
Spork Marketing
Dr. Laurie Walczak & Aaron Schleicher
Leslie & John Paul Spencer

Advertisers




The following organizations, companies, or agencies have contributed to The Crittenden Automotive Library via direct sponsorships or advertising.


Turn 5, Inc./AmericanMuscle.com
United Ads
Tech Market Media
Volstead Media, LLC
Cráneo Previlegiado/Mitula Cars
Webcreator
iAcquire, LLC
Tmart.com
Arizona Auto Specialists
SISCOM
Web Marketing Ltd.
We Love Media Ltd.
F1 Auto Car Workshop
digitalpros, LLC
Actualize Industries
SeoOneClick
Blue Buffalo Slater Skins Racing Team
Zhejiang Subray Wheel Co.

Contributions of Materials




The following people have made significant material contributions to our office or our offline collection of books, magazines, games, office furniture, and other materials.


Kemper Insurance Companies
John & Shelly Walczak
Dave Crittenden
Dr. Laurie Walczak & Aaron Schleicher
Leslie & John Paul Spencer
Mark Grimmenga, Cruisin' Tigers GTO Club
Abel Mendoza
Kevin Yeaton
Of
course
we'd also like to thank the thousands of people who have contributed content to The Crittenden Automotive Library, either through giving us permission to use their materials, licensing it for use, or dedicating it to the public domain. There are too many to list all of them, and we know this because we tried in the first years of The Crittenden Automotive Library. We can't list everybody but we'd like to thank in particular John Walczak for our first exclusive NASCAR photography, our first contributor Jeremy T. Sellers, and Chris Knight for being our first professional contributor and the inspiration he gave during the early years.
---
Content Submission (Free Advertising!)

See the section on Rules & Limitations below.

The Crittenden Automotive Library is always looking for new content. You can contribute your own photographs and materials for preservation & dissemination, and businesses can contribute photos and press releases as free advertising. The only conditions we have are that it be something you created (so as to not violate copyright), that we can post it permanently (again, time is our most valuable resource), and it be within The Crittenden Automotive Library's scope of topics. You can see our range of topics by browsing the site, and if you have any questions, email admin@CarsAndRacingStuff.com for more information.

This does include dealership photos and ad materials. We can post pages of each car's photos with contact information, and link to the page from our Classified Ad page. You can see a sample here with a 2011 Ford F-150 Harley-Davidson Edition.

---
Opinions and Reviews (More Free Advertising!)

See the section on Rules & Limitations below.

Got something to say about cars? Want to reach an audience but don't want to start your own blog? Feel free to try yourself out as a writer by contributing to CarsAndRacingStuff.com. We have archives of established blogs and welcome people who want to start their own. In addition to having your writing published on a professional-looking page and occasionally shared through our social media accounts, you'll also get an author's page that you can link to as a "portfolio" of your work.

If you have an established site already, or are working to established your own site, we'll add a link to your site from each article on CarsAndRacingStuff.com. You can see an example here: Illegal driver avoids ticket.

Article types can include: car reviews, personal experiences, announcements, company news, and press releases. Note that we do accept press releases in PDF format!

---
Historical Articles (Even More Free Advertising!)

See the section on Rules & Limitations below.

Even if you don't have anything specific to say, we have tens of thousands of pages of scanned articles that need transcribing from image to text format. This helps people find what they're looking for with Google, as well as making it easy for researchers to copy & paste text. You can see an example of a transcribed article at 1906 Leader.

You can contact us for articles or contribute ones that you've found in your own searches. Note that they must be public domain for the article to be uploaded to CarsAndRacingStuff.com, otherwise they'll need to be filed in a deferral folder until such a day as they are publishable.

Below the text, we'll happily add a link back to your page or site in thanks.

---
Premium Guest Posts

Cost: $20 per article.

Among the hundreds of press releases, posts, and articles we're able to publish each week, only a few of special interest to our readers may be featured on our social media accounts. Then the indexing is put in a queue to be finished en masse later for maximum efficiency. Premium Guest Posts are posted immediately, shared on social media, and indexed immediately to prevent any broken links from affecting that page's Google ranking.

Images help for additional exposure and are required for posting on Instagram, so if you don't include an image with your article you can choose one from Unsplash or MorgueFile or I can pick an image if it's not too specific of a topic.

You can see how much exposure this service can get by looking at our social media follower accounts in the most recent issue of Tail Lights.

If you're interested in placing one of these posts for your business email admin@CarsAndRacingStuff.com and put Premium Post in the subject line so that it's responded to without delay.

See the section on Rules & Limitations below.

---
Paper Materials

In addition to The Crittenden Automotive Library's online collection, Owner Bill Crittenden has an extensive offline collection that we can share in limited ways via the Reference Desk. Many of the books and magazines in the collection have come from the generous contributions of others who wish to see The Crittenden Automotive Library preserve them for history.

We're always looking to add more to our collections, so if you have an owner's manual, a shop manual, magazines or other automotive books that you want preserved for history as a permanent part of our collections, email admin@CarsAndRacingStuff.com for our physical mailing address. If it's close enough to Woodstock, Illinois, we'll happily come and pick it up!

---
Rules & Limitations

If you're submitting content to be published in The Crittenden Automotive Library online at CarsAndRacingStuff.com, you agree to allow it to be posted permanently. The most limiting factor in our ability to build and grow the Library is time, and therefore we don't want to spend time posting and removing temporary content.

Due to agreements with our web host and main advertising provider, we cannot link to gambling sites, and we cannot post certain materials. You can see a list of prohibited content on the Google AdSense Prohibited Content page. Note that we're still interested in receiving the content, and it will be put in a deferral file until such a time as it can be posted should our terms and conditions change.

---
Connect with The Crittenden Automotive Library