---

Wheel People is published by Jim Koscs / AudaMotive Communications, which provides expert marketing/PR/speech writing and custom editorial for auto industry clients.
---
Please use this link to forward Wheel People to a colleague or friend. If you received this issue as a forward, you can subscribe and also see previous issues here.
---

---
Vince Margherita recalled sitting in his car, studying for dental school exams by the light of an overhead street lamp. That's something he did a few times while holding a place in a gas-station line during the 1973 oil crisis. Like other muscle cars of the period, his 1967 Pontiac GTO had a voracious appetite for gas, but he didn't want to trade it in for a more economical model.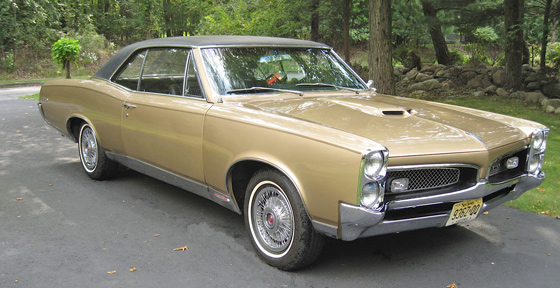 The GTO was two years old and had 23,000 miles when Margherita's father bought it for him as a high school graduation gift in 1969. "I remember it cost exactly $2,275," he said. His GTO has the 400 cubic-inch V8 engine that was standard for 1967, rated at 335 (gross) horsepower. A 360-horse "H.O." version was optional.

For the next four years, Margherita commuted in his GTO from North Haledon, N.J. to the Teaneck, N.J. campus of Fairleigh Dickinson University, about 15 miles each way along congested Route 4. After that, he used the GTO while attending Georgetown University in Washington, D.C. Today, Margherita is an orthodontist with offices in Hawthorne, N.J., where he is also president of the local chamber of commerce, and in Warwick, N.Y.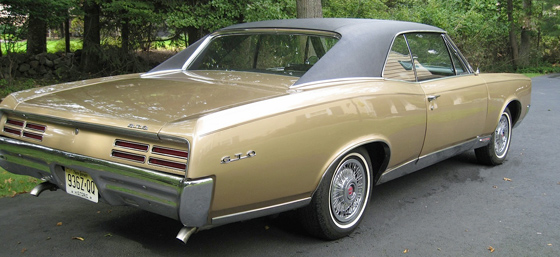 Pontiac made 81,711 GTOs for 1967, and just about 80 percent of them were the hardtop coupe style like Margherita's car. His car has the optional Turbo-Hydramatic three-speed automatic transmission, which had replaced a two-speed unit offered in 1964-1966 GTO models. The Hurst Dual Gate floor shifter, also new that year and nick-named the "His/Hers" shifter, was a precursor to manual controls featured on some modern automatics.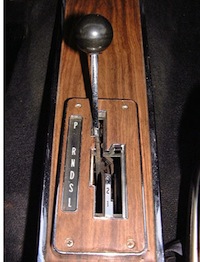 When pushed into the right-side gate ("His"), the console-mounted lever allowed manual selection of the transmission's three speeds, and normal automatic operation when placed in the left gate ("Hers"). A special latch mechanism in the manual gate prevented the driver from accidentally missing a gear, or hitting Neutral and possibly damaging the engine.

Margherita drove the GTO as his everyday car until 1985. By then, the car had accumulated more than 120,000 miles and was deteriorating. "The back windows on those GM coupes leaked. Water would get into the trunk and rust out the quarter panels behind the wheels," he said. "People would tell me that I should get a new car. But I loved the GTO. I never even thought about driving something else."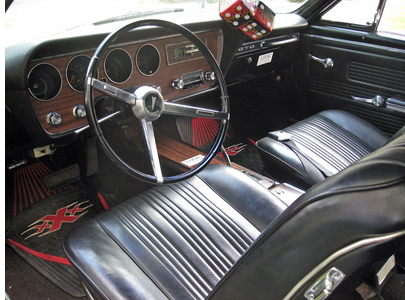 He finally relented, buying a new Pontiac Grand Prix in 1985. A few years later, he found a restoration shop in Pennsylvania to refurbish the GTO. New metal was welded into the quarter panels, and the car was repainted in the original Signet Gold.

The engine still ran strongly and was left alone until last summer, when it was rebuilt. "I kept it in original stock condition, nothing was modified," he said.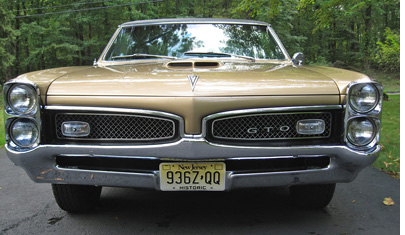 Margherita plans to occasionally drive the GTO from his home in Franklin Lakes, N.J. to his Warwick office, about 30 miles to the northwest. The paint, now more than 20 years old, is showing some scrapes and wear, but he's resisting having it redone. "I want to drive it more, so I don't want to worry about getting chips in the paint," he said.WP



Photos courtesy of Vince Margherita.



---
Read "Auto Ego" in The New York Times

In January, I began writing the monthly "Auto Ego" column in The New York Times weekend Autos section. Each Auto Ego profile covers one owner who has a special relationship with his or her car. The Times started "Auto Ego" in 2007, and Richard Chang wrote it brilliantly for five years. Below are links to my Jan. and Feb. stories.
Even A Drive in the Suburbs Feels Like a '60s Vacation
A Mercedes with Tenure