18 Killed, More Than 30 Injured in Panama Bus Crash
18 Killed, More Than 30 Injured in Panama Bus Crash
VOA News
6 March 2017 (0:53AM)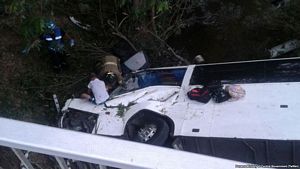 Rescuers work to free victims from inside the overturned bus in Anton, Cocle, Panama.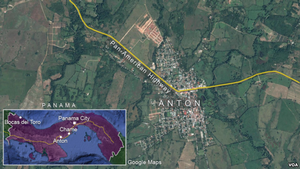 At least 18 people were killed and more than 30 injured in Panama Sunday when a bus went off a highway and flipped into a river southwest of the capital.
All the dead and the injured, many in critical condition, were aboard the bus, which was carrying more than 50 farm workers traveling from the Bocas del Toro province on the Caribbean Sea to a ranch in Chame, a town on the Pacific Ocean.
The crash happened on the Pan-American Highway in Anton, Cocle province about 170 kilometers from Panama City. Officials gave no information on what caused the accident.
Photos published by local media showed a white bus in a creek at the bottom of a ravine below a bridge. Helicopters and ambulances were sent to the scene of the accident.
Connect with The Crittenden Automotive Library