Four Killed in Blast on Egypt Tour Bus
Four Killed in Blast on Egypt Tour Bus
Elizabeth Arrott, VOA News
16 February 2014 (9:37AM)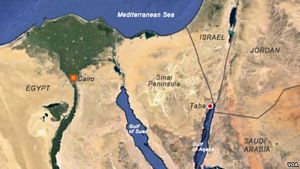 Taba, Sinai, Egypt
CAIRO — An explosion has hit a tourist bus at Egypt's Taba border crossing with Israel, killing at least three South Korean travelers and the Egyptian bus driver. There has been no immediate claim of responsibility.
The blast ripped through the bus, blowing out windows and part of the roof. Initial reports indicate a bomb had been planted on or near the bus.
South Sinai Governor Khaled Fouda said all the details were not immediately clear.
He said the Korean tourists had traveled from the popular tourist site of St. Catherine's at the base of Mount Sinai. They were waiting to transfer at the Israeli border when the blast went off.
Officials on both sides immediately closed the border crossing.
Egyptian officials have condemned the attack.
The Sinai peninsula, with its historic and tourist sites, is also home to jihadists and arms smugglers. Vast swathes of the region are largely outside the government's control. Much of the militant activity has been in the north. Taba, St. Catherine's and most of the resorts are in southern Sinai.
Violence has surged since the ouster last year of President Mohamed Morsi, with the government cracking down on Sinai militants and linking them to Mr. Morsi's Muslim Brotherhood, a claim the Brotherhood denies.
The Sinai-based militant group Ansar Beit al Maqdis has claimed responsibility for many attacks on security personnel and installations in recent months, both in Sinai and increasingly in Cairo and the Nile Delta.
The Taba blast marks a departure from that trend. It is the first significant attack against foreigners and recalls a series of bombings in the Sinai in 2004. Among them was a strike on the Taba Hilton hotel that claimed 31 lives.
Egypt's tourism sector, devastated by three years of political unrest, had recently been trying to lure foreigners back by promoting areas outside of Cairo as safe.
Connect with The Crittenden Automotive Library