State of Emergency Declared in Tunisia After 12 Killed in Bus Attack
State of Emergency Declared in Tunisia After 12 Killed in Bus Attack
VOA News
Last Updated: 25 November 2015 (1:41AM)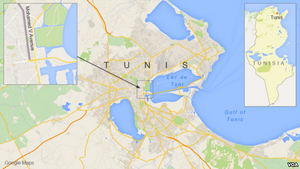 Mohamed V Avenue, Tunis
Tunisian President Beji Caid Essebsi is holding an emergency meeting Wednesday with his security council a day after an explosion killed at least 12 people in the country's capital.
The blast hit a bus carrying members of the country's elite presidential guard on a tree-lined avenue in the center of Tunis. Security and presidential sources said the explosion was an attack and that it was not immediately clear whether it involved a bomb or an explosive fired at the bus.
Essebsi declared a 30-day state of emergency in Tunisia and Tunis was under an overnight curfew.
Speaking on national television, he said Tunisia is at "war against terrorism," and urged international cooperation against extremists who have staged several deadly attacks in recent weeks.
"I want to reassure the Tunisian people that we will vanquish terrorism," he said.
United Nations Secretary-General Ban Ki-moon and the U.N. Security Council both condemned the attack and expressed support for Tunisia.
"The members of the Security Council stressed that no terrorist attack can reverse the path of Tunisia toward democracy and its efforts towards economic recovery and development," the council said in a statement.
The explosion came 10 days after authorities increased the security level in the capital and deployed security forces in unusually high numbers.
Earlier this month, Tunisian authorities announced the dismantling of a cell it said had planned attacks on police stations and hotels in the seaside city of Sousse, about 150 kilometers southeast of Tunis.
Tunisia's tourism industry has been hit hard this year following extremist attacks. Shootings at a luxury beach hotel in Sousse last June killed 38 people, mostly tourists, while in March an attack by Islamist extremists at Tunisia's famed Bardo museum near the capital killed 22 people.
The U.S. State Department issued the following statement:
The United States strongly condemns today's terrorist attack in Tunis that targeted a bus carrying members of Tunisia's security forces, killing at least 12 people. We extend our deepest sympathies to the victims' families and have offered assistance with Tunisian authorities' investigation.

Secretary Kerry was proud to stand with Tunisian leaders earlier this month in Tunis and reaffirm our countries' extensive economic, governance, and security cooperation. We will continue to support the Tunisian people as they work to build a democratic and prosperous future for their country.
Connect with The Crittenden Automotive Library