Maserati Trofeo World Series Makes A Great Showing At Road America
Maserati Trofeo World Series Makes A Great Showing At Road America
Tom Blattler
WC Vision
June 29, 2015

For Immediate Release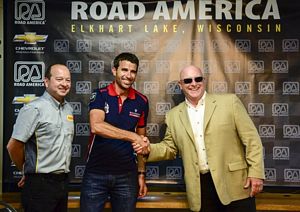 Rafael, Roberto & Scott Bove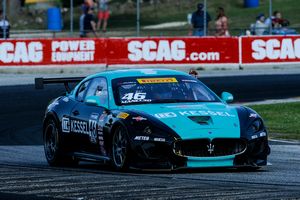 Nick Mancuso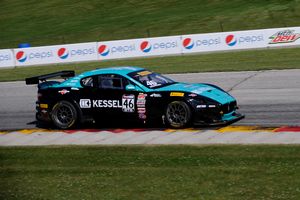 Nick Mancuso
ELKHART LAKE, Wis.
- The Pirelli World Challenge welcomed the worldwide Maserati Trofeo World Series this past weekend at the legendary Road America four-mile road circuit as part of the DeVilbiss Grand Prix presented by Cadillac.
The third round of the six-event Maserati Trofeo World Series campaign marked its 2015 return to North America after opening contests at Circuit Paul Ricard in France and the Red Bull Ring in Austria.
This year's Maserati Trofeo World Series races run 42 minutes in length and feature identical Maserati GranTursimo MC Trofeo sedans. The Road America rounds competed on Saturday and Sunday over the famed Wisconsin racing facility known as "America's National Park of Speed."
"We were thrilled for the return of the Maserati Trofeo World Series to North America and being part of the DeVilbiss Grand Prix at Road America," said Scott Bove, president and CEO of WC Vision. "Maserati is one of the most iconic automobile brands in the world and its legacy is worldwide. Having the Maserati series compete on the same weekend at the Pirelli World Challenge brought a new competition to the racing community and new excitement for the fans. It's always fun to see the Maserati marque on the race track."
The Maserati GranTursimo MC Trofeo machines produce 488 horsepower with its 4,691cc V-8 engine, weight 1400 kg and compete on the Pirelli rubber.
"Bringing our Maserati GranTursimo MC Trofeo to North America is very exciting for our company," said Roberto Bozzi, Sales and Marketing Motorsport Manager, Maserati S.p.A. "In addition, the Pirelli World Challenge weekend provided a tremendous backdrop for us to display our product. Road America is such a legendary race circuit. We were anxious to have our GranTursimo MC Trofeo compete in the GTS division in the Pirelli World Challenge this year."
Maserati entered two GranTursimo MC Trofeo cars at Road America in the Pirelli World Challenge GTS category with American Nick Mancuso driving the No. 46 and Gianmarco Raimondo in the No. 47. Two cars are expected compete at this year's Pirelli World Challenge season finale at Mazda Raceway Laguna Seca on Sept. 11-13.
"The Maserati brand is a legendary marque and we were excited to have the Trofeo World Series with the Pirelli World Challenge this weekend at Road America," said Rafael Navarro, Vice President, Communications, Media Relations and Motorsports at Pirelli Tire North America. "Pirelli is a partner in the Maserati Trofeo World Series and ties in perfectly with the Pirelli World Challenge series."
The next event for the Maserati Trofeo World Series will be at Virginia International Raceway on August 21-23 with the GTS category of the Pirelli World Challenge set for Mid-Ohio Sports Car Course with round 11 and 12 at July 31- August 2.
# # #
Connect with The Crittenden Automotive Library