Tom Hessert Looking For Five-For-Five At Berlin Raceway Saturday Night
Tom Hessert Looking For Five-For-Five At Berlin Raceway Saturday Night
Chris Knight
Knight Motorsports Management
August 9, 2012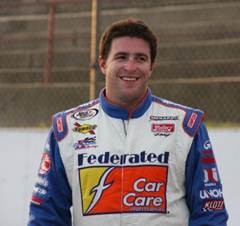 Tom Hessert, driver of the No. 52 Federated Auto Parts Chevrolet in the ARCA Racing Series presented by Menards for Ken Schrader Racing (KSR).
MARNE, Michigan (August 9, 2012)
- - After posting an impressive runner-up finish in his most recent ARCA Racing Series presented by Menards race at Lucas Oil Raceway two weeks ago, Tom Hessert III returns to the circuit looking for career win number two in Saturday night's Berlin ARCA 200 presented by Hantz at Berlin (Mich.) Raceway.
The taste of victory still fresh in his mind, Hessert is anxious to get to the Marne, Michigan short track in the No. 52 Federated Auto Parts Chevrolet Impala for Ken Schrader Racing (KSR) and see if his Donnie Richeson-led team can improve by one and take their first ARCA triumph together in the 15th race of the season.
To the team's advantage, they will bring the same automobile that competed with in the Messina Wildlife Animal Stopper 200 at Lucas Oil Raceway last month, which ultimately could spell trouble for the rest of competition.
"I'm looking forward to Berlin Raceway this weekend, especially after our performance at Lucas Oil Raceway. It was evident that we didn't have the best car in practice or qualifying – but during the race, we kept making adjustments to our No. 52 Federated Auto Parts Chevrolet and the car responded well to those changes. That's important. When we unload on Saturday morning, I feel we'll be in good shape and if we have to make more changes, the car should adjust to our favor."
Statically speaking, Hessert has every reason to feel confident about this weekend's race. In his four previous starts at the .4-mile paved short track, he has yet to fall outside the top-10 as he's acquired one top-five (fourth; 2010) and three top-10s including a sixth place finish last July driving for KSR. His best starting position there is third in 2008 (Andy Belmont Racing) and 2010 (Cunningham Motorsports).
"Even though I love it (Berlin), it's a tough place to find a good balance for the car," explained Hessert. "You must take care of your tires in order to have a shot at having a good finish. Despite its size, the track's layout is prone to us having long green flag runs, especially the last two years or so. That can make the crew chief's job a little harder on Saturday night – but sometimes it's all about strategy that leads to victory. I think Pocono last weekend was a clear indicator of that."
He added, "I've never finished outside the top-10 at Berlin and with any luck that stat will stand after Saturday night. I can tell you one thing if it changes, it won't come without trying because it's all or nothing for us this weekend."
If all goes according to plan on Saturday during practice and qualifying and you can't find Hessert with his Ken Schrader Racing team, you can expect to find him in the pits of Ricky Ehrgott. The New York, New York resident will make his inaugural ARCA Racing Series debut on Saturday night. The two are close friends and Hessert plans to help Ehrgott with his transition from dirt to pavement.
"I'm literally stoked for Ricky," Hessert explained. "He's a good person who's been through a lot and thanks to Andy Hillenburg; he'll have a chance to make his stock car debut on Saturday night. I want him to do well, so I'll give him any and all the advice he wants. But once the green flag drops, he's on his own, a jokingly Hessert smiled.
The Berlin ARCA 200 presented by Hantz (200 laps / 88 miles) is the 15th of 20 events on the 2012 ARCA Racing Series presented by Menards schedule. The 25th ARCA race at Berlin is a one-day show. Practice begins Saturday, August 11 with a forty-five minute practice session planned from 2:00 p.m. - 2:45 p.m. A final practice is scheduled from 3:00 p.m. – 3:45 p.m. Menards pole qualifying presented by Ansell is set for later in the day slated to begin at 5:00 p.m. The event will take the green flag under the lights shortly after 8:30 p.m. The race will not be televised but additional coverage including a radio broadcast and timing and scoring will be available through the ARCA Racing Network (ARN) online at arcaracing.com. All times are local (Eastern).
Entering Berlin, Hessert has 95 career ARCA Racing Series starts. In those outings, he has maneuvered two poles, one win, 23 top-fives and 50 top-10s.
For more on Tom Hessert III, please visit tomhessert.com.
Hessert has joined the Twitter crave. Follow and connect with him @TomHessert.
MEDIA CONTACT:
NAME: Chris Knight, Knight Motorsports Management
PHONE: 239.834.9797
EMAIL: chris@chrisknightpr.com
Connect with The Crittenden Automotive Library