Bryan Silas; T3R2 Debut New Sponsor For Truck Opener At Daytona
Bryan Silas; T3R2 Debut New Sponsor For Truck Opener At Daytona
Chris Knight
Knight Motorsports Management
T3R2
February 19, 2015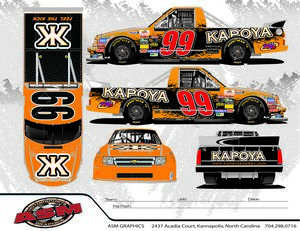 The layout of the No. 99 Kapoya Energy Drinks Chevrolet Silverado for driver Bryan Silas in the NASCAR Camping World Truck Series for T3R2.
DAYTONA BEACH, Florida (February 19, 2015)
- - After a career-best season in the NASCAR Camping World Truck Series (NCWTS) last year, Bryan Silas and his T3R2 team hope to stretch that momentum into Friday's season-opener with the announcement of Kapoya Energy Drinks as the primary sponsor of the team's No. 99 Chevrolet Silverado for the NextEra Resources 250 at Daytona (Fla.) International Speedway.
Kapoya is a Florida based company and is known for their unique and original flavors, giving you the premium zero (0) to five (5) calorie(s) energy drinks. With Kapoya's unique taste, you are sure to "Feel the Kick."
Unlike other energy drinks, Kapoya is sugar-free and features no taurine and essential B-Vitamins, allowing you to perform at peak levels. Friday night's race will mark their first foray into NASCAR.
"We're very excited to represent Kapoya this week at Daytona," said driver Bryan Silas. "They are based close to my hometown and Daytona essentially is a hometown race for me, so to combine the two is an ideal situation for me and our T3R2 team."
Silas, a native of Stuart, Florida will make his sixth career start at the "World Center of Racing" and hopes to better a 17th-place performance from the 2.5-mile speedway after being shuffled from the lead draft just laps from the finish.
"We had a good race at Daytona last February," Silas recalled. "Actually, it was one of my best there. We qualified mid-pack but were able to quickly position ourselves nicely and drafted to the front. We were in the top-10 with a few laps remaining and the high side came to life and we found ourselves being shuffled backward on the bottom. We learned from that and look forward to a good race Friday night."
After a year where Silas recorded two top-10 finishes en route to a 10th place finish in the championship standings, the 27-year old driver is anxiously awaiting to see what his family-owned team can deliver this season.
"From the middle to the end of the season last year, we steadily improved our race team and it showed with our finishes," offered Silas. "We still have some things to work on, but we made some great progress during the offseason and I think those improvements, plus the ones we gain during the season should hopefully allow us to turn those top-10 finishes into hopefully top-fives. We're staying humble though, we're just glad to be at the track."
Cal Boprey who joined the team at Dover (Del.) International Speedway last June will return as crew chief for the 2015 NASCAR Camping World Truck Series season.
The NextEra Energy Resources 250 (100 laps / 250 miles) is the first of 23 events on the 2015 NASCAR Camping World Truck Series schedule. The first practice session of the year begins on Thursday, February 18th from 1:30 p.m. to 2:25 p.m. Round two is set for later in the afternoon from 3:30 p.m. – 4:55 p.m. Qualifying is set for race day, Friday, February 20th scheduled to lift off at 4:45 p.m. The 32-truck starting field will take the green flag shortly after 7:30 p.m. with live coverage on FOX Sports 1, the Motor Racing Network (Radio) and SiriusXM NASCAR Radio (Satellite Radio, Channel 90). Pre-race coverage of the anticipated thriller is tentatively scheduled to lift off at 7:00 p.m. also on FOX Sports 1.
For more on Bryan Silas please visit, BryanSilasRacing.com or tweet with him @BryanSilas99.
Follow T3R2 on Twitter by following @T3R2Racing.
-30-
Connect with The Crittenden Automotive Library