BYD Receives INOVACIDADE AWARD
BYD Receives INOVACIDADE AWARD
BYD
September 12, 2014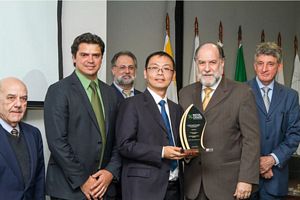 Tyler Li, General Manager of BYD Brazil, receiving the prize
An Award for the Positive Impact in Brazilian Cities
(CAMPINAS, September 9th 2014) On Thursday, September 4th, the Smart City Business Institute in partnership with the City of Curitiba, ADVB, Fercomércio and FENADVB PR promoted the third edition of the event Smart City Business Congress & Expo America. During the event, BYD Brasil received the InovaCidade award for the technical and economic demonstration of feasibility in qualifying bus fleets operating in Brazil with an equal or lower cost than similar buses powered by fossil fuels, hence, providing a better quality of life and environment for the Brazilian cities.
BYD buses are already being tested in some cities in Brazil. In São Paulo, Campinas, Rio de Janeiro and Salvador, the BYD electric buses showed an equivalent reduction from 75 % to 81 % in operating costs. This cost reduction is enough to enable bus operators to lease the batteries without compromising cash flow. It will then be possible to improve bus fleets in the major Brazilian cities without increasing the tariff rates. "As the price of energy is more stable than the price of diesel, the electric bus has shown that it is possible to reduce pollution as well as operating costs of bus systems, which is consistent with the civic demand for improvements in public transportation without raising fares " said Adalberto Maluf , Marketing Director of BYD.
The event participants included government representatives, non-governmental organizations, large companies CEOs also the mayor of Curitiba, Gustavo Fruet. During the event, Smart City Business organizers awarded organizations that directly or indirectly contributed to the quality of life in cities in Brazil. In addition to BYD, other large organizations were recognized for their work, including Dell, Ericsson, Microsoft, Phillips, and Fortaleza City Hall among others.
About Smart City America Congress & Expo
The Smart City Business America Congress & Expo is held at Smart City Business Institute, in partnership with the City of Curitiba, the Trade Federation of Parana, Curitiba Development Agency and Positivo University. Smart City Business brings together decision makers from the public and private sectors aiming to generate great business opportunities.
http://www.smartcitybusiness.com.br/
About BYD
BYD Company Ltd. is one of China's largest companies and has successfully expanded globally. Specializing in battery technologies, their green mission to "solve the whole problem" has made them industry pioneers and leaders in several High-tech sectors including High-efficiency Automobiles, Electrified Public Transportation, Environmentally-Friendly Energy Storage, Affordable Solar Power and Information Technology and Original Design Manufacturing (ODM) services.
As the world's largest manufacturer of rechargeable batteries, their mission to create safer and more environmentally friendly battery technologies has led to the development of the BYD Iron Phosphate (or "Fe") Battery. This fire-safe, completely recyclable and incredibly long-cycle technology has become the core of their clean energy platform that has expanded into automobiles, buses, trucks, utility vehicles and energy storage facilities. BYD and all of their shareholders, including the great American Investor Warren Buffett, see these environmentally and economically forward products as the way of the future.
BYD has made a strong entrance to the North, Central and South American markets with their battery electric buses, and lineup of automobiles. Their mission lies not just in sales growth, but also in sociological integration and local job creation as they have poured incredible investments into developing offices, dealerships and manufacturing facilities in the local communities they now call home, truly a first for Chinese companies. For more information, please visit www.byd.com
Connect with The Crittenden Automotive Library