BYD named as LowCVP Low Carbon Champion
BYD named as LowCVP Low Carbon Champion
BYD
September 12, 2014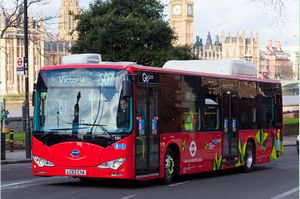 BYD ebus running on the road of London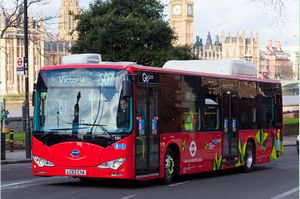 Isbrand Ho (second from left) received the Award from LowCVP
BYD, the world's largest maker of rechargeable batteries which is bringing a range of zero and low emission vehicles to Europe, has been named as a UK LowCVP Low Carbon Champion.
At a gala dinner last night BYD Europe was the winner of the 'Low Carbon Heavy Duty Vehicle of the Year Award'. The judging panel comprised 22 senior executives from across a range of organisations with a stake in the low carbon road transport agenda. They said that BYD's pure electric ebuses – now in trial service in London as well as major cities across Europe and the world - have demonstrated impressive carbon savings through their innovative electric powertrain systems and, moreover, provide a compelling business case with high market growth potential.
More than 25 entries were submitted for Awards and in the Heavy Duty category BYD beat off competition from Iveco and Wrightbus. Talking about the BYD ebus, the judges said: "Backed by a wealth of international experience, BYD Europe's vehicles demonstrate a real business case for their adoption and market growth potential. The very high reliability of the new powertrain system has been demonstrated providing a flexible approach to electric charging".
Isbrand Ho, Managing Director BYD Europe who received the Award, said: "We are very honoured to receive this prestigious Award. We have invested heavily in demonstrating our technology to bus operators in more than 36 cities across Europe and passengers in London today are travelling on our buses. We believe our reliable and proven technology has much to offer both environmentally and in dramatically reducing operating costs. We are delighted that our efforts have been recognised here".
The performance of the BYD ebus has been proven in extensive operational experience in China where in the southern city of Shenzhen 780 ebuses have been in service since January 2011, covering in total more than 33.7 million km of challenging passenger-carrying service. Challenging means carrying up to 120 passengers during rush hours with full air-conditioning in use.
While the BYD ebus delivers zero emission public transport it also offers bus operators tremendous operating cost savings. The energy consumption is around 130kWh/100km in urban conditions. The ebus battery takes 4 to 5 hours to recharge from totally exhausted at a cost for the buses in London of only £19.44 (using off peak electricity – the buses are recharged at night). This represents a saving of up to 75% of fuel cost compared to a diesel bus.
About BYD
BYD Company Ltd. is one of China's largest companies and has successfully expanded globally. Specializing in battery technologies, their green mission to "solve the whole problem" has made them industry pioneers and leaders in several High-tech sectors including High-efficiency Automobiles, Electrified Public Transportation, Environmentally-Friendly Energy Storage, Affordable Solar Power and Information Technology and Original Design Manufacturing (ODM) services.
As the world's largest manufacturer of rechargeable batteries, their mission to create safer and more environmentally friendly battery technologies has led to the development of the BYD Iron Phosphate (or "Fe") Battery. This fire-safe, completely recyclable and incredibly long-cycle technology has become the core of their clean energy platform that has expanded into automobiles, buses, trucks, utility vehicles and energy storage facilities. BYD and all of their shareholders, including the great American Investor Warren Buffett, see these environmentally and economically forward products as the way of the future.
BYD has made a strong entrance to the North, Central and South American markets with their battery electric buses, and lineup of automobiles. Their mission lies not just in sales growth, but also in sociological integration and local job creation as they have poured incredible investments into developing offices, dealerships and manufacturing facilities in the local communities they now call home, truly a first for Chinese companies. For more information, please visit www.byd.com
Connect with The Crittenden Automotive Library