Mackena Bell To Make NASCAR Nationwide Series Debut With Rick Ware Racing
Mackena Bell To Make NASCAR Nationwide Series Debut With Rick Ware Racing
Chris Knight
Knight Motorsports Management
Rick Ware Racing
November 4, 2014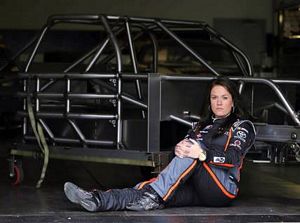 Mackena Bell, driver of the No. 23 Rick Ware Racing Chevrolet Camaro for Rick Ware Racing in the NASCAR Nationwide Series.
PHOENIX, Ariz. (November 4, 2014)
- - Officials from Rick Ware Racing (RWR) confirmed today that NASCAR K&N Pro Series East (NKNPSE) driver Mackena Bell will compete in Saturday's DAV 200 at Phoenix (Ariz.) International Speedway.
By taking the green flag behind the No. 23 Rick Ware Racing Chevrolet, Bell will become the only female graduate of NASCAR's Drive for Diversity program to compete at a NASCAR national series level.
Bell, a native of Carson City, Nevada recently completed her second season of NASCAR K&N Pro Series East competition driving for Rev Racing. She finished 16th in points and posted one top-10 finish in the season-opener at New Smyrna (Fla.) Speedway.
Of course, the intensity and competition level will increase ten-fold in the penultimate race of the NASCAR Nationwide Series season, but the 24-year is old is eager to turn heads.
"I'm just going to enjoy every minute of it," said Bell. "For so long, I've put so much pressure on myself to do something, to prove something, that I've not always enjoyed the ride. This race will be different. I'm going to enjoy this opportunity and learn as much as possible.
"This series is very competitive and there are a lot of teams with huge sponsors and great backing. Running for a little team gives you the chance to just take it all in, experience the differences and not feel the pressure, or expectation of setting the world on fire. I'm really looking forward to it."
Team principal Rick Ware is equally excited to see Bell's progression throughout the weekend, as well as finesse behind the wheel in her NASCAR Nationwide Series debut.
"We could not be more thrilled to have Mackena behind the wheel of a Rick Ware Racing car this weekend at Phoenix," said Ware. "She exemplifies everything we look for in a young, ambitious driver. No doubt that she has a lot to learn in a short period of time, but I think she'll be fine. I know she's looking forward to this week, so we'll give it all we have to make sure her Nationwide debut is one to remember."
Of course, RWR is no stranger to working and breeding young talent throughout various forms of Motorsports. This weekend, the organization will continue to live up to its standards and introduce the second female to drive for the team this season.
"Mackena is a female who's worked hard to get where she is at today," he said. "It's easy for anyone to say that she is getting this opportunity because she is a female. But, she's earned it. She does a great job behind the wheel of a racecar and even though her learning curve is steep, she'll do fine at Phoenix. We'll build on it and see what's next."
The DAV 200 – Honoring America's Veterans is set for Saturday, November 8. The 200-lap contest is scheduled to air live on ESPN, the Motor Racing Network (MRN) and SiriusXM Satellite Radio Channel 90 beginning at 1:30 p.m. The green flag is scheduled to fly at 2:15 p.m. local; 4:15 p.m. Eastern.
For more on Mackena Bell, follow her on Twitter or visit her Facebook page.
Rick Ware Racing is on Twitter. Follow them @RickWareRacing.
About Rick Ware Racing:
Rick Ware Racing (RWR) has competed in every NASCAR sanctioned series, ARCA Series, the WMA Motocross Series, AMA Arenacross, Motocross and Supercross Series, Summer X-Games and Rolex Grand-Am Series.
Media Contact:
Lisa Ware
lrware@aol.com
336.210.6411
Connect with The Crittenden Automotive Library