Carlos Contreras Readies Homestead Return With Rick Ware Racing
Carlos Contreras Readies Homestead Return With Rick Ware Racing
Chris Knight
Knight Motorsports Management
November 13, 2014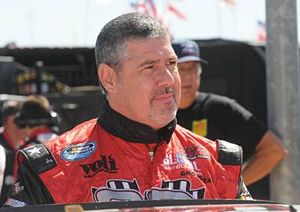 Carlos Contreras, driver of the No. 23 SLAM / Circle K Chevrolet Camaro Camaro for Rick Ware Racing in the NASCAR Nationwide Series.
HOMESTEAD, Florida (November 13, 2014)
- - It's been nearly 12 years since Carlos Contreras has seen Homestead-Miami (Fla.) Speedway, but that will change this weekend, as he returns to the track to compete in Saturday afternoon's NASCAR Nationwide Series season finale for Rick Ware Racing (RWR).
For this weekend's Ford EcoBoost 300, Contreras will have the support of Sports Leadership and Management, as well as new race partner, Circle K.
Opening in 2013, Sports Leadership and Management (SLAM) is a public charter school in Miami, Florida for 6th through 12th grade students seeking careers in the Sports Leadership and Management industries. The mission of SLAM is to provide an innovative and in-depth secondary educational program that produces college-bound students through emphasis on sports-related majors and post secondary preparation. The school philosophy is the mechanism through which the mission will be achieved. In order to produce college bound and career-oriented graduates, the school believes it must provide Rigor, Relevance and Relationships in the educational program.
"It's hard to believe it's the last race of the season, but I'm excited to partner with SLAM and have them on our No. 23 this weekend at Homestead," said Contreras. "I'm a huge supporter of education and I strongly believe in SLAM's objective and goals. We're excited to welcome principal Alex Tamargo and many students as our special guests for race day."
He added, "I have to thank Circle K for jumping on-board with us this weekend too. It's important for us to have a good run in Saturday's race to carry some momentum into the off-season. Circumstances beyond our control prevented a good finish at Texas, so we want to do everything we can to make up for it in Homestead."
Speaking of Homestead, the Mexico City, Mexico native returns to the 1.5-mile track for the first time since running the 2002 NASCAR Camping World Truck Series season finale. While in three previous starts, he has a personal-best of seventh in 2001, Contreras has found memories of the South Florida racetrack.
"Homestead is a neat place," he sounded. "It's a racetrack where it's always been fun to compete at. The competition is never sour and while it may difficult to pass in some places, the track produces some great racing with its characteristics. It's important for us to have our No. 23 SLAM / Circle K Chevrolet Camaro dialed in. We'll start the race in the daytime and end at night, so you want to make sure that as the track conditions change, you're keeping pace. If we can accomplish that and stay out of trouble, we can head home knowing we had a good day."
An added boost for Rick Ware Racing and the 44-year old Contreras this weekend will be the support of special guest, Dhafir Harris. Emerging as an international star for his mixed martial arts techniques and dominance, "DaDa 5000" will join the Thomasville, North Carolina pre-race festivities, as well as enjoy the Ford EcoBoost 300 from the team's pit stall.
"We definitely want to have a good run on Saturday afternoon, so Dhafir doesn't come and bust a move on us," Contreras joked. "In all seriousness, he's a huge support of myself, SLAM and other educational programs in the Miami area. Hopefully, this will be a trip to the track he won't soon forget."
Car owner Rick Ware says he's been proud to work with Contreras this season.
"Carlos has brought a lot of flavor and desire to Rick Ware Racing," he said. "He still has that want and desire to do well. We've had fun preparing and bringing cars to the racetrack for him. We're steadily working away at 2015 and hope to announce our plans soon. One thing is for certain, we're hoping to include Carlos in them.
"As for Saturday, we're fortunate enough to have a lot of guests and support. We need to run our race, but make sure we're doing all we can to stay with the field and hope when the last checkered flag waves this season, we're inside the top-20."
Contreras's checkered flag though won't waive until Sunday afternoon, as he'll stay and be an analyst for FOX Sports Media, as well as national and local media covering the Championship round for the NASCAR Sprint Cup Series' Ford EcoBoost 400.
The Ford EcoBoost 300 is set for Saturday, November 15. The 200-lap contest is scheduled to air live on ESPN, the Motor Racing Network (MRN) and SiriusXM Satellite Radio Channel 90 beginning at 4:00 p.m. Eastern. The green flag is scheduled to fly at 4:46 p.m. local.
For more on Carlos Contreras, follow him on Twitter or visit his Facebook page.
Rick Ware Racing is on Twitter. Follow them @RickWareRacing.
About Rick Ware Racing:
Rick Ware Racing (RWR) has competed in every NASCAR sanctioned series, ARCA Series, the WMA Motocross Series, AMA Arenacross, Motocross and Supercross Series, Summer X-Games and Rolex Grand-Am Series.
Media Contact:
Lisa Ware
lrware@aol.com
336.210.6411
Connect with The Crittenden Automotive Library