Cody Shane Ware Readies NASCAR Camping World Truck Series Debut
Cody Shane Ware Readies NASCAR Camping World Truck Series Debut
Chris Knight
Knight Motorsports Management
October 16, 2014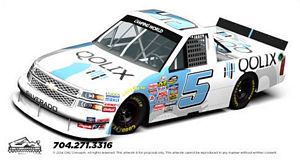 The layout of the No. 5 QOLIX Chevrolet Silverado driven by Cody Shane Ware in Saturday's fred's 250 powered by Coca-Cola at Talladega (Ala.) Superspeedway in the NASCAR Camping World Truck Series (NCWTS) for Rick Ware Racing.
TALLADEGA, Alabama (October 16, 2014)
- - Teenager racing sensation Cody Ware, a part-time NASCAR Nationwide Series competitor will make his NASCAR Camping World Truck Series (NCWTS) debut in Saturday's fred's 250 at Talladega (Ala.) Superspeedway.
This season, the third-generation driver has been competing in the TUDOR United SportsCar Championship Series, where he has earned multiple podium wins at Watkins Glen (N.Y.) International, as well as the Petit Le Mans at Road Atlanta in his Lamborghini Super Trofeo class. Additionally, he has made multiple NASCAR Nationwide Series starts with a best finish of 15th in his debut at Mid-Ohio.
Ware, 18, continues an uphill, but successful climb in stock cars driving for father Rick Ware. This weekend, however at Talladega, Ware faces his stiffest battle yet.
With Talladega on deck, Ware will experience a whole-new form of racing that he's never tackled before, restrictor plate racing. Often known as a great equalizer to bring all teams into the battle, Ware is hoping that with help from his father and team, his No. 5 QOLIX Chevrolet Silverado fits into that platform Saturday afternoon.
"Man, words cannot describe how I'm feeling about making my NASCAR Camping World Truck Series debut, especially at Talladega," Ware said. "We've been trying to put this opportunity together for a couple of weeks and we weren't real sure if we would be able to pull it off, but we're did and we're going to Talladega."
QOLIX® will sponsor Ware in his NASCAR Camping World Truck Series debut this weekend, entering their second foray into Motorsports sponsorship. Recently, they also sponsored stunt man Stanton Barrett at New Hampshire Motor Speedway.
QOLIX® is a web-based Patient-Reported Outcomes (PRO) monitoring system that integrates newly-developed generic and condition-specific PRO measures to improve the comprehensiveness and efficiency of measurement in comparison with familiar legacy PROs.
"Qualify of life improvement is one of the most important goals of health care and QOLIX® is the fastest quality of life measurement system available," said QOLIX® representative John Ware. "We are pleased to announce this new technology at Talladega, one of NASCAR's fastest race tracks during national Breast Cancer Awareness Month and in Cody's Truck Series debut. We wish them a lot of luck."
Luck is something that Ware will need in order to have an opportunity to finish strong at the 2.66-mile superspeedway. Finding yourself with the right drafting partner, not to mention avoiding the dreaded "big one," Ware hopes to be at the right place, at the right time, when push comes to shove Saturday.
"We're going to finish and get experience, but we'd be ecstatic with a top-10 finish," Ware added. "The field is bound to be competitive, so we just need to make sure we do our best to get our No. 5 QOLIX® Chevrolet handling good, so when the race starts, we can stay in the draft and hope for the best."
The freds' 250 powered by Coca-Cola is the 18th of 22 races on the 2014 NASCAR Camping World Truck Series schedule. The event will be televised live on FOX, MRN Radio and SiriusXM Satellite Radio Channel 90 on Saturday afternoon, October 18 beginning at 12:30 p.m. The green flag is scheduled to drop at approximately 1:22 p.m. All times Eastern.
For more on Cody Shane Ware, follow him @CodyShaneWare.
Rick Ware Racing is on Twitter. Follow them @RickWareRacing.
Media Contact:
Lisa Ware, Rick Ware Racing
lrware@aol.com
336.210.6411
Connect with The Crittenden Automotive Library