Carpenter Tests 2 Days at IMS for Firestone, 1st Time CFH Racing Together
Carpenter Tests 2 Days at IMS for Firestone, 1st Time CFH Racing Together
Tom Blattler
CFH Racing
September 26, 2014

Microsoft Word version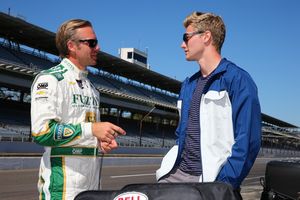 Ed drove the Fuzzy's Vodka Chevy this week as CFH Racing blends its talents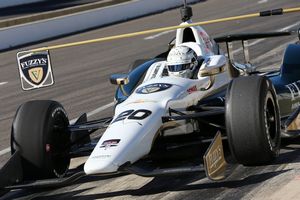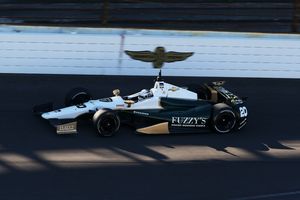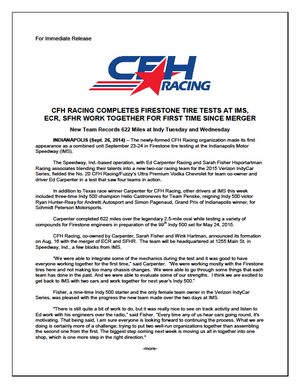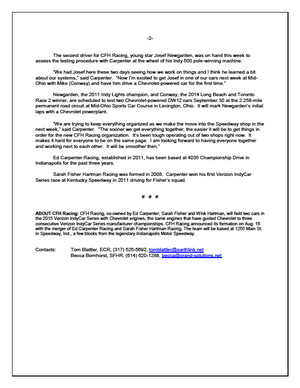 September 26th 2014 - INDIANAPOLIS – The newly-formed CFH Racing organization made its first appearance as a combined unit September 23-24 in Firestone tire testing at the Indianapolis Motor Speedway (IMS).
The Speedway, Ind.-based operation, with Ed Carpenter Racing and Sarah Fisher Hsportartman Racing associates blending their talents into a new two-car racing team for the 2015 Verizon IndyCar Series, fielded the No. 20 CFH Racing/Fuzzy's Ultra Premium Vodka Chevrolet for team co-owner and driver Ed Carpenter in a test that saw four teams in action.
In addition to Texas race winner Carpenter for CFH Racing, other drivers at IMS this week included three-time Indy 500 champion Helio Castroneves for Team Penske, reigning Indy 500 victor Ryan Hunter-Reay for Andretti Autosport and Simon Pagenaud, Grand Prix of Indianapolis winner, for Schmidt Peterson Motorsports.
Carpenter completed 622 miles over the legendary 2.5-mile oval while testing a variety of compounds for Firestone engineers in preparation of the 99th Indy 500 set for May 24, 2015.
CFH Racing, co-owned by Carpenter, Sarah Fisher and Wink Hartman, announced its formation on Aug. 16 with the merger of ECR and SFHR. The team will be headquartered at 1255 Main St. in Speedway, Ind., a few blocks from IMS.
"We were able to integrate some of the mechanics during the test and it was good to have everyone working together for the first time," said Carpenter. "We were working mostly with the Firestone tires here and not making too many chassis changes. We were able to go through some things that each team has done in the past. And we were able to evaluate some of our strengths. I think we are excited to get back to IMS with two cars and work together for next year's Indy 500."
Fisher, a nine-time Indy 500 starter and the only female team owner in the Verizon IndyCar Series, was pleased with the progress the new team made over the two days at IMS.
"There is still quite a bit of work to do, but it was really nice to see on track activity and listen to Ed work with his engineers over the radio," said Fisher. "Every time any of us hear cars going round, it's motivating. That being said, I am sure everyone is looking forward to continuing the process. What we are doing is certainly more of a challenge; trying to put two well-run organizations together than assembling the second one from the first. The biggest step coming next week is moving us all in together into one shop, which is one more step in the right direction."
The second driver for CFH Racing, young star Josef Newgarden, was on hand this week to assess the testing procedure with Carpenter at the wheel of his Indy 500 pole-winning machine.
"We had Josef here these two days seeing how we work on things and I think he learned a bit about our systems," said Carpenter. "Now I'm excited to get Josef in one of our cars next week at Mid-Ohio with Mike (Conway) and have him drive a Chevrolet-powered car for the first time."
Newgarden, the 2011 Indy Lights champion, and Conway, the 2014 Long Beach and Toronto Race 2 winner, are scheduled to test two Chevrolet-powered DW12 cars September 30 at the 2.258-mile permanent road circuit at Mid-Ohio Sports Car Course in Lexington, Ohio. It will mark Newgarden's initial laps with a Chevrolet powerplant.
"We are trying to keep everything organized as we make the move into the Speedway shop in the next week," said Carpenter. "The sooner we get everything together, the easier it will be to get things in order for the new CFH Racing organization. It's been tough operating out of two shops right now. It makes it hard for everyone to be on the same page. I am looking forward to having everyone together and working next to each other. It will be smoother then."
Ed Carpenter Racing, established in 2011, has been based at 4035 Championship Drive in Indianapolis for the past three years.
Sarah Fisher Hartman Racing was formed in 2008. Carpenter won his first Verizon IndyCar Series race at Kentucky Speedway in 2011 driving for Fisher's squad. - See more at: http://www.edcarpenterracing.com/CarpenterTests2DaysatIMSforFirestone1stTimeCFHRacingTogether.news#sthash.qkWq2MHT.dpuf
Connect with The Crittenden Automotive Library