Wild 2nd Qualifying Lap Friday at Fontana Cost Carpenter Front Row Spot
Wild 2nd Qualifying Lap Friday at Fontana Cost Carpenter Front Row Spot
Tom Blattler
Ed Carpenter Racing
August 29, 2014

Microsoft Word version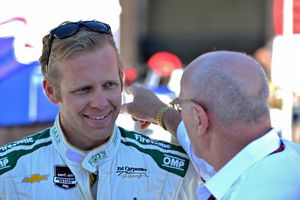 Ed looked good in qualifying on lap 1 Friday, but lap 2 was another story.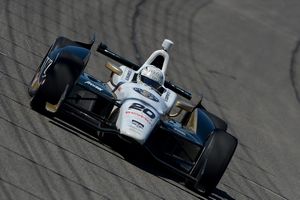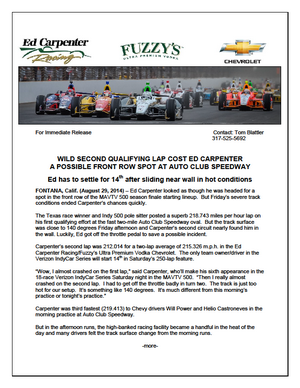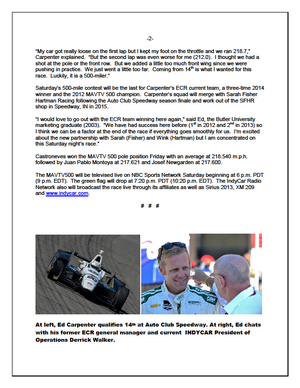 August 29th 2014 - FONTANA, Calif. – Ed Carpenter looked as though he was headed for a spot in the front row of the MAVTV 500 season finale starting lineup. But Friday's severe track conditions ended Carpenter's chances quickly.
The Texas race winner and Indy 500 pole sitter posted a superb 218.743 miles per hour lap on his first qualifying effort at the fast two-mile Auto Club Speedway oval. But the track surface was close to 140 degrees Friday afternoon and Carpenter's second circuit nearly found him in the wall. Luckily, Ed got off the throttle pedal to save a possible incident.
Carpenter's second lap was 212.014 for a two-lap average of 215.326 m.p.h. in the Ed Carpenter Racing/Fuzzy's Ultra Premium Vodka Chevrolet. The only team owner/driver in the Verizon IndyCar Series will start 14th in Saturday's 250-lap feature.
"Wow, I almost crashed on the first lap," said Carpenter, who'll make his sixth appearance in the 18-race Verizon IndyCar Series Saturday night in the MAVTV 500. "Then I really almost crashed on the second lap. I had to get off the throttle badly in turn two. The track is just too hot for our setup. It's something like 140 degrees. It's much different from this morning's practice or tonight's practice."
Carpenter was third fastest (219.413) to Chevy drivers Will Power and Helio Castroneves in the morning practice at Auto Club Speedway. But in the afternoon runs, the high-banked racing facility became a handful in the heat of the day and many drivers felt the track surface change from the morning runs.
"My car got really loose on the first lap but I kept my foot on the throttle and we ran 218.7," Carpenter explained. "But the second lap was even worse for me (212.0). I thought we had a shot at the pole or the front row. But we added a little too much front wing since we were pushing in practice. We just went a little too far. Coming from 14th is what I wanted for this race. Luckily, it is a 500-miler."
Saturday's 500-mile contest will be the last for Carpenter's ECR current team, a three-time 2014 winner and the 2012 MAVTV 500 champion. Carpenter's squad will merge with Sarah Fisher Hartman Racing following the Auto Club Speedway season finale and work out of the SFHR shop in Speedway, IN in 2015.
"I would love to go out with the ECR team winning here again," said Ed, the Butler University marketing graduate (2003). "We have had success here before (1st in 2012 and 2nd in 2013) so I think we can be a factor at the end of the race if everything goes smoothly for us. I'm excited about the new partnership with Sarah (Fisher) and Wink (Hartman) but I am concentrated on this Saturday night's race."
Castroneves won the MAVTV 500 pole position Friday with an average at 218.540 m.p.h. followed by Juan Pablo Montoya at 217.621 and Josef Newgarden at 217.600.
The MAVTV500 will be televised live on NBC Sports Network Saturday beginning at 6 p.m. PDT (9 p.m. EDT). The green flag will drop at 7:20 p.m. PDT (10:20 p.m. EDT). The IndyCar Radio Network also will broadcast the race live through its affiliates as well as Sirius 2013, XM 209 and www.indycar.com.
Connect with The Crittenden Automotive Library