ECR Adds EmergenSee as Associate Sponsor to Hildebrand's Preferred Freezer Services Chevy
ECR Adds EmergenSee as Associate Sponsor to Hildebrand's Preferred Freezer Services Chevy
Tom Blattler
Ed Carpenter Racing
May 24, 2014

Microsoft Word version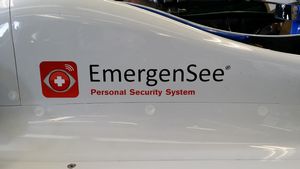 EmergenSee joins ECR as Associate Sponsor at Indy 500.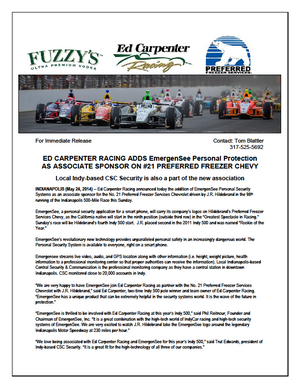 May 24th 2014 - INDIANAPOLIS -- Ed Carpenter Racing announced today the addition of EmergenSee Personal Security Systems as an associate sponsor for the No. 21 Preferred Freezer Services Chevrolet driven by J.R. Hildebrand in the 98th running of the Indianapolis 500-Mile Race this Sunday.
EmergenSee, a personal security application for a smart phone, will carry its company's logos on Hildebrand's Preferred Freezer Services Chevy, as the California native will start in the ninth position (outside third row) in the "Greatest Spectacle in Racing." Sunday's race will be Hildebrand's fourth Indy 500 start. J.R. placed second in the 2011 Indy 500 and was named "Rookie of the Year."
EmergenSee's revolutionary new technology provides unparalleled personal safety in an increasingly dangerous world. The Personal Security System is available to everyone, right on a smart phone. Emergensee streams live video, audio, and GPS location along with other information (i.e. height, weight picture, health information to a professional monitoring center so that proper authorities can receive the information).
Local Indianapolis-based Central Security & Communication is the professional monitoring company as they have a central station in downtown Indianapolis. CSC monitored close to 20,000 accounts in Indy.
"We are very happy to have EmergenSee join Ed Carpenter Racing as partner with the No. 21 Preferred Freezer Services Chevrolet with J.R. Hildebrand," said Ed Carpenter, two-time Indy 500 pole winner and team owner of Ed Carpenter Racing. "EmergenSee has a unique product that can be extremely helpful in the security systems world. It is the wave of the future in protection."
"EmergenSee is thrilled to be involved with Ed Carpenter Racing at this year's Indy 500," said Phil Reitnour, Founder and Chairman of EmergenSee, Inc. "It is a great combination with the high-tech world of IndyCar racing and high-tech security systems of EmergenSee. We are very excited to watch J.R. Hildebrand take the EmergenSee logo around the legendary Indianapolis Motor Speedway at 230 miles per hour."
"We love being associated with Ed Carpenter Racing and EmergenSee for this year's Indy 500," said Trut Edwards, president of Indy-based CSC Security. "It is a great fit for the high-technology of all three of our companies."
Connect with The Crittenden Automotive Library