Hildebrand Goes 226 in 95 laps Monday, Carpenter Posts 224 in Practice
Hildebrand Goes 226 in 95 laps Monday, Carpenter Posts 224 in Practice
Tom Blattler
Ed Carpenter Racing
May 19, 2014

Microsoft Word version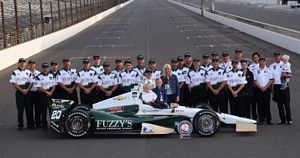 Indy 500 Pole Team for the 2nd straught year -- ECR !!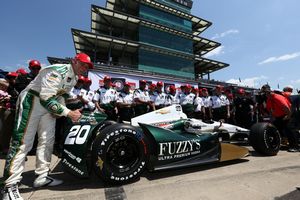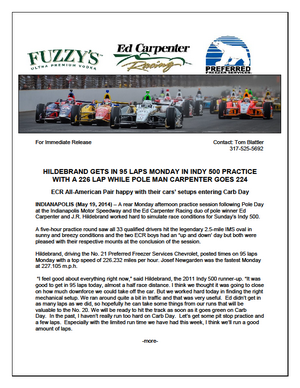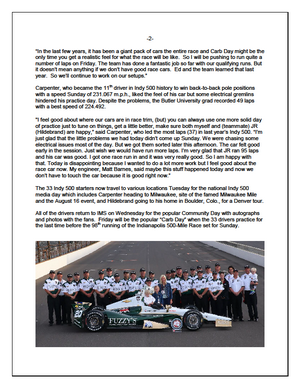 May 19th 2014 - INDIANAPOLIS (May 19, 2014) – A rare Monday afternoon practice session following Pole Day at the Indianapolis Motor Speedway and the Ed Carpenter Racing duo of pole winner Ed Carpenter and J.R. Hildebrand worked hard to simulate race conditions for Sunday's Indy 500.
A five-hour practice round saw all 33 qualified drivers hit the legendary 2.5-mile IMS oval in sunny and breezy conditions and the two ECR boys had an "up and down' day but both were pleased with their respective mounts at the conclusion of the session.
Hildebrand, driving the No. 21 Preferred Freezer Services Chevrolet, posted times on 95 laps Monday with a top speed of 226.232 miles per hour. Josef Newgarden was the fastest Monday at 227.105 m.p.h.
"I feel good about everything right now," said Hildebrand, the 2011 Indy 500 runner-up. "It was good to get in 95 laps today, almost a half race distance. I think we thought it was going to close on how much downforce we could take off the car. But we worked hard today in finding the right mechanical setup. We ran around quite a bit in traffic and that was very useful. Ed didn't get in as many laps as we did, so hopefully he can take some things from our runs that will be valuable to the No. 20. We will be ready to hit the track as soon as it goes green on Carb Day. In the past, I haven't really run too hard on Carb Day. Let's get some pit stop practice and a few laps. Especially with the limited run time we have had this week, I think we'll run a good amount of laps.
"In the last few years, it has been a giant pack of cars the entire race and Carb Day might be the only time you get a realistic feel for what the race will be like. So I will be pushing to run quite a number of laps on Friday. The team has done a fantastic job so far with our qualifying runs. But it doesn't mean anything if we don't have good race cars. Ed and the team learned that last year. So we'll continue to work on our setups."
Carpenter, who became the 11th driver in Indy 500 history to win back-to-back pole positions with a speed Sunday of 231.067 m.p.h., liked the feel of his car but some electrical gremlins hindered his practice day.
Despite the problems, the Butler University grad recorded 49 laps with a best speed of 224.492.
"I feel good about where our cars are in race trim, (but) you can always use one more solid day of practice just to tune on things, get a little better, make sure both myself and (teammate) JR (Hildebrand) are happy," said Carpenter, who led the most laps (37) in last year's Indy 500. "I'm just glad that the little problems we had today didn't come up Sunday. We were chasing some electrical issues most of the day. But we got them sorted later this afternoon. The car felt good early in the session. Just wish we would have run more laps. I'm very glad that JR ran 95 laps and his car was good. I got one race run in and it was very really good. So I am happy with that. Today is disappointing because I wanted to do a lot more work but I feel good about the race car now. My engineer, Matt Barnes, said maybe this stuff happened today and now we don't have to touch the car because it is good right now."
The 33 Indy 500 starters now travel to various locations Tuesday for the national Indy 500 media day which includes Carpenter heading to Milwaukee, site of the famed Milwaukee Mile and the August 16 event, and Hildebrand going to his home in Boulder, Colo., for a Denver tour.
All of the drivers return to IMS on Wednesday for the popular Community Day with autographs and photos with the fans. Friday will be the popular "Carb Day" when the 33 drivers practice for the last time before the 98th running of the Indianapolis 500-Mile Race set for Sunday.
Connect with The Crittenden Automotive Library