Mike Conway's Long Beach Blog -- "Great Race To Win"
Mike Conway's Long Beach Blog -- "Great Race To Win"
Mike Conway
Ed Carpenter Racing
April 10, 2014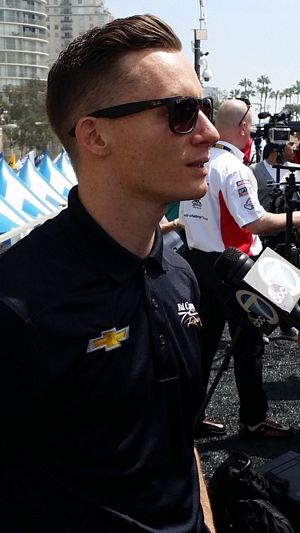 Mike at today's Long Beach media luncheon.
April 10th 2014 - "I always get excited thinking about coming back to Long Beach for the Grand Prix. It's a legendary event for many reasons. And I was able to win the race in 2011.
That was a special day for me. I had just come back to racing after a tough rehab from my 2010 Indy 500 crash. It was a long road back and I was just getting back into racing form. But that victory, my first IndyCar Series, was a great way to tell everyone that I was back.
In terms of the street races we go to in the IndyCar Series, Long Beach has the most party atmosphere. You are so close to the fans, concerts are happening, parties and events are around the circuit. There are loads of vendors and the fans are really cool. You always get a lot of celebrities there because it is close to Hollywood and LA.
And the history of the Long Beach race is great too. There are not many tracks we run that have 40 years of history, especially in street races. Maybe it's in Monaco and then Long Beach. It's had Formula One, CART and IndyCar plus sports cars and many different types of events.
I had heard about the Toyota Grand Prix of Long Beach as I was growing up in England but I didn't know the magnitude of the event. I didn't know the history of the race until I was on the top of the podium after my win and I looked down at the names in victory lane who had won there. And I said, "Bloody Hell, there was a great list of drivers who have won at Long Beach. So it is just so cool to now be a part of that history at Long Beach.
Then going back the next year and seeing my name etched in the pavement with the other names is pretty awesome. That victory lane experience really made me sit up and take notice of that race. It is very neat to have done that at Long Beach. The track is very challenging for a street circuit. There are some very tough sections through it.
For a driver, you have to put everything together to get a good lap in qualifying and have a solid car to win the race.
The year I won we got the pit stops just right and the car was really hooked up in the last 20 laps. I was able to drive around and inside of the leaders to take the lead. We just got more and more grip with the car as the last run went along. I was able to pass people in spots that I wasn't normally and I timed things just right too.
The next thing I know I was in the lead with 14 laps to go. I thought, "Wow, this is cool. Just drive hard and stay focused." I don't know if Tom Anderson (on the Andretti team radio) was panicking a bit but he kept telling me to stay calm. I'm thinking that I might be the one that is the calmest on the team right then. They told me I had loads of "push to pass" if I needed it. But was in the lead and pulling away at that point, so I thought that was a bit strange.
I think Tom was worried about restarts and other things at that point. I felt under control and it was cool coming off the last corner, the hairpin. I knew I had won it by then. And the emotions came out. We beat some good drivers that day too.
I was able to race past Dario (Franchitti) and (Ryan) Briscoe. We had some good battles in that race too. Long Beach definitely stands out for me since it was my first IndyCar Series win and at a very cool and legendary track.
I usually go to Southern California a day early or so to see some of my friends who live Hermosa Beach or LA. It's fun to get together with them and chat and have bite to eat. I always try to see some of my mates who live there on Wednesday night before the race.
I will attempt to give you the best inside view of the Grand Prix as the weekend progresses. I hope to show you some of the "up close" things we do during the race weekend including off-track events too. Like I said before, the Toyota Grand Prix of Long Beach is much more than a race, it's an extravaganza. And it's race every motorsports fan should put on their "bucket list."
Connect with The Crittenden Automotive Library