Carpenter Nearly Wins Back-to-Back MAVTV 500s, Takes 2nd Saturday
Carpenter Nearly Wins Back-to-Back MAVTV 500s, Takes 2nd Saturday
Tom Blattler
Ed Carpenter Racing
October 20, 2013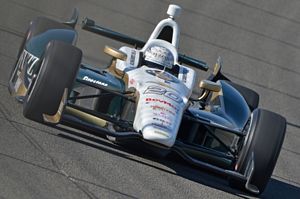 Ed Places Runner-Up Saturday Night at Fontana
October 20th 2013 - FONTANA, Calif. – Ed Carpenter came close to winning his third straight IZOD IndyCar Series season finale Saturday night in the MAVTV 500 World Championships at the fast Auto Club Speedway.
Carpenter drove the No. 20 Fuzzy's Ultra Premium Vodka Chevrolet through the lead pack late in the 250-lap contest to challenge eventual winner Will Power in the final 10 circuits before having to settle for the runner-up spot. Power, who led a race-high 103 laps, was able to open up a gap in the final restart on lap 242 and score a 1.4-second victory over the series' only team owner/driver.
Carpenter, who started seventh in the 25-driver field, said his car's handling wasn't as good as he hoped for in the start of the event, as he fell out of the top-ten in the first 50 laps. However, the team's engineering staff led by Matt Barnes worked hard to develop an improved balance of the car. In addition, the Bret Schmitt-led pit crew was lightning fast in the first three pit stops and gained positions for Carpenter.
By lap 140, Carpenter's mount continued to run faster as he advanced to sixth position. He moved by Sebastian Bourdais for fifth by lap 150. As the team dialed Carpenter's chassis settings, Ed moved to fourth by lap 215 and ran third by the 231st circuit.
On the final restart, Carpenter attempted to close the gap on the leader Power but Ed ran out of laps as his car seemed better in the later laps in a fuel stint. Ed battled Indy 500 winner Tony Kanaan for second with five laps to go and then began to close on Power. However, it was not to be for the popular Carpenter, who won the season's final race in 2011 at Kentucky and last year in Fontana.
At the finish, Power took the checkered flag followed by Carpenter, Kanaan, James Hinchcliffe and Scott Dixon. The fifth place finish clinched the IndyCar Series driver's championship for Dixon, his third series title. In addition, the 1-4 finish by Chevrolet drivers helped secure the Manufacturers' title for the Bowtie contingent.
"I was trying hard tonight," said Carpenter. "I thought when we got to the front with the last few restarts that we might have a good shot to win. We came in the pits the last time, and took some downforce off the rear wing to get more straightaway speed for the finish. And it was working. It got us to second. Will (Power) was real fast the few three or four laps out of a yellow. Then we started reeling him in and we just ran out of laps. If it had gone a little further, I thought we could have caught him.
"That is the way it goes, and its 500 mile race. It was a crazy one tonight. It would have been hard to run the whole race with the car that trimmed out. For a shootout at the end, it was manageable. I think Will did the same thing too. He was a little quicker at the start of a stint than us, but he was falling off quicker too. He opened up a big enough gap that we couldn't get him back. It's not a win, but it is a good way to finish off the year. I was hoping to win the race for Chevrolet and clinch the Manufacturers Championship, but Chevy did finish one through four tonight. So I want to congratulate the Chevrolet folks on the title."
Connect with The Crittenden Automotive Library