Defending MAVTV 500 Champ Carpenter To Start 9th Saturday at Fontana
Defending MAVTV 500 Champ Carpenter To Start 9th Saturday at Fontana
Tom Blattler
Ed Carpenter Racing
October 18, 2013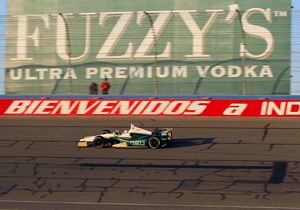 Ed took 9th Friday in MAVTV 500 qualfiying
October 18th 2013 - FONTANA, Calif. – Defending race winner Ed Carpenter drove the No. 20 Fuzzy's Ultra Premium Vodka Chevrolet to the ninth position Friday in qualifying runs for Saturday's MAVTV 500 World Championships at Auto Club Speedway.
Carpenter, the only IZOD IndyCar Series team owner/driver, was the first driver to record a qualifying lap Friday in sunny conditions at the fast, high-banked two-mile oval east of Los Angeles. The air and track temperatures were some 20 degrees cooler (over 100 degrees in 2012) than last year's Fontana event that was run in September.
The Butler University graduate clocked readings of 217.955 miles per hour and 217.908 m.p.h. for an average speed of 217.932 and the outside position on the third row in the 25-driver field. However, several drivers will be making engine changes in their respective cars before Saturday's 250-lap feature and Carpenter could advance two to three spots on the starting grid.
Carpenter, who led 62 laps in last year's dramatic win over Dario Franchitti, was concerned about his car's handling after the Friday morning practice. However, the ECR/Fuzzy's Vodka crew found a broken rear shock following practice as they prepared the Fuzzy's Vodka Chevy for the two-lap time trials. Unfortunately, Carpenter was not able to run with a corrected setup as he left the pit lane for qualifying.
"We struggled a lot this morning. The car only ran a few laps that were good and then the car got worse with each lap. I wasn't sure if it was me or the car. It was frustrating. But when we got the car back in the garage after practice, we found a big problem that caused our troubles. We had a broken damper (shock).
"Unfortunately, we didn't get to try a simulation of our qualifying run. I know we would have been faster with some additional laps with the proper setup. I'm just glad we figured out our trouble before qualifying. Now we can work on our race setup in tonight's practice. It's a long race on Saturday with 500 miles. We learned how to win last year and we really want to get back to that Fuzzy's 19th Hole Victory Lane."
The starting lineup, with engine changes, will be determined following Friday's evening practice session.
Will Power led an all-Team Penske front row with a sensational speed of 220.775 m.p.h. for the Version P1 Award Friday followed by Helio Castroneves and A.J. Allmendinger. Castroneves' speed was 219.677 with Allmendinger's 218.894. Rounding out the top-five were Sebastian Bourdais at 218.513 and Charlie Kimball at 217.986.
Saturday's IZOD IndyCar Series finale will get underway at 6 p.m. PDT with the MAVTV 500 televised live on NBC Sports Network beginning at 5 p.m. PDT.
Connect with The Crittenden Automotive Library