Carpenter Clips Hinch's Stalled Car Saturday at Start of Houston Race, Team Repairs Fuzzy's Car to Finish
Carpenter Clips Hinch's Stalled Car Saturday at Start of Houston Race, Team Repairs Fuzzy's Car to Finish
Tom Blattler
Ed Carpenter Racing
October 5, 2013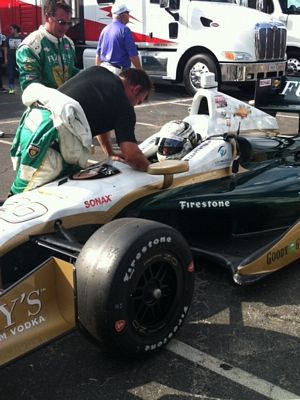 Team gets Ed ready to head back on track after crash.
October 5th 2013 - HOUSTON – If team owner/driver Ed Carpenter thought he had tough day Friday at the Shell/Pennzoil Grand Prix of Houston, it got a little tougher for the Indianapolis racer Saturday.
Carpenter, who started 22nd in the 90-lap opening event of the weekend doubleheader, suffered a horrendous start when his No. 20 Fuzzy's Ultra Premium Vodka Chevrolet clipped the stalled car of James Hinchcliffe in the standing start at the 1.7-mile, 14-turn temporary circuit near Reliant Stadium.
Carpenter tried to avoid the stationary Hinchcliffe on the front straightaway at the drop of the green flag. Ed's reaction to miss the stationary mount of Hinchcliffe almost paid off, but rookie Tristan Vautier moved to the outside to avoid the Canadian driver and Carpenter was forced to the inside. At the point, Carpenter's car's right rear tire struck the left rear of Hinchcliffe's car.
"Vautier got right in front of me at the start," said Carpenter, the series' only team owner/driver. "Then he made a last second move to miss Hinch. I tried too but clipped him. It is a tough way to start the race. I'm not a big fan of the standing starts right now."
The ECR/Fuzzy's Vodka crew instantly jumped into action to replace the entire right rear suspension as well as repair the car's undertray and rear wing. The team was able to repair the race car and Carpenter entered the race on lap 59. Ed then drove the final 30 laps to gain some points moving into Sunday's second race of the Houston weekend.
Carpenter finished 23rd in the race as Scott Dixon won the feature followed by Simona de Silvestro, Justin Wilson and Simon Pagenaud. Dixon's win closes the New Zealander with eight points of Helio Castroneves with two races remaining in the 19-event IZOD IndyCar Series.
"The ECR/Fuzzys guys did a super job to replace the whole right corner of the car," Ed said. "They have been flat out since early last week with Fontana test, the trailer fire and this incident. We thought we might get out in the race late to gain a few points but, of course, (Tony) Kanaan and Vautier got back out on track just in front of us. It was one of those days. We have Sunday now to improve our performance."
Sunday's action gets underway at 8:45 a.m. CDT with a 30-minute qualifying session for the 90-lapper which is set to go green at 12:40 p.m. CDT. The race will be televised at 12 noon CDT on the NBC Sports Network.
Connect with The Crittenden Automotive Library