Ed is set for his next Competitive Season, NFL Fantasy Football
Ed is set for his next Competitive Season, NFL Fantasy Football
Tom Blattler
Ed Carpenter Racing
September 3, 2013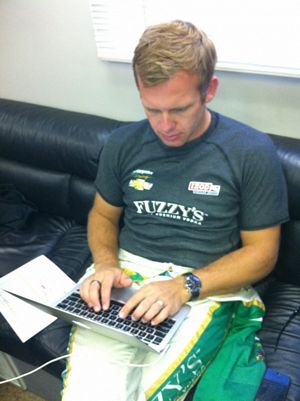 Ed studying his Fantasy Football stats.
September 3rd 2013 - INDIANAPOLIS – Ed Carpenter sat his ECR/Fuzzy's Vodka transporter last Saturday afternoon studying information on his personal computer very intently.
The IZOD IndyCar Series' lone team owner/driver had completed his qualifying runs through streets of Baltimore and looked like he was preparing for the 75-lap main event set for Sunday. But the Butler University marketing graduate wasn't looking over his past lap times or possible spots for improvement around the 2.0-mile, 12-turn street circuit.
In fact, he wasn't even checking the strategy for the race that his engineering staff had just put together for him as he entered the Grand Prix of Baltimore.
Heck, Ed was done with all of that racing stuff. He was studying his next competitive passion, NFL Fantasy Football Stats.
For the 32-year-old father of three, this is another time to be competitive. Carpenter's next racing action isn't until Oct. 5-6 in the streets of Houston, the Shell/Pennzoil Grand Prix.
The Indy 500 pole winner has been a big NFL Fantasy League player for many years. And he takes it seriously. Carpenter studies flow charts, statistics and other magazines to develop his fantasy team. Ed was studying his fantasy information last weekend as he prepared for the Sept. 5 draft.
"I am pretty into my fantasy team and the league," said Carpenter. "I'm just in one 'keeper' league now. I used to be in several leagues when (wife) Heather and I didn't have all of the kids (three children now). This will be my sixth season with my brother in law, Will (Younger). We are co-owners of our team and we keep players from year-to year. We make our picks as well as future picks, so it's very cool to study up on it. Usually, I'm a little further along with my draft preparation than I am right now."
In addition to running his IndyCar Series team and driving the No. 20 Fuzzy's Ultra Premium Vodka Chevrolet at the races, Carpenter and his family have moved into a new home. So Fantasy preparation has not been what he is used to entering Thursday's draft.
"We do our draft the night of the first regular season NFL game," Ed explains. "Then we'll watch the game together and we have 12 teams in our league. We have been in a part of the IndyCar Series schedule where I have longer air flights and I can do some more studying for the draft. With the three kids, I haven't had the night time availability to study like I used to. But we had flights to San Francisco and Baltimore recently and I was able to study on the planes. I used spend a lot of time on the computer at night time when the kids went to bed. Since Cruz was born (on 12/12/12), it is busy at that time now with the three little ones. And we moved too."
Carpenter admits that after motorsports the NFL is his favorite competition and he gets fired up for the start of each pro football campaign.
"Our strategy in the league can change for our team each year," he said. "With a 'keeper' league, we keep three players from last year's team. And it depends on what you need for your team each year. We have some 15 players on a team and we play a quarterback, two running backs, three wide receivers, a tight end, a kicker and a defensive team. We don't play a Flex team where you exchange players in other positions like using only one running back. Some leagues do that but not ours. Then you complete against another team each week.
"Since it's a 'keeper' league, we will make trades and we did so last year. We have had Tom Brady for the past five years, which pains me as a (Indianapolis) Colts fan. It's hard to get rid of him if you want to do well in fantasy. You just have to look past that. We took RGIII last year late in our draft, then, late in the year, we traded him and got some players like Reggie Wayne and second and fourth round picks as well. So we were kind of loaded up for draft picks."
Carpenter also admits he doesn't like to draft Colts players for his Fantasy team. It takes away from his rooting interests.
"I would rather not have Colts players because I am a Colts fan and I want to root for them to win the games," said defending MAVTV 500 race winner. "We picked up Reggie late last year but I would rather watch the Colts games and not worry about my fantasy team during the games. I almost try to avoid the Colts in the draft."
Competitors in Carpenter's Fantasy league include local media members such as Chris Hagan, a Carpenter close friend and sports director for the Indianapolis Fox affiliate (Channel 59). Hagan knows Carpenter is a good rival in the Fantasy league.
"Ed was in a minor Fantasy league first and he came up to the major league several years back," said Hagan with a laugh. "He had to pay his dues before he got to the big show. The league is the Tom Carnegie Classic, named after the famed Indianapolis Motor Speedway announcer and the game announcer in the movie, 'Hoosiers.' The different divisions have racing names, like Foyt, Mears and others. We get together once a year for the big draft and they present plaques to the winners. There is a lot of trash talking including from Ed. My team is in the same division as Ed's team. And he talked trash from day one! I won the division two years in a row and Ed came in and said he would win in the first year. Then Ed's team did win the division. And I haven't stopped hearing about it since."
Hagan claims Carpenter gets real serious about his Fantasy team when it is time to draft.
"Everyone brings stats and background," said Hagan. "Ed has a partner, his brother in law Will, and, in the draft last year, Ed was on a Bluetooth back to Will, who was on the computer at his house. It was like Ed was in the 'War Room" and Will was back at "team headquarters. So Ed was deeply involved in the draft and the whole system. He is a very serious fantasy player. I have my own team so I go with my gut on team picks. Ed showed up with all of these flow charts, magazines and other information. I just go with what I think will be good. I have had Aaron Rodgers as my quarterback for many years and that has made my team successful. I know Ed has had the same with Tom Brady and that has to really painful for him since Ed is a big Colts fan."
This Thursday night in Indianapolis, Carpenter will be getting as serious as he does in his IndyCar. But instead wearing his racing helmet and his fire suit, Carpenter will be studying his computer stats to field the best NFL Fantasy team possible.
"I have been studying recently now and we are ready to pick our team," Carpenter admits. "We need to make a decision on our wideout between Reggie Wayne and Andre Johnson. That is a tossup right now."
Who knew this IndyCar racer was just as competitive in the draft room as he is on the track?
Connect with The Crittenden Automotive Library