Carpenter Battles Tricky Track, Heat and Humidity at Baltimore Friday
Carpenter Battles Tricky Track, Heat and Humidity at Baltimore Friday
Tom Blattler
Ed Carpenter Racing
August 30, 2013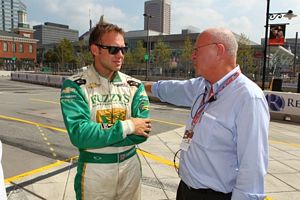 Ed talks with his former GM Derrick Walker after Friday's Practice
August 30th 2013 - BALTIMORE, Md. – Not only are the tracks completely different from last weekend's permanent Sonoma Raceway circuit to this week's streets of Baltimore, but the IZOD IndyCar Series drivers went from driving in the dry, breezy air conditions in Northern California to the hot, humid air of the Chesapeake Bay Harbor Friday.
Other than turning left and right, the drivers are facing a huge contrast on the track and in the cockpit. Even the pit lane near the Oriole Park at Camden Yards was a tough location Friday for the crew members due to the sultry air.
Team owner/driver Ed Carpenter was one of the 24 competitors attempting to gain grip on the rough and slick surface in and around Baltimore's Inner Harbor streets.
Carpenter took his No. 20 Fuzzy's Ultra Premium Vodka Chevrolet to a clocking of one minute, 22.453 seconds, an improvement of 2.5 seconds from his morning practice runs. The slippery track surface seemed to have a little more traction in the afternoon session despite the 88-degree air temperature and the 109-degree track heat. Carpenter finished in 23rd position Friday.
Fastest in the first day of action was rookie Tristin Vautier in the Sam Schmidt machine with a time of 1:19.479 followed by Graham Rahal, Josef Newgarden, Scott Dixon and Simon Pagenaud. Point leader Helio Castroneves finished 13th at the end of Friday's events.
Qualifying is set for 12:00 p.m. EDT Saturday with two groups battling to advance into top-12 for positions in the Firestone Fast Six qualifying finale. Carpenter will compete in the second qualifying group Saturday.
The Grand Prix of Baltimore will be televised live Sunday on NBC Sports Network beginning at 2:00 p.m. EDT.
"This is always a tough track," said Carpenter after Friday's activities. "The first session I didn't do a good job putting quality laps together. In the second session, we were a little better in trying to close the gap on the leaders. But we still have a lot of work to do for Saturday. The track changes every year that we have been here. It is never the same curbs and the walls are a little different too. In fact, it is almost like learning a new track every year. The first day is always rough on the teams with the different pavement and concrete surfaces too."
Connect with The Crittenden Automotive Library