Sonoma To Baltimore is a Big Contrast Says Carpenter
Sonoma To Baltimore is a Big Contrast Says Carpenter
Tom Blattler
Ed Carpenter Racing
August 28, 2013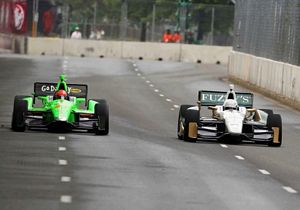 Baltimore Grand Prix is a challenge as Carpenter
August 28th 2013 - BALTIMORE, Md. – There is no doubt that the differences between the hilly Sonoma Raceway last weekend and this weekend's flat 2.0-mile, 12-turn streets of Baltimore circuit are drastically different. For a driver in the IZOD IndyCar Series, it's like night and day.
The only similarity between the Sonoma and Baltimore tracks is that a driver makes left and right turns. But Ed Carpenter and his ECR/Fuzzy's Vodka team are prepared for the changes.
"It's totally different from Sonoma to the streets of Baltimore," said Carpenter, the league's only team owner/driver. "At Sonoma, there are tons of elevation and no walls to speak of. There is a lot of sand that gets on the track. At Sonoma, you can make a mistake and come back from it. Guys are sliding off the track all of the time in each session and the race."
But Carpenter, who'll drive the No. 20 Fuzzy's Ultra Premium Vodka Chevrolet this weekend, knows the walls in the streets of Baltimore are not very unforgiving.
"In Baltimore, if you slide off, you are hitting concrete walls," he said. "I learned that in last year's race there. It's a totally different mentality from Sonoma to Baltimore. Your aggression level is the same. You just can't afford to make a similar mistake in Baltimore that you might make in Sonoma. We can push the limit at Sonoma more because we can survive a mistake. You can't do that at Baltimore."
But Carpenter is looking forward to his return to "Charm City" after a strong qualifying performance in last year's Grand Prix. Ed started eighth in 2012 in Baltimore, but a miscalculation in the front straightaway chicane left him on the sidelines early in the 75-lap contest.
Carpenter, the 2013 Indy 500 pole winner and the only dirt track veteran in the IZOD IndyCar Series driver field, has shown consistent improvement in his road racing abilities and he says the Baltimore circuit suits his style.
"I really enjoy the Baltimore circuit and the surroundings," said Carpenter. "Baltimore is a really good event for the IZOD IndyCar Series. The first two years have seen big crowds and it is fun for us to come to the Inner Harbor area. Baltimore is a cool town and there is a lot going on around the race weekend too. The track is very challenging for the drivers but I think we put on a good show for the fans. I'm anxious to get back there."
Carpenter believes Baltimore's race brings a new feeling to the city's atmosphere.
"Each event on our circuit is a little different, but the Grand Prix of Baltimore has a better and bigger feeling to it," he explains. "The Sonoma race is a lot different than the Grand Prix. It's a permanent circuit rather than a street course. The street racing is more 'in your face' for the fans. There are able to get 'up close and personal' with the drivers, teams and race cars."
Since last year's finish at Baltimore, Carpenter is seeking a little bit of redemption.
"Last year, I was running in the top-ten at Baltimore and I crashed in the front straightaway chicane," he said. "So it was an early exit for the Fuzzy's Vodka Chevy. In fact, that finish was our team's only DNF (Did Not Finish) last year. We had a good record of finishing for a first-year team. I'm looking forward to coming back and redeeming myself in Baltimore."
Carpenter and his Fuzzy's Vodka team will hit the streets of Baltimore this Friday (Aug. 30) in the opening round of practice for the IZOD IndyCar Series at 10:10 a.m. EDT. And second practice is set for 2:30 p.m. On Saturday, the IndyCar Series drivers qualify at 12 p.m. with the 75-lap Grand Prix of Baltimore scheduled for a green flag at 2:40 p.m. Sunday.
The Grand Prix of Baltimore will be televised live on the NBC Sports Network beginning at 2 p.m. EDT.
Connect with The Crittenden Automotive Library