Carpenter Fights With Leaders in Sonoma Slam, Bang Affair
Carpenter Fights With Leaders in Sonoma Slam, Bang Affair
Tom Blattler
Ed Carpenter Racing
August 25, 2013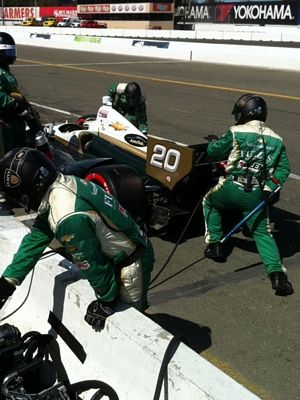 ECR/Fuzzy's Vodka crew was quick in the pits at Sonoma
August 25th 2013 - SONOMA, Calif. – Good pit strategy by the Ed Carpenter Racing/Fuzzy's Vodka team put team owner/driver Ed Carpenter in the mix with the leaders in Sunday's GoPro Indy Grand Prix at the picturesque Sonoma Raceway.
Carpenter, who started 23rd in the 85-lap feature, was hit from behind on lap 10 and his car's left rear bumper pod was rubbing the left rear tire on the No. 20 Fuzzy's Ultra Premium Vodka Chevrolet. Forced to pit for repairs, the ECR/Fuzzy's Vodka crew cut the off the bumper, fueled the car and bolted on fresh red Firestone tires.
The quick stop and a myriad of caution periods put Carpenter into the top-five by lap 18 and the Butler grad ran as high fourth by lap 33. But Carpenter's used red tires were no match for the new rubber on the leaders' cars. The restart at lap 35 had Carpenter left with an injured car and an old tires and that isn't a good combination.
Carpenter then pitted on lap 36 for new black (harder) Firestones and fuel in an effort to fight his way back towards the front of the field. Unfortunately, the harder compound didn't have the grip of the red tires. Ed had to battle a sliding car until lap 60.
A very fast pit stop and fresh red tires gave Carpenter a chance to improve his position for the final 25 laps. But an incident in turn seven late in the contest left Carpenter parked on the track to avoid the mishap. At the checkered flag, Carpenter recorded the 19th finishing position.
Will Power captured the GoPro Indy Grand Prix Sunday with some controversy late in the race when leader Scott Dixon was penalized for a pit lane infraction. Justin Wilson finished second followed by Dario Franchitti, Marco Andretti and Simon Pagenaud.
The IZOD IndyCar Series teams now pack up their cars and equipment and travel across country to the streets of Baltimore for the popular Grand Prix of Baltimore set for next Sunday, Sept. 1. Practice rounds begin Friday morning at the circuit that surrounds Camden Yards.
"It was frustrating for us today," said Carpenter after the race. "It looked like we were going to be in pretty good shape early in the race. I got shuffled to back after a restart and we had to go with the black tires. They just weren't as good. Then later in the race I got caught up in someone's accident. I had nowhere to go. We seemed like we had good pace at some parts of the race. But we really struggled on the black tires today in the Fuzzy's Vodka Chevy. We kept staying out with all of the yellows and I was getting good restarts today. So we stayed in the mix pretty well in the early portion of the race. It then got to a point where I was on old tires and other guys were on fresh ones. On the one restart, I lost a ton of ground with the old tires. So we had to pit again and that kind of ended our day. Now we'll just pack up and travel across country to Baltimore for next weekend."
Connect with The Crittenden Automotive Library