Carpenter Turns in Solid Laps Friday in Windy Conditions at Sonoma
Carpenter Turns in Solid Laps Friday in Windy Conditions at Sonoma
Tom Blattler
Ed Carpenter Racing
August 23, 2013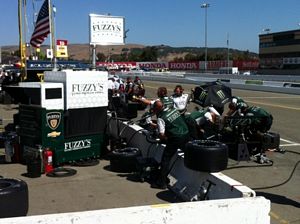 Clear skies over ECR/Fuzzy's pit area at Sonoma
August 23rd 2013 - SONOMA, Calif. – Beautiful clear skies in the Northern California wine country greeted the 25-driver IZOD IndyCar Series field Friday for the opening rounds for practice at the legendary Sonoma Raceway. The 15th round of the 19-race campaign comes to the picturesque racing plant near of San Francisco for Sunday's GoPro Indy Grand Prix.
Ed Carpenter returned to the cockpit of his No. 20 Fuzzy's Ultra Premium Vodka Chevrolet after a solid testing session Wednesday at the 2.358-mile, 12-turn circuit carved in the hills south of Sonoma. The Butler University grad hoped to improve his lap times starting in the morning practice.
Unfortunately, Carpenter was a little frustrated with the morning runs due to a stiff wind that resulted in blowing sand onto the racing surface. In addition, rubber from the support race vehicles left the track a bit slippery for the Fuzzy's Vodka machine.
But things changed in the afternoon session when Carpenter took the No. 20 car into the top-ten late in the 45-minute practice. Ed recorded a time of one minute, 19.67 seconds in the last 15 minutes of the practice. He finished up the practice in 21st in the second practice after several drivers threw on new sticker Firestone tires late to improve their speeds.
Overall, Carpenter was less than a second off the leader Helio Castroneves for the last 10 minutes of Friday afternoon's laps. Only a superb lap by SONAX "Perfect Finish" Toronto winner Scott Dixon in the last minute kept Carpenter from being a second off the lead.
At the checkered flag, Carpenter notched a best lap of 107.758 miles per hour for 23rd overall. Dixon recorded a 109.635 m.p.h lap followed by Castroneves, Ryan Hunter-Reay, Will Power and Dario Franchitti.
Qualifying is scheduled for 2:30 p.m. PDT with two groups battling to advance into top-12 for positions in the Firestone Fast Six qualifying finale. The GoPro Indy Grand Prix Indy will be televised live on NBC Sports Network beginning at 1:30 p.m. PDT Sunday.
"I was a little frustrated this morning as the track just didn't have much grip," said Carpenter. "This afternoon was much better and the car felt pretty good. It's so tricky here with the wind and sand on the track surface. We were able to go with our plan with the setups and that plan went better this afternoon. It's been hard to get some good times in with the changing conditions here. The track changes minute by minute, to be honest. It's a struggle at times. We have had a good race pace recently, especially at Mid-Ohio. I think I need to qualify better and I need to work hard on getting a good lap. If we could advance in qualifying, I think we could race with a lot of guys. I have been focusing on get out quickly on new tire runs, just like in qualifying. We made good progress today. We were in the mix for most of the practice which is good for qualifying."
Connect with The Crittenden Automotive Library