Carpenter Takes 20th Sunday at Mid-Ohio, but ECR/Fuzzy's Chevy Has Much Quicker Pace
Carpenter Takes 20th Sunday at Mid-Ohio, but ECR/Fuzzy's Chevy Has Much Quicker Pace
Tom Blattler
Ed Carpenter Racing
August 4, 2013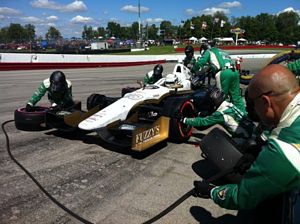 Early ECR pit stop for Firestone Red Tires Sunday.
August 4th 2013 - LEXINGTON, OHIO – Ed Carpenter may have finished 20th in Sunday's IZOD IndyCar Series 200-mile race at the picturesque Mid-Ohio Sports Car Course. But the driver of the No. 20 Fuzzy's Ultra Premium Vodka Chevrolet felt his race pace was much quicker than his final placing in the 90-lap feature.
Carpenter and his ECR/Fuzzy's Vodka crew decided to start the 200-miler with the Firestone Black tires (the harder compound) in an effort to use the harder tire early before the track becomes slippery later in the race. Unfortunately, the 2.25-mile, 13-turn permanent road circuit surface was just too slick in the early portion of the event for Carpenter's mount. Carpenter lost ground to the front runners before his first pit stop for the softer Firestone Red tires.
By lap 30, Ed fought off being lapped by the leaders and actually extended his margin over the top three drivers with the Red tires. Carpenter's lap times dipped into the low 68-second range and even in the high 67s. The ECR engineering staff worked closely with tire crewman Jeff Hughes to make the proper tire pressure adjustments to improve Ed's car's handling through the race.
By the final pit stop on lap 70, Carpenter had recorded the eighth quickest lap of the race with a time of one minute, 7.528 seconds. Ed continued his stellar pace until the checkered flag and jumped from his Fuzzy's Vodka Chevy with a smile on his face.
He may have been saddened by the 20th place finish but the Butler University grad felt pleased by his car's performance as well as his team's effort. The Mid-Ohio finish for Carpenter places him 14th in the current IZOD IndyCar Series point standings with the next event set for August 25 at the pretty Sonoma Raceway, north of San Francisco.
Carpenter also was happy after the Mid-Ohio contest when he discovered that his close friend Charlie Kimball had recorded his first IndyCar Series victory Sunday. Ed walked straight to victory lane to congratulate his friend on his initial IndyCar Series win.
"We were better than a 20th place finish today," said Carpenter. "But from a pace standpoint and throwing out the first stint on black tires, it was one of our better road course performances. We used some Firestone red tires in the warm-up and we probably should have used those tires at the start of the race instead of the blacks. I think we would have picked up more positions in the race with the reds. With the ground we lost on the first stint and the race going green (flag) for so long, it made it too hard to make up that lost ground. It's pretty crazy for two years in a row that the Mid-Ohio race would go green for so long. I am really proud of our race pace through the middle portion and through the end of the race. We just need to keep working on it for the Sonoma race in a couple of weeks. I need to be better at the start of the race next time too. But overall, the Fuzzy's Vodka crew did a great job today. And I'm thrilled to see Charlie (Kimball) in victory lane too."
Connect with The Crittenden Automotive Library