Contact by Rookie Hampers Carpenter's Mid-Ohio Qualifying Effort Saturday
Contact by Rookie Hampers Carpenter's Mid-Ohio Qualifying Effort Saturday
Tom Blattler
Ed Carpenter Racing
August 3, 2013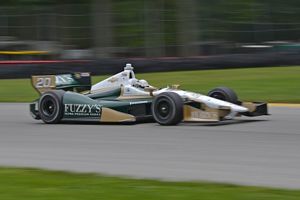 Contact in qualifying hurt Carpenter's effort.
August 3rd 2013 - LEXINGTON, OHIO (Aug. 3, 2013) – Veteran Ed Carpenter and his ECR/Fuzzy's Vodka team had made some impressive gains with the No. 20 Fuzzy's Ultra Premium Vodka Chevrolet Saturday morning in the IZOD IndyCar Series practice sessions and Carpenter felt good about his car entering the afternoon qualifying rounds.
Unfortunately, Ed's enthusiasm waned dramatically when rookie James Davison's machine collided with Carpenter's mount in the early portion of the opening round of the Firestone Fast Six time trials. With Davison was warming up his tires on the backstraight of the 2.25-mile, 13-turn permanent road course, Carpenter made his attempt to pass the slower Davison in turn six.
However, Davison did not see Carpenter's attempt and collided with Ed's car's front wing causing damage to the No. 20 machine. Carpenter was forced to pit for a replacement front wing and the pit stop cost Ed valuable time in the 10-minute opening round qualifying run. With the pit stop, Carpenter lost laps to his first round competitors and had to settle for 12th in the first two time trial sessions.
The series' only team owner/driver clocked a best of one minute, 7.4107 seconds for an average speed of 120.586 miles per hour.
Carpenter, the Indy 500 pole winner, will start 23rd Sunday in the Indy 200-mile event scheduled for a green flag start at 3:40 p.m. EDT. The 90-lap event will be seen live on the NBC Sports Network beginning at 3 p.m. EDT with the pre-race show.
Reigning IZOD IndyCar Series champion Ryan Hunter-Reay captured his third Verizon P1 pole position of the season in his Chevy-powered Dallara with a speed of 124.385 m.p.h. followed by Will Power, defending Mid-Ohio race winner Scott Dixon, Marco Andretti, Charlie Kimball and Dario Franchitti.
"James (Davison) was in a hurry when the session started and went by and then decided he was going to back up," Carpenter explained. "He was warming up the tires all the way down the backstretch. I started to go around him going into Turn 4. He about hit me into the grass so I was going to go around him in five. He was going to the left to set up for turn six and turned right back in the front of me when I was making a run on him into six. I've been there. There's a lot going on. But he's not paying attention to what's going on. If that's how he's going to drive in tomorrow's race, he's going to end up getting run in to.
"I'm really just disappointed. We'd struggled yesterday and had really made good improvements this morning and the way that worked out, we broke a front wing, had to come in, and by the time we got everything fixed, we ran the least amount of laps that session than anybody. All you have to do is watch the way these sessions have gone. The track gets quicker every single lap. It wasn't a good session for us."
Connect with The Crittenden Automotive Library