Meet the Crew: Chris Hogue
Meet the Crew: Chris Hogue
Tom Blattler
Ed Carpenter Racing
August 2, 2013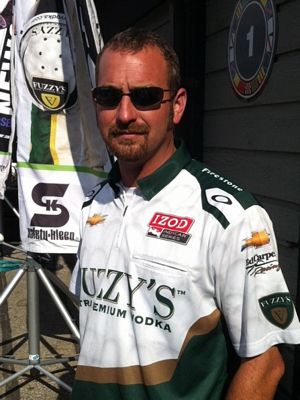 Chris is an experienced race mechanic who studied mechanical engineering at IUPUI.
August 2nd 2013 - CHRIS HOGUE, Race Mechanic
The Greenfield, IN native joined ECR with an impressive resume in motorsports including serving as crew chief at Dreyer & Reinbold Racing in the IZOD IndyCar Series…. The former IUPUI mechanical engineering student began his racing career in the American LeMans Series with the Riley & Scott Cadillac program followed by stints at Panther Racing, Red Bull Cheever Racing, Mo Nunn Racing and Vision Racing. For the past three seasons, Hogue was a chief mechanic at Dreyer & Reinbold Racing before joining ECR in June 2012.
Were you into racing as a kid?
"I grew up in Greenfield, IN and was around go karts with Comet Karting Sales and the Dismores. And I started racing when I was about 12 years old. I ran the Briggs Junior and Yamaha Junior classes. My dad always raced and we traveled together racing karts. He then raced in Formula Vees in the SCCA, so I was around the Formula Vees as a kid too. I was working on Formula cars growing up. I seem to be one of the few crew guys who didn't come out of the dirt tracks or the ovals. I wanted to keep racing when I was in college but it was just too expensive. When I finished college in mechanical engineering, I thought I would get into racing to pay for my racing. That didn't work too well. I did do some test days with Formula Vees and S2000s but nothing major. Surprisingly, I took mechanical engineering and graphic design in college. But I dropped out after three years to go racing with Riley & Scott with their Cadillac American LeMans program. They were in Speedway then so I had some friends that dialed me into a job there. So I worked my way up from there."
What did you start doing at Riley & Scott?
"I was the junior floor sweeper, parts washer and whatever they needed. That place was amazing because they constructed race cars too. So I was able to go around the factory and look at all of the aspects of building race cars. They were building the Cadillacs there and it was a great experience for me. But the Cadillac deal fell apart for them when I was there. They laid everyone off but a week later they hired me back to do construction on Mk 3C sports cars. It was an open cockpit prototype car. I worked in the composite shop, the fabrication shop, metal fab, chassis fab and other stuff. It was like college for race cars! But I said, 'I kinda really want to go racing.' My dad was friends with John Barnes for many years and actually spotted for them at the races. So I moved to Panther Racing in 2001."
Did you want to go into IndyCar racing at that point?
"They had Sam (Hornish Jr.) driving and it was a good situation. They had a bunch of nurturing guys there. And they said, 'Here you go kid, just work on race cars.' So I had to learn the ropes of IndyCar racing. They had some really good crew guys who brought me along. They took me under their wing and taught me how to build IndyCars. Then we won a bunch of races and a championship and I thought it was easy. But then the IRL field expanded and it became much tougher."
What did they have you doing at Panther at that time?
"I was a front-end apprentice at that point. Then I bounced all over the car working on a variety of things. I was just there a year. I tended to run my mouth a little too much back then so I was there too long at Panther. I was just a one-year deal anyway. So I left and went to Eddie Cheever's IndyCar team." Was that during the Red Bull years at Cheever? "I was the only front-end guy on Eddie's car in 2002. It was the first year of the Red Bull days and it was Eddie and Tomas Scheckter in the cars. It was a big sponsorship but we tore some stuff up too. They crashed into each other all of the time and even leading the races. Our engineers ran some tests and determined that it was physically impossible to tear up that much stuff in one year. It was a crazy year. Eddie would be yelling at Tomas on a regular basis. But, once again, I told the team manager what I felt and I wasn't there too long. (Laugh)"
You got a job pretty quickly after that?
"Yeah. I went to Mo Nunn Racing. The drivers were Felipe Giaffone and Tora Takagi. Mo was a great guy and his wife, Katherine, was very sweet. I enjoyed working with them. The first time I met Bret Schmitt (ECR crew chief) was at Mo Nunn Racing. Bret was the front-end mechanic and I was working on the bodywork of the cars. But I was not happy doing that job. I needed a job at that point so it was okay work for a while. I would have liked to drive in the SCCA cars a little too but there was just no time for that when you are in the IndyCar Series. At Mo's, we won the Michigan race with Giaffone. I actually worked on Takagi's car during the week and at the track, but changed the inside front tire for Felipe in the races. But, once again, I said some things I probably shouldn't have, so I was down the road again. I actually got along pretty well but I may have spoken my opinions too much. Then I ran into Eddie (Cheever) in a restroom at a track and he asked me to come back to his team. So I want back to Cheever's team."
So did you stay with Cheever's team for some time?
"Yep, I think I was there for five or six years then. I actually worked with Ed Carpenter for the first time then and also worked with Patrick Carpentier and Alex Barron. Then the Red Bull deal fell apart for them, but I stayed on and worked with Eddie's Grand-Am sports car team. He got Crown Royal on the DP car in Grand-Am. They ran Christian Fittipaldi, Lucas Luhr and a slew of other drivers. They had a great group of sports car guys that kept it going. It was a Crawford chassis and it was a good car. We came really close to winning our first Daytona 24 when we were running second with two hours left and we blew an engine. I cried after that one. I was pissed. I changed the outside tires on that team. I worked all over the car in the shop and worked with Jimmy Johnson (another ECR crew member). It was a good experience and Jimmy and I worked together a lot at Cheever's team. They moved me into the Data Acquisition area and I was a dirty DAG. I enjoyed the wiring and the sensor stuff. It is time consuming and tedious. Twisting wires is difficult."
Did you want to get back into IndyCar racing then?
"The Vision team had been asking me to come to its squad a couple of years in a row, but I just stayed where I was at Cheever. Finally I decided to move over there and go IndyCar racing again. Bret was one of the first guys there. It was 2008 and I was on Anthony Foyt IV's car. I rode the Vision program until the bitter end. And I was actually the last person at Vision to get let go. So I drove across the street to Dreyer & Reinbold and was hired that day. I was there as a lead mechanic for one year and was crew chief the following year. We had Mike Conway driving until he got hurt at Indy. Then we ran a gamut of drivers through there for the rest of the year. I loved Mike too. He was a great talent. It was a shame he got hurt. We were running well that year at Indy too before his big crash. He just ran over (Ryan) Hunter-Reay when Ryan ran out of fuel. They brought that car back on two flatbed trucks and other truck with parts. I was glad that Mike was going to be okay but that was close to a perfect race car that day. You can't get that setup very often. I was the lead mechanic on John Andretti's car in 2009 there and it was fun having Richard Petty involved that year. I still have my photo with Richard."
How did you get in position to come to Ed Carpenter Racing?
"Sometimes I get to see the direction teams are going and I knew something was happening at Dreyer & Reinbold. I was put in a situation there I didn't like. As a crew chief, I prided myself in keeping things calm and things were in control. But some people put me and my guys in some situations that I couldn't agree with. It was tough for me to accept that. But I had to leave. I had never left a team before in the middle of the season. I put in my two-week notice and left after the Indy 500. I had no other plans at that point. I started talking with a bunch of people and I think I got seven offers within IndyCar and sports car teams. So I spoke with Bret and ECR had an opportunity that sounded pretty good. I weighed my options and ECR was by far the best place to go. I love Ed to death as a person, and above and beyond as a team owner and driver. As a crew chief, you become picky about whom you could work for in the future. But I knew Bret and I knew what kind of program he runs. Bret gives the guys some freedom in working on the cars. ECR is a nice, mellow, low-key program. There is no yelling or screaming. I'm doing a lot of different things for the team and I like it. Some days when I was crew chief, I was more exhausted from staring at a computer than actually working on the race car. It is a neat position here because I get to do a little bit of everything. Nick (Cooper) and I worked hard on the 'body-fit' program to get the car just right for the aerodynamic needs at Indy. We took a lot of pride in getting the car's body ready for the Speedway. The whole ECR team gets along well and we work hard. It's an experienced team and there is a lot of potential here. There is some serious talent on this team. I give Ed a lot of credit for creating a family atmosphere with the ECR team."
Connect with The Crittenden Automotive Library