Meet the Crew: Paul Hicks
Meet the Crew: Paul Hicks
Tom Blattler
Ed Carpenter Racing
July 26, 2013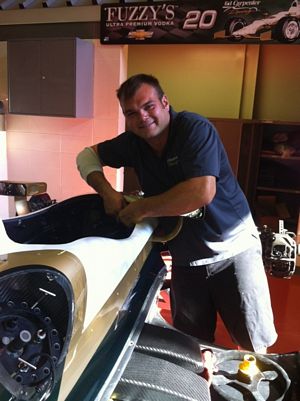 Paul works on the front end of Ed Carpenter's race car.
July 26th 2013 - PAUL HICKS, Front End Mechanic
Hicks came to ECR after a racing career in NHRA drag racing, IZOD IndyCar Series and sports cars…. The Lake Zurich, Ill., native attended Universal Technical Institute before entering the motorsports industry…. Hicks served with Newman Haas Racing, T.J. Zizzo Top Fuel dragster team and Black Dog Racing… Paul changes the inside rear tire in the "over the wall" pit crew for ECR.
Did you always like racing?
"I grew up in Lake Zurich, Ill., and my dad was always great at telling stories. So, he told about his claim to fame that at Great Lakes Dragaway in Union Grove, Wis., they need a a tow truck for the "Chi Town Hustler" Funny Car. So my dad (Scotty Hicks) was parked near the car and he handed his keys over to Austin Coil (famed Funny Car crew chief). I think it was in the 1970s. He then was able to be a weekend warrior for that famous team. He didn't work on the car actually. But he helped them and I thought that was a cool story. Then we would watch drag racing on TV and my dad would say that 'there was the guy I helped out.' So that was a spark for me on my interest in racing and I was under 10 years old then. We watched drag racing before John Force was a big deal in NHRA. So we would cheer for him because Austin was his crew chief. My dad also was a DJ at times and he would work car shows in the area. So then we are working a show on Milwaukee Ave. (in north Chicago) and this guy had an old 1960s front-engine dragster and I had never seen one of those before. I got to sit in the car and it was so cool. So then at the end of day, it's dark and guys start to do burnouts on the street. Then the guy with the front-engine dragster pulls his car on the street too. I had never been to a drag race before. Then the dragster launches down the street. It was the coolest thing ever for me as a kid. He even pulled the parachute on the dragster after the run. I knew I wanted to be a mechanic and the things I could work on as a kid with my bicycle and a lawnmower. There was a Schwinn dealership in town and I bought a new bike and fixed it up. I was about 14 or 15 and they asked me if I wanted a job there and I started as a bicycle mechanic. Then I moved to a repair shop doing brakes and other things. I did sports in high school too. I was a wrestler and played football. I was captain of the wrestling team. We were good too. But our football team wasn't good."
How did you get into car racing then?
"I went to UTI and worked at a Volkswagen dealership. But I didn't like that. I wanted to travel and see things. So I became a Snap-On parts dealer. And on the route was Newman Haas Racing in Lincolnshire. One of the guys at Newman Haas was actually my neighbor. I knew his kids a little. So he took me to the shop and I sold tools to them for a little bit. That was my look inside a racing team but didn't know anything about it. They didn't have any openings but Jerry (Westhouse) with the team got me involved with T.J. Zizzo's Top Fuel dragster team. And T.J.'s shop is about a mile away from the Newman Haas shop. The Zizzo deal was all volunteer for me and I always wanted to be on a drag racing team. Zizzo was a small team and just starting out so it was a good learning experience for me. I was just 22 years old, so it was fun experience. I was still living at mom and dad's at that point. So I was at Zizzo for four years. I started out balancing the rear tires and cleaning parts. Then moved to doing the wiring on the car that I learned from the general mechanical stuff. Then I did timing on the car as far as clocking the mags and other things. I also helped out with the bottom part of the engine at times too. Then I moved on to working on the whole race car. It's funny how I hooked up with Newman Haas after that. I told TZ (John Tzouanakis) that I had a kid that wanted to get into racing and maybe he could help them. But TZ also asked about me to help them. And I have never been to a circle track race or a road race before. They were looking for a mechanic in their switch from ChampCar to the IndyCar Series. So I did the interview with them and I passed it. I was surprised since I had no open-wheel experience at that point. I was supposed to be shop based but, after a week, I was traveling with the IndyCar team. So I was working on Graham's (Rahal) car helping on the rear end. So I began learning very quickly on the suspension of the car."
So did you like the switch from drag racing to IndyCar racing?
"I learned a lot at Newman Haas but it was different, for sure. But they downsized to one car, so I was out. I moved to Black Dog Racing, an SCCA team. But I went back to Newman Haas when they grew to two cars again. But finally they really downsized and I was looking around for some work in IndyCar racing. TZ told some of the teams in Indy that his guys would be available. And I applied with Ed's new team and talked with Derrick (Walker). "
So you moved from an established team to a start-up team, what surprised you at ECR?
"I moved in here to work on the front end of the car. And everything I worked on before was with the engine or the rear end of the car. So now I work with Ed on the driver fit and is he comfortable? It's completely new to me. Now it's more learning the feel of things as opposed to just putting the car together and starting it up. It is very cool to work on the front end of the car for me since it makes me more rounded as a mechanic after doing the rear end stuff previously. I really like the IndyCar racing side now. I like that we fly to the races rather than driving everywhere in drag racing. I enjoyed the drag racing but the traveling was extremely tough."
Is this your first experience as an "over the wall" crew member?
"Yes, but it has been fun. It's funny that I'm young on this team and being a former athlete that it has taken this long for me to do the tire changing now. It's tough to get into a spot like that with the established teams since their guys have done it for a long time and have the experience." What has been the most exciting for you since coming to ECR? "The Fontana win was the coolest for me since it was winning the whole race. You were able to beat everyone that day. Actually the race win was a surprise to me since you are watching it build for 500 miles. It's funny because I had a bad fever at that race too. I was sweating like mad and it was 100 degrees there. It was very exciting for me to win. I was with the Top Fuel team and we won two races. But this was bigger for me. It was great to celebrate with the whole team at Fontana too. But winning the Indy pole was fantastic too."
What is the toughest part of your job at ECR?
"The toughest thing for me is that there are so many good guys here on the team. And there are so many different ways to do things. Plus working on the front end of the car for the first time was tough. I got some help early but it was like, 'here are some parts and the steering wheel and column, now put it together.' I do ask questions about certain things and they have been very helpful. This is an experienced and solid team. It's like at Indy… we won the pole but we wanted to win the race. Everyone wanted more that month at Indy. My wife asked me why I didn't really enjoy winning the pole. And I said, 'because we have to get the car ready for the race and work hard to prepare it properly. We need to focus on what it takes to win. That is the attitude here at Ed Carpenter Racing and I like it. "
Connect with The Crittenden Automotive Library