Early Stall at Standing Start Puts Carpenter in a Hole, Suffers 1st 2013 DNF Sunday
Early Stall at Standing Start Puts Carpenter in a Hole, Suffers 1st 2013 DNF Sunday
Tom Blattler
Ed Carpenter Racing
July 14, 2013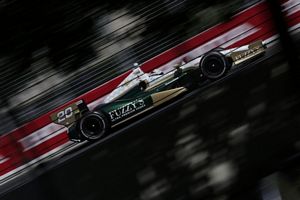 Stall at the start hurts Carpenter's chances Sunday at Toronto.
July 14th 2013 - TORONTO – Ed Carpenter's 85-lap Toronto Indy race Sunday didn't start out as he wanted in the first-ever standing start in the IZOD IndyCar Series.
A stalled engine on the standing line hurt Carpenter's chances for a solid finish Sunday after the team owner/driver of the No. 20 Fuzzy's Ultra Premium Vodka Chevrolet put in a strong performance Saturday at the 1.75-mile, 11-turn street circuit through the famed Exhibition Place west of downtown Toronto.
Carpenter fought his way in front of race leader Scott Dixon until lap 19 when the Ganassi driver slipped by the No. 20 car to place Ed a lap down. Carpenter drove hard in the slippery conditions to work back towards the lead lap as the Fuzzy's Vodka machine continued to run solid lap times after the first lap trouble.
However, with less than five laps remaining, Carpenter's mount struck the outside wall in turn five when he hit some rubber marbles just out of the racing groove. The incident was a hard impact but Ed jumped out of his car and was not injured. The wall contact marked the first DNF of the 2013 season for the Ed Carpenter Racing/Fuzzy's Vodka squad.
"That was a rough day," said Carpenter, who entered the race 13th in IndyCar Series points. "I hit the throttle and the car moved but it just stalled. That put us behind the 'eight ball' immediately. The heat made the track very slippery today. At the end I slid right into the wall pretty hard. I'm okay but frustrated right now. We had good car yesterday and could have been top-ten but took 13th. Today, I was hoping to get to the checkered flag after the tough start and that didn't happen. We have to go to Indy and regroup over the next few weeks."
Dixon won his second straight Toronto Indy event on the weekend and third consecutive in the 19-race IndyCar Series tour. Dixon beat series point leader Helio Castroneves followed by Sebastien Bourdais, Dario Franchitti and E.J. Viso.
Dixon's doubleheader win nets the New Zealander an extra $100,000 from SONAX Car Care Products by taking the SONAX "Perfect Finish" Award presented to the first driver to capture both main events during an IndyCar Series doubleheader weekend.
The IndyCar Series now takes two weeks off after a tough 10-week "on-track" streak in 11 weeks. The next event will be held at the famed Mid-Ohio Sports Car Course on Sunday, August 4, and will be televised on NBC Sports Network beginning at 3 p.m. EDT.
Connect with The Crittenden Automotive Library