Meet the Crew: Lee Bentham
Meet the Crew: Lee Bentham
Tom Blattler
Ed Carpenter Racing
July 13, 2013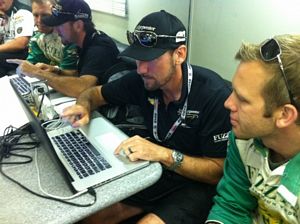 Lee Bentham works with Ed Carpenter in a variety of roles at ECR.
July 13th 2013 - LEE BENTHAM, Driver Development
A former Canadian racing champion from Richmond Hill, Ontario, Bentham currently operates his own race driver development business and assists the Ed Carpenter Racing team…. A past karting champion, Lee began in the Toyota Atlantic series in 1995 with a successful partial-season program including two podiums and finished 8th in points….The following year Bentham captured seven podiums and was the series runner-up and fifth in 1997…. He also competed for Forsythe Racing in the Indy Lights series that season and won on the oval at Gateway International Raceway and finished 5th in points…. In 1998, it was Bentham's breakout year as he captured two wins on his way to the Toyota Atlantic championship for Forsythe Championship Racing. Being from the Toronto area, you are back at your home race.
How did you get started in racing?
"Basically I got started like most kids in go karts. I was ten years old when I started out. I raced karts worldwide for 12 years. I had won a couple of championships with the series sponsor of NTM Bearings. I ran Formula A, Formula K, Junior Honda and Senior Honda classes plus WKA, IKF plus five different world championships around the world. I ran Formula A and Formula K in Europe as well. I was 17 when I went to my first world championship. I just raced anything I could. Sometimes I raced three times a weekend and 40, 50, 60 and even 70 plus races in a season. One year I did some obscene amount, like 78 races in a year. I didn't participate in any other sports as a kid. The karting was a chance for my dad and I to get away by packing up the van and doing a family activity together. In February, we would drive to Georgia for the Karting Winter Nationals."
How did you get into car racing then?
"I did a Formula Vee race that I rented the car by myself. I rented one race at Mosport to see how it would go. I didn't have much money. Mosport really hones your skills for tracks like Elkhart Lake (Road America), Mid-Ohio and Laguna Seca. Anything with elevation changes and off-camber corners is good. You get used to those kinds of tracks and the flat street type circuits are a piece of bank. I went from karting to a showroom stock class with NTM Bearings sponsorship. It was a Suzuki Swift in the C Class of endurance racing. We ran anything from an hour to a 24-hour event. Then we got a Camaro and we went into the GT-1 class. It was a little more horsepower and a lot more fun in that car. When I was running the Camaro, NTM expressed interest in getting into a little more professional class and I did as well. I didn't have the budget behind me when I was younger to jump to cars more quickly like the kids today. So NTM agreed to run a limited schedule in Formula Atlantic and I ran a half season. I ran with P-1 Racing and Bill Fickling. They gave us a lot of racing for our budget, so they did a lot for us. In my debut race at Montreal, I started eighth but moved up to finish fifth. Wow, that is a good start in this series. Then we had a couple of other podium finishes. We were able to finish out the season that year. And I finished eighth in points by running half the season in 1995. Bill and his team did a really great job for us. He did it on minimal budget."
So did your career move up from there?
"We decided to do a full season effort in 1996 in Formula Atlantic. NTM Bearings helped us with the season. We still had a small budget compared to the top teams that year. I was competing against Lynx Racing with Patrick Carpentier. He was my arch nemesis at Players later on in my career. During that season, Players had approached me about being a development driver. So, in 1996, I was part of their development program. That included about ten drivers. In 1996, I finished second in the championship to Patrick. Bill was running our operation against much bigger teams and more financed teams. I raced against Patrick, Buddy Rice, Memo Gidley and some others. After finishing second in 1996, I became a full-time Players driver. In 1997, they moved me to the Indy Lights effort. That was when the new Lola came out. They teamed me up with David Empringham, who had won the championship the year before in Indy Lights. Then we are racing against guys like Cristiano da Matta, Helio Castroneves, Tony Kanaan and lot of quick drivers. There were a good dozen guys who could win a race in that series. We did okay with the new car that year but our setups weren't the best. So David and I ended up fourth and fifth in the championship that season. And that was to Helio, TK and da Matta. That's not too bad for a debut in Indy Lights. After that, Players decided to get rid of the Lights team. During my career, tobacco sponsorship was taboo. They had started scaling back all of the budgets and slowly cutting programs. So they put all of the effort back in Atlantic. They took us in for an interview and ask if I could win a championship. Of course, I said yes. If I have the proper equipment, I can win a title for you. So they teamed me up with Alex Tagliani. Unfortunately David got left out of the program. They wanted to win a Formula Atlantic championship. They never won it with guys like Jacques Villenueve. That was something they really wanted because of the heritage of the Atlantic series, especially in Canada. " Then you went on to win the Atlantic championship in 1998.
How did things progress after that for your career?
"It was tough competition that year with Tags, Buddy Rice, Anthony Lazzaro, Memo Gidley. We had a good year. I won at Montreal at Tags home track and he won at Toronto at my home track. In 1999, Players decided to do a shift change on crew members, so all of my guys left the team. Then I got a new injection of people for my team. In 1998, I worked with Andy Bourn as an engineer who has gone on to work in Formula One. I had fought pretty hard to get one set of guys from engineer to crew to work with my team. I felt we had a good chance to win the title then. That is half the battle to get an engineer and crew that understands what you need to win or do well. That will always be the case in racing. There is just as much with personalities and making a team jell together. You never throw your guys under the bus. You work hard to defend them and they will do the same for you. In 1999, we didn't have as good a year and I finished fifth. That was a tough year for me because they changed my engineer and my crew. It just didn't jell very well. You don't know if that was planned or not. I know they were trying to get Tags to win a championship too. "
Did you ever get a shot at the IndyCar program at Players?
"At the end of the 1999 season, Greg Moore was going to Penske and Players had a big shootout for his seat. So we all went to Sebring to get a shot at that ride. We each got two days in the IndyCar. It was Empringham first, then Tags and then myself and I thought I had done my job. I was the fastest by a couple of tenths. But I didn't get the ride. And now the rest is history. They put Tags in the car then. Players was based in Montreal so maybe they felt Tags was a better marketing fit for them. But they never offered me anything else after that."
Did you try to hook up with another IndyCar team after that?
"I tried quite a bit for a few years. I almost got a ride with Mo Nunn. I talked with many people including Derrick Walker. But I just couldn't find enough money to keep it going. Timing always has something to do with it too. It just didn't fall my way for the IndyCar thing." When did you get into the coaching aspect of racing? "I did a lot of instructional stuff during that time trying to make money to race. But I couldn't make a deal pan out. So I started working with manufacturers at first with instructional work and training. Then I moved back into the coaching aspect and I got with John Bruner of Forsythe Racing, who was managing their Atlantic team with four cars. He called me up and asked if I would be interested in coaching all of our guys. I said I would give it a shot. I was coaching James Hinchcliffe, Andreas Wirth and others. I always told myself that if something fell into my lap that I would jump back into a race car. But I felt I should concentrate on the coaching side at that point. But I have been coaching for a decade now so it would be pretty tough to change things now. When you can make a good living at the coaching aspect, it has been going well right now. A lot of guys have an agent or need an agent to find money to go racing and it just doesn't work out. It was even harder to find money in Canada back then too for me. When I was trying to get into IndyCar, there was a big influx of Brazilians with sponsorships. Plus engine manufacturers were dictating which drivers they would want in the cars. So when I talked with Derrick about it, he said I would love to run you in IndyCars but I can't find the three million dollars that I will lose from a manufacturer. So he had Gil de Ferran in his car. So I could never find that kind of help on the money side."
Do you feel a similar satisfaction helping a driver as you did when you were driving yourself?
"Yes, absolutely. Spotting on the ovals gives me a similar rush. You are really helping the driver see in front of him or behind. There is a lot of satisfaction where you have some success or see some improvement. And it doesn't take much to get that feeling. You feel like you contributed and made a difference for the driver and the team. It's obviously a team effort. I think you have to have a certain amount of satisfaction in whatever you do. If it's in your job or anything. My job is a little different with every driver. You spend time learning the driver's neuroses and what they like and dislikes. You try to get the sense that we need to go in a certain direction or another way. Then getting a good relationship going and you can read each other to improve. I need to understand where the driver is coming from or where I am coming from for him or her. Then you must figure out if it is the car that is the problem, or the driving that affects the car or if it's just the driver or just the car. So there is a lot of analysis that comes into the coaching side. Or sometimes it is just back to basics on race car driving. Some drivers can get to a level so quickly that they don't understand how the car actually works. I've had guys that went from karts straight into Indy Lights. That is a huge jump. And some people can do it and some cannot. And they need to go right back to the basics like they would be driving in a driving school. There are things that are overlooked because the driver is so overwhelmed with the weekend. It could be the pressure of the weekend and dealing with all of the engineering aspects and the racing side too. Sometimes it is the cart before the horse for a driver."
When you watch Ed go through corners, can you tell from the outside how the driver can pick up time and speed?
"I can do a little bit of both. Everything I saw as a driver was from the cockpit. But I was always pretty good at working my way through traffic or staying out of trouble as I looked ahead. I was watching the attitude of cars and how they were handling. You could see if two drivers were going to get together or you could anticipate what might happen in front of you. Then you compensate for it. On the outside, it took me a little bit of time to understand how the cars and drivers were working through the turns. I needed to understand how things worked from the outside of the car. Then I would take what I was seeing from the outside and process it as if I was in the cockpit and driving the car. I would think," what would I do in this position or how would I fix it?' Then you can couple that with in-car video and my outside video that I get at times. That is where I start to apply what we might need to improve the car. Another thing I learned is how to work within a team and not tick off people who have been there for some time. Many coaches in the past have had a bad name because they say they are experts here and we should do this. That really upsets the engineers, crew, team managers and drivers. I've always seen my position as a supportive role. It's not meant to tear anything down. I'm definitely the consultant. Many times you are coming in with an established team so you have to fit in properly with the right situation. Luckily with Ed Carpenter Racing, I was able to come in at the ground level. It's more ideal than most situations for me. With the established teams, you have to go in under the radar a bit and maybe nudge some guys and explain your side. You have to whisper in their ear and say, maybe we should try this.' Eventually, people understand what you are trying to do."
What is the feeling about Ed Carpenter Racing after being with the team for 18 months?
"This is one of the best working relationships I have had with a team and I have had many good relationships with many teams too. That is partly because we have been able to grow together. And this team has really grown tremendously since it was founded. When we started out, it was rough around the edges. It was a new team, new driver, new race car and a new engine last year. Then everyone was getting to know each other too. I talked with Ed and Derrick brought me in as a consultant at first. Derrick has a knack of putting people together with his vast experience. Derrick can see the personalities in people and say, 'I think these guys can work together well.' Ed was open to my joining the team but he might have been a little leery at first because he hadn't worked with someone like me. That is pretty common from a coaching standpoint. A lot of guys just haven't been coached beyond a driving school or something like that. What I do goes well beyond the coaching aspects. It takes an understanding of the driver and the team on how it works or it doesn't work. You try to push all of the right buttons without pushing the wrong ones. You are always trying to push and strive and grow with the driver. My role is to help as Ed improves or changes his style. Then we move on to the next level. He is obviously very good on the ovals. And I believe no one ever stops learning. Unless you win 100 percent of the time, then you need to improve. There is always something that needs to be done to improve. Matt (Barnes) feels the same way where he is engineering the car too. We feel that there has to be something that can make the car better. We say, 'this is what we did last year but we need to do this in the current year to get better.'"
What was it like racing in your hometown of Toronto?
"I love this track and it isn't because I'm from Toronto. I think it is a great street course. It pulls a lot of the street fighter out of the driver. You have to be aggressive for lap time. It is not the easiest to pass as most street circuits. You need to fight hard here. I always liked tracks like that because it makes you drive from the heart. You want to bleed everything you have into the car and on the track. I always love coming back to Toronto because the fans are so passionate here about the racing. It's like the hometown event to come to every year. I had a second here and was almost always on the podium. But I never won here. I won at Montreal and that pissed Tag off. Then he blocked me the whole race here to win. We qualified 1-2 at many of the races that year. And Montreal and Toronto are the two races you want to win for a Canadian. I always have fond memories here because I would to the race as a kid. You would see Mario, Michael, Mansell, Rahal, Sullivan and the great drivers. The Exhibition Place has changed quite a bit over the years here too. It's always been a very good, challenging course. I know about the standing starts this year too because I always did that in my racing career. I can give Ed lots of advice on standing starts. But the new cars are different with new clutch system. So we will see how it goes. But the same theories will still apply. The reason I like the standing starts is that it gives you an instant opportunity to get something over the next driver. It's a chance to make passes and people are going to make mistakes. There are so many opportunities to make a gain that way."
Connect with The Crittenden Automotive Library