Carpenter Makes Jump in Speed at Toronto Friday
Carpenter Makes Jump in Speed at Toronto Friday
Tom Blattler
Ed Carpenter Racing
July 12, 2013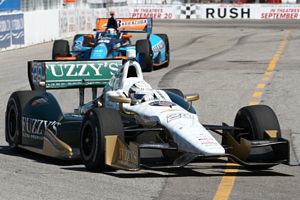 Carpenter improves his speed Friday at Toronto
July 12th 2013 - TORONTO – Ed Carpenter made a big jump in time and speed Friday in the opening rounds of action at the 1.75-mile, 11-turn street circuit through the historic Exhibition Place grounds, just west of downtown Toronto.
Carpenter, the IZOD IndyCar Series' only team owner/driver, drove his No. 20 ECR/Fuzzy's Ultra Premium Vodka Chevrolet from a time of one minute, 2.904 seconds (100.438 m.p.h.) in the Friday morning practice to a 1:01.236 (103.173 m.p.h.) in Friday afternoon qualifying. That's nearly a 1.7-second improvement on the same day.
Unfortunately, Carpenter's jump in time and speed didn't translate on the starting grid for Saturday's 85-lap feature at the Indy Toronto. Ed will start 23rd in the first of the doubleheader races which will be televised on NBC Sports Network at 3 p.m. Dario Franchitti won the pole position for Saturday's race with a speed of 105.872.
"It's frustrating to improve that much in time but not move up the grid," said Carpenter after Friday qualifying run. "We had some issues this morning but we made some nice gains in qualifying. We jumped 1.7 seconds from the morning practice. We definitely took a step forward today and we have another qualifying session tomorrow morning."
Carpenter will make his debut with a standing start in Saturday's main event. Ed came through the USAC midget, sprint car and Silver Crown ranks where rolling starts were the norm.
"I think the standing start will be interesting on Saturday," he said. "We'll see how the response is for it. It's kind of like the heat races at Iowa. If the fans like it, it is something we should consider doing it in the future. I don't like the fact we just do it two times a year though. If it is something that is going move the needle, I think we should do it all the time. We need the practice to do it all of the time. And we need the technology to do it right too. I feel it is a little too last minute for here this weekend. I've never done a standing start in a race. We practiced it this morning and I think it will be good for Saturday."
Carpenter knows the doubleheader races will be tough on the drivers physically at the Toronto street course.
"This is a physical track but I really like it," Carpenter said. "It's a bumpy track and the long straightaway makes for a lot of action. It will be great show for the fans here. I really like coming to Toronto. It's a great crowd today already."
Connect with The Crittenden Automotive Library