ECR/Fuzzy's Squad Reaches End of 11-Week String; Carpenter Ready For Toronto Doubleheader
ECR/Fuzzy's Squad Reaches End of 11-Week String; Carpenter Ready For Toronto Doubleheader
Tom Blattler
Ed Carpenter Racing
July 9, 2013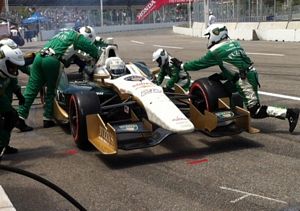 Ed and the ECR Team are prepared for the Toronto Doubleheader
July 9th 2013 - TORONTO – The current stretch of ten "on-track" weekends in 11 weeks has made for some tired crew members and drivers on the IZOD IndyCar Series.
And the Ed Carpenter Racing/Fuzzy's Vodka team is no different.
Luckily for the ECR/Fuzzy's contingent, damaged cars and equipment has been limited to some front wings and body work in the Detroit Doubleheader weekend. However, some of the teams have big repairs in a short period of time getting ready for another doubleheader in the streets of Toronto this Saturday and Sunday (July 13-14).
"The doubleheader weekend doesn't really affect our team since we are prepared for a race weekend as usual," said Tim Broyles, ECR team manager. "Now, the 11-week stretch has been tough on the crew and I think everyone is looking forward to a little break. But we also want to do well at Toronto this weekend. So we are working hard to prepare for the busy weekend."
Team owner/driver Ed Carpenter says his team has done a superb job through the 11-week streak including finishing every race. Carpenter and his ECR squad finished a season-high 14 of 15 races last year in the No. 20 Fuzzy's Ultra Premium Vodka Chevrolet.
"It has been a long stretch for the Fuzzy's Vodka team and all of the IndyCar Series," said Carpenter, the Indy 500 polesitter. "I'm proud of the team's effort everyone has put in with the tight schedule. We have finished every race. That is a great showing for a second-year team. I felt we should have performed a little better in some of the races from a team owner's standpoint. We had a few chances to make the top-three but we didn't get the breaks."
Carpenter explains that the drivers might feel the doubleheader weekends more than the crews after two full races on Saturday and Sunday.
"The doubleheader at Toronto will be difficult for the drivers too," he said. "I know I felt a little more tired than usual after the Detroit doubleheader due to the back-to-back races. So I know what to expect physically now. The team is very well prepared for the doubleheader. We will have the backup ready if needed for Sunday. We went through a few front wings at Detroit but everything was repaired right after the race."
Carpenter looks forward to returning to Toronto this weekend after suffering a tough finish (18th) in the 2012 contest through Toronto's Exhibition Park.
"Last year's race at Toronto was frustrating for me," Ed said. "We had a chance at a top-ten and we had to stop to avoid the pile up late in the race in turn three. The road was blocked and I had nowhere to go but I just hit the brakes and stopped. That turn three is a tough one every year. You can get caught up in something there pretty easily. I want to avoid any problems in turn three this year."
Practice for the Toronto event gets underway at 10:20 a.m. EDT Friday at the 1.75-mile, 11-turn circuit with qualifying for Saturday's 85-lap feature set for 3:10 p.m. Saturday's IndyCar Series action starts at 10:50 with Race 2 qualifying and the opening 85-lapper taking off at 3:30 p.m. Sunday's feature also is scheduled for a 3:30 start. Both main events will be televised live on NBC Sports Network.
Connect with The Crittenden Automotive Library