Meet the Crew: Brent Harvey
Meet the Crew: Brent Harvey
Tom Blattler
Ed Carpenter Racing
June 22, 2013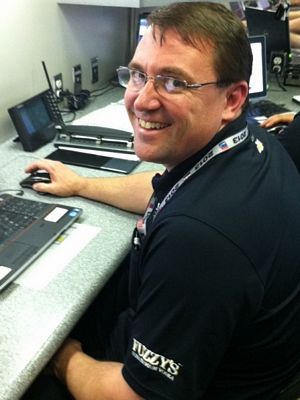 Woody does the race simulation for ECR
June 22nd 2013 - BRENT HARVEY, Race Engineer
Known as "Woody" in the IZOD IndyCar Series, Harvey began his racing career in 1993 and served on the Bettenhausen CART team for six years…. The IUPUI graduate has participated with three IZOD IndyCar Series teams including Cheever Racing, Panther Racing and HVM Racing…. The Hagerstown, Ind., native joined ECR in late 2011…. Handles much of the ECR simulation plans and fuel strategy during the races.
How did you get into racing?
"I grew up in Hagerstown, Ind., about an hour and 15 minutes east of Indianapolis. I want to IUPUI on the Purdue side with electrical engineering. I got to know a friend, Brian Harrell, in school there and we started working at Advance Controls Technology with part-time work. He then got a job at Dick Simon Racing. He knew some people at Bettenhausen Motorsports and they were looking for help on the data acquisition side. I started in 1993 with the CART Portland race. I worked there for four or five years and then decided to get out of racing. I then went to work for Allison Engine Company at the time. We worked on airplane and helicopter engines there at Plant 8. But I could only take eight months there."
So you got back into racing then?
"So I got back into racing and returned to the Bettenhausen team. We had Stefan Johansson driving for us, then Patrick Carpentier and Helio (Castroneves). Michael Jourdain was coming into the team then when I was leaving there. I went to Cheever in 2000. We had the Excite car. Red Bull then came into the Cheever after that. We ran Eddie (Cheever) and Scott Goodyear the first year with Red Bull. Then it was Tomas Scheckter and Buddy Rice after that. I left at the end of 2002 with Cheever. Then I went over to Panther Racing in 2003. I worked on the Indy Lights program with Mark Taylor. We raced against Ed that year. He always ribs me that they won Indy and we only got the championship. We stepped up the next year with Mark in the IndyCar Series. I worked with Chris Griffis at Panther and then he moved to Sam Schmidt's team the next year and I went over there. Then Panther called me back and I went back there. I stayed there until to 2010. Then I went to HVM with Simona in 2011."
So you are now in racing for 20 years, what has been the highlight for you?
It was definitely the pole position this year with Ed at Indy. That was very exciting. It was a lot of hard work by the team. That is pretty rewarding to see it come together. The win at Fontana was awesome too. My first IndyCar win was with Eddie at Pikes Peak."
What is your role at Ed Carpenter Racing now?
"During the race season, I do pre-event race simulation and analysis as we go into the events. At the races, I do more simulation with weather changes and wind changes. I did the data analysis too during the race weekend. I also review all of the data after each race too. Then, in the race, I work with the fuel strategy. The management team always asks me, 'how far can we go to the next stop or finish.' The worst part for me is figuring out how we can make it to the end. You have to give everyone a number to reach and you hope they can make it there. That is a little stressful. They keep looking at me and asking 'how can we do that.'"
You were also very busy during the off-season too?
"I was in charge of the wind tunnel testing and putting the plan together. I work closely with Matt (Barnes, ECR's lead engineer) and making sure we have the things done that he wants. I help him out during the season too. Our tests are pretty involved. We went to Italy for the Dallara simulator too. It is run just like a test. We go through all of the settings like a regular on-track test. We get Ed's feedback on running the different tracks on the simulator. The simulator predicts changes as to what we see too. We do a lot of the same changes as we do at the track to see if it is the same or not."
You have been with established teams before you came to ECR as a start-up team, what did you notice with the new team?
"You have to learn about everyone at first. But for the most part, we worked well together. There is a lot of experience on this team. They seem to know what their job is here. Everyone does a great job and puts in great effort here. So actually it was pretty easy for everyone to develop as a team."
How much time do you put in during the season as opposed to the off-season?
"Actually, the toughest part is that you don't have as much time as you need when you are racing every week. Sometimes we are able to work ahead on other races. Like at Detroit, I was working on Texas on race morning when we had some time. And last week, I was actually working on the Pocono race. So sometimes we can get ahead of things. On a regular week, I will spend half a day putting in the review of the last race. Then I'll move into the upcoming event for about two and a half days. I work about 15 hours a day on that race. I'll put in five hours in the past race and 35 hours into the next race. Then Thursday you are traveling to that next race. It's not that bad in the off-season."
In the off-season, the team went to St. Vincent Sport Performance. How did you do in that program?
"It was good for me. I lost a lot of weight and gained a bunch of energy. I think I lost over 35 pounds. It was very good for whole team. You can go there and blow off some steam. It was hard work but being racers and having that competitive edge is good. I didn't really think about losing weight, but then we did the body fat analysis and we said, 'Holy Cow !' I probably should lose some. I changed my diet a little bit. Biggest thing was to cut back on quantity of food. But with this long stretch of races, it's easy to put weight back on too. You can't work out as much and you eat later at night too. It is really nice for Ed to put that out there for the team to do too. It is good for the team to build up strength too. I think our pit stops are even quicker than last year since doing the St. Vincent program with Aaron (Feldman, team trainer). They are stronger mentally too."
How do you think this team is run?
"It is a really good team. There is a lot of experience here. With Tim (Broyles, team manager) and Ed, they have been around racing a long time. Matt is a young guy but he has a lot of experience too in the engineering side. And he is very smart. The crew is very experienced and they know what to do. So it is an impressive group of guys here."
What is the hardest part of the job?
"The toughest thing for me is getting the simulation to match up with the car. Then actually predict what the car will do on the track."
Connect with The Crittenden Automotive Library