Carpenter Drives To 4th Saturday Night in Firestone 550k at Texas
Carpenter Drives To 4th Saturday Night in Firestone 550k at Texas
Tom Blattler
Ed Carpenter Racing
June 8, 2013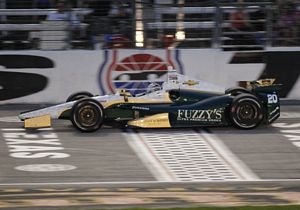 Carpenter Scores 4th Saturday under the lights at Texas
June 8th 2013 - FORT WORTH, Texas – Ed Carpenter charged from ninth to fourth Saturday night at the Texas Motor Speedway as the team owner/driver recorded his best finish of the 2013 IZOD IndyCar Series in the No. 20 Fuzzy's Ultra Premium Vodka Chevrolet before a national ABC-TV audience.
Carpenter, 32, ran in the top-three late in the 228-lap Firestone 550 kilometer event before Indy 500 winner Tony Kanaan passed Ed with ten laps remaining at the high-banked 1.5-mile oval track north of Fort Worth. Kanaan pitted just 30 laps from the finish and used the fresher Firestones to track down Carpenter.
Helio Castroneves, Ryan Hunter-Reay, Kanaan, Carpenter and Marco Andretti completed a top-five sweep for Chevrolet at the finish line. The Penske driver's win mark the seventh different winner in eight races in the 19-event IndyCar Series.
Carpenter and his ECR/Fuzzy's Vodka squad worked hard throughout the race to adjust the handling of the Fuzzy's Chevy. The ECR crew ran longer fuel stints that most of the 24-car field as Carpenter proved strong in the back half of the fuel runs.
Starting ninth, Carpenter moved into the top-five by lap 50 and secured second when the yellow flag flew on the 55th circuit. Unfortunately, Ed had to make two stops under the caution period due to some debris stuck on the front of the Fuzzy's machine. He returned to action the 14th position but quickly advanced to eighth by lap 102. He moved into the top-five again on lap 105.
Carpenter then battled the leaders during the second half of the race and took over third on lap 175 but he had to make his final pit stop and fell back to seventh. But the Butler University graduate was not to be denied as he continued his charge and moved into third on lap 204. Finally, Kanaan was able to stalk down Carpenter in the final ten laps for third.
The finish was Carpenter's first top-five of the 2013 season and moves him up in the current IndyCar Series point standings to 16th now as the series moves the popular Milwaukee Mile at the Wisconsin State Fair Park next Saturday afternoon. The race will be televised on the NBC Sports Network starting at 3 p.m. CDT.
"I thought we had a shot for a podium finish (3rd) but Tony (Kanaan) had a lot fresher tires (35 laps) at the end," said Carpenter. "We will take fourth tonight and we scored some points for the ECR/Fuzzy's Vodka team. It was a great night for Chevrolet with a one through five on the scoreboard. We had a couple of miscues in the pits, one with some debris on the front of the car, and I didn't hear the guys call me in for a stop. Overall, those didn't hurt us. It was hard out there tonight. I was racing my car more than the other drivers at times. I hope the race was good for the national television audience tonight. This place is one of the toughest ovals on the series now. The cars are a handful here. But we'll take the fourth place and move on to Milwaukee next week."
Connect with The Crittenden Automotive Library