ECR Moves On To Texas Oval After Walker's Departure, Tim Broyles to Head Up Team Operations Now
ECR Moves On To Texas Oval After Walker's Departure, Tim Broyles to Head Up Team Operations Now
Tom Blattler
Ed Carpenter Racing
June 5, 2013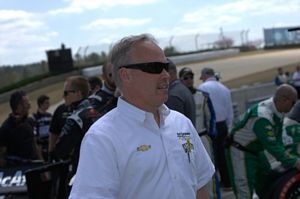 Tim Broyles Now Heads ECR Team Operations
June 5th 2013 - FORT WORTH, Texas – Since the announcement of Derrick Walker moving to the INDYCAR presidency of competition and operations, things at Ed Carpenter Racing have remained in a strong position.
Walker, the former general manager for the ECR/Fuzzy's Vodka organization, was announced to his new role on May 13 by Hulman Company president Mark Miles.
After the Walker appointment, the ECR squad never skipped a beat as team owner/ driver Carpenter went on to win the Indy 500 pole position and led the most laps (37) in the 200-lap "Greatest Spectacle in Racing" classic on May 26.
"While we will miss Derrick being a part of Ed Carpenter Racing, we are excited about his new opportunity to join the leadership team at INDYCAR," said Carpenter, winner of the 500-mile race last September in Fontana, Calif. "Derrick has done a phenomenal job for ECR. He really was the architect of our team, and helped up establish a very strong foundation that will continue to lead to future successes. I am confident that he will do an outstanding job at INDYCAR. He will be an asset there that will also help the race teams within the series."
Carpenter isn't planning to replace Walker in the general manager role as the team prepares for this Saturday's Firestone 550 at the fast Texas Motor Speedway. The race will be televised live on ABC-TV beginning at 8:30 p.m. EDT.
"We have some good leadership with our team right now in Tim Broyles as our team manager, Bret Schmitt as our crew chief and Matt Barnes as our lead engineer," said Carpenter. "Plus we have a veteran team that proved they can win as we did last year at Fontana. Between the team and myself, we will continue to work hard and look to win races including this Saturday's event."
Carpenter is no stranger to the high-banked Texas 1.5-mile oval, having run as high as second in last year's contest and placed in the top-ten on three occasions. Ed enjoys the high-speed oval competition as he is the only driver in the 25-driver field coming from the oval track ranks in midgets, sprint cars and Silver Crown machines.
"I'm very excited to go back to Texas," he said. "I had a good car there in the race last year. We came from 18th to second and then we had one bad stop that took us out of it. Texas is always a fun place to race. We put on a great show last year. I feel that our car should be better there this year."
Carpenter's win at Fontana last year with a "rookie" team opened many eyes in the IndyCar garage area. Then his stellar qualifying performance last month at Indy proved that the Butler University marketing graduate is a contender at any oval track in the IZOD IndyCar Series. The Texas oval is perfect for Carpenter's aggressive driving style.
"When we tested at Texas earlier this year (late March), it was pretty cool. It will be another ball game with the hotter temperature and the lighter down force levels. I feel that the Fuzzy's Vodka Chevy should have a shot for the win. The night races at Texas are always awesome. To be able to showcase our racing there on ABC-TV and under lights should be a super show for everyone watching either in person or on television."
Carpenter's No. 20 Fuzzy's Ultra Premium Vodka Chevrolet survived a wild race last Sunday in the street of Detroit when his mount was involved in a couple of mishaps during the 70-lap battle on Belle Isle. The ECR team has been thrashing to make the proper repairs for the Texas race.
"That was a wild one at Belle Isle," said Carpenter after the Detroit race. "It's just a bummer. I think we would have been better on Sunday. I really feel badly as a group that we didn't get it done for Chevrolet. Hopefully we can make up and get one at Texas this Saturday night. I thought our team did a good job and kept their cool in the pits today. The guys really kept their heads with the crazy circumstances that we were dealing with in the race. Now, it's on to Texas and I feel like we will be in contention there. But, at the same time, this series is so competitive it will be tough to win there."
Practice for the Firestone 500 begins Friday at 1:30 p.m. EDT with qualifying scheduled at 4:30 p.m. EDT. Saturday's live ABC-TV network telecast gets underway at 8:30 p.m. EDT.
Connect with The Crittenden Automotive Library