Carpenter, ECR/Fuzzy's Squad Survives Wild Belle Isle Slugfest To Place 15th Sunday
Carpenter, ECR/Fuzzy's Squad Survives Wild Belle Isle Slugfest To Place 15th Sunday
Tom Blattler
Ed Carpenter Racing
June 2, 2013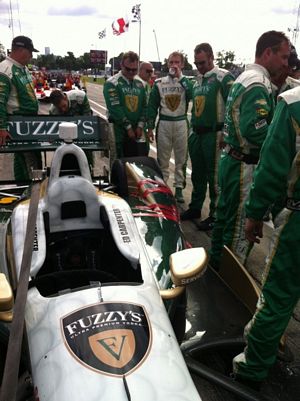 ECR Crew checks out body damage on Fuzzy's Chevy Sunday at Belle Isle
June 2nd 2013 - DETROIT – Ed Carpenter climbed from his No. 20 Fuzzy's Ultra Premium Vodka Chevrolet and began shaking his head. He couldn't believe the action he had just driven through at the 2.35-mile, 13-turn Belle Isle street circuit Sunday.
To call the second round of the "Chevrolet Duals in Detroit" wild would be an understatement.
Carpenter was able to take the checkered flag in 15th position, but that doesn't tell the whole story. The ECR/Fuzzy's crew handled a variety of adversity during the 70-lap feature including seven pit stops with repairs on the front wings, left side bodywork and the rear bumper.
At one point, crewman Nick Cooper was actually cutting bodywork away from the left rear wheel in the pits. The Bret Schmitt-led crew worked calmly and efficiently to return Carpenter to the track each time.
The crashing started early Sunday for the 25-car field with a full course caution period on the opening lap with A.J. Allmendiinger and a total of 23 laps were yellow in the race's first 37 circuits. On lap 13, Carpenter had to pit to replace the first front nose of his car after contact with Alex Tagliani.
But things got worse on lap 27 when ten drivers were involved in a major incident in turn one. Sebastian Bourdais bumped Will Power and cars were flying into the tire barrier and nearly blocking the track. With another broken front wing, smashed left side bodywork and a missing left rear bumper, Carpenter was able to return to action only three laps down to the leaders.
At the finish, Ed recorded the 15th position with Simon Pagenaud capturing his first IZOD IndyCar Series victory for veteran team owner Sam Schmidt. Trailing Pagenaud Sunday was James Jakes, Saturday winner Mike Conway, Scott Dixon, Dario Franchitti and Marco Andretti.
There is no slowing down for the ECR crew or any of the IndyCar Series teams as the always-popular Texas Motor Speedway event is set for this Saturday night at the fast 1.5-mile, high-banked oval. The Firestone 550 will be televised live on ABC-TV starting at 8:30 p.m. EDT.
Carpenter, the Indy 500 pole sitter, figures to be one of the contenders for the coveted Texas victory lane, where the victor wears a cowboy hat and shoots a revolver to celebrate the win.
"That was a wild one," said Carpenter Sunday. "I got into Tag (Alex Tagliani) one time and that was my fault. But the way it all worked out, it didn't really matter unfortunately. The big pileup in turn one took us all out anyway. It's just a bummer. We had an okay race Saturday, and I think we would have been better today. It was a better finish but we really didn't get to run the race. I really feel badly as a group that we didn't get it done for Chevrolet. Hopefully we can make up and get one at Texas next Saturday night. I thought our team did a good job and kept their cool in the pits today. Everyone had the right frame of mind and fixed the things we needed done. We did gain a few positions due to their hard work. We were able to score some valuable points today. The guys really kept their heads with the crazy circumstances that we were dealing with today. Now, it's on to Texas and I'm very excited to go there this week. I feel like we will be in contention there, but, at the same time, this series is so competitive it will be tough in Texas."
Connect with The Crittenden Automotive Library