Rain, Ducks Highlight Friday's Belle Isle Action
Rain, Ducks Highlight Friday's Belle Isle Action
Tom Blattler
Ed Carpenter Racing
May 31, 2013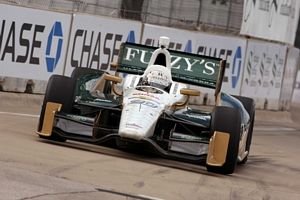 Carpenter Takes Fuzzy's Vodka Chevy through the Belle Isle circuit
May 31st 2013 - DETROIT – There are many adjectives to describe Friday's action at the 2.35-mile street circuit around Belle Isle near downtown Detroit. But unusual is probably the best word for the opening day of the Chevrolet Detroit Belle Isle Grand Prix, the sixth and seventh rounds of the 19-race IZOD IndyCar Series.
The first practice session Friday was halted due to a family of ducks walking across the back straightaway and the Holmatro Safety Crew had a funny experience in moving the mom and her ducklings to a safe position. The newly-resurfaced track proved to be quicker already in the first practice and track records seemed to be in order.
But rain storms hit the circuit in the afternoon Firestone Fast Six qualifying battle and a wild contest saw many of the favorites back in the field for Saturday's 70-lap main event set for 3:30 p.m. EDT. Both "Duals in Detroit" doubleheader will be seen live on ABC-TV Saturday and Sunday.
Ed Carpenter, the Indy 500 pole-sitter, played a little more conservative in the wet track conditions Friday and posted the 24th fastest speed of 90.857 miles per hour in the No. 20 Fuzzy's Ultra Premium Vodka Chevrolet. Dario Franchitti won the pole position in dry conditions with 106.642.
"Last year in the rain at Mid-Ohio, I was too aggressive and got off the track," said Carpenter, the only team owner and driver in the IndyCar Series. "So I wanted to be more conservative with the rain conditions and the new Firestone wet tire. Being in the second group in round one, the track was drying more and the times were quicker. Our group just wasn't ready for slicks just yet though."
In last year's Belle Isle contest, the track's surface was torn up and the race was stopped early. Then later, the event was hit by a storm similar to Friday's qualifying action. Carpenter says rain is expected again on Saturday and the first "Dual" could make for another wild battle.
"Judging the conditions will be the name of the game this weekend with rain expected again on Saturday," he said. "So anything can happen and I'm not sure it matters where you start for the race. Last year, after the track came up, the rain changed things in the race. So it will be real crap shoot in both races this weekend."
Qualifying for Sunday's second "Dual" race will take place Saturday at 9 a.m. EDT with the first "Dual" race set for 3:30 p.m. Sunday's second "Dual" also will get underway at 3:30 p.m.
Connect with The Crittenden Automotive Library